Comedy at The State Theater is Back March 20, 2010
Featuring Bob & Tom Comedians: Tommy Johnagin & Sean Morey
March 10, 2010 Leave A Comment
By: Mike Bacigalupo - State Theatre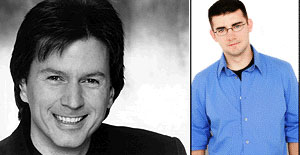 Bob & Tom Comedians: Tommy Johnagin & Sean Morey at The State Theater Bay City March 20, 2010
WHEELZ 104.5 Presents COMEDY NIGHT AT THE STATE THEATER (Bay City) featuring Bob & Tom Comedians: Tommy Johnagin & Sean Morey on Saturday, March 20, 1010 @ 7:00 PM
(Tickets are $ 20.00)
Buy Tickets On-Line
Tommy Johnagin started stand-up at the age of eighteen, dropping out of college at twenty-one to become a full time comedian. Tommy vows he will one day make enough money to pay his parents back for the six semesters of college he wasted.
Tommy is an autobiographical comedian who doesn't curse on stage and has a gift of finding something funny in everyone he meets and everything he does. Tommy takes great pride in his writing. Tommy is already a favorite at comedy clubs all across the country working almost every week. In 2007 Tommy was invited to the prestigious 'Just For Laughs' comedy festival in Montreal, Canada where he was the highest reviewed 'New Face.'
Tommy Johnagin, 8.5 to 9 stars. Good timing, great delivery, eclectic subject matter. Anne Sutherland, Montreal Gazette June 20, 2007 He has also appeared at Comedy Central's 'South Beach Comedy Festival' TV credits include: Comedy Central's 'Live at Gotham', CMT's 'Comedy Stage' and 'Last Comic Standing'. In May of 2008 he made his debut on 'The Late Show' with David Letterman and has already made his second appearance in just over a year. In 2009 he had his own 1/2 hour special on Comedy Central that re-airs regularly. He has also been a guest numerous times on the nationally syndicated radio program - The Bob and Tom Show
'I don't take no crap from anybody . . . else but you.' sings comedian Sean Morey in his radio hit The Man Song. Each line starts with a macho roar and ends with a henpecked whimper as in 'I'm the man of this house' until you get home' or 'I don't want to hear a lot of whining so I'll shut up.' The Man Song became the most requested song on over one thousand radio morning shows all over the country. It was also one of the first songs to be downloaded in huge numbers on the world wide web.
Sean followed it up with dozens of other comedy songs, many of them relationship songs like The Woman Song and He Said, She Heard, but also songs about everything else including Screwing Around at Work, Ghost Chickens in the Sky, Repo Man is Coming to Town, I Think it's Gonna be a Great Day, The Toddler Song, The Annoying Song, The Purse Song, I Did it Her Way, Magic Mini-Van, A Hairy Ass, I'm Dreaming of a White Trash Christmas, The Man Who Doesn't Exist, The Woman Who Doesn't Exist, It's All About Me, Dear Santa, and It's Christmas.
The radio world has embraced Sean's top-notch stand up comedy as enthusiastically as his music and he routinely does five or more telephone interviews per day with radio stations.
Morey began his career in Boston in 1976 where he graduated from Northeastern University with a degree in Speech Communications. He started as a street entertainer doing comedy magic and juggling on the Boston Common. He soon opened his own comedy school and performed a one man show every Friday night at the Charles Playhouse for nine months straight.
Upon moving to Los Angeles in 1979, Morey won first place in the Southern California Comedy Competition which led to three appearances on The Tonight Show with Johnny Carson.
He was signed by The William Morris Agency, did opening act performances for dozens of major stars, and wrote and performed comedy for NBC's The Big Show, and The Crystal Gayle Special on CBS. Since then he has been touring around the country and the world performing in comedy clubs, theaters, on cruise ships, and on the college circuit. He was twice nominated College Comedian of the Year, and has been seen on many television shows including three times on The Tonight Show with Jay Leno.
---
Arts/Theater Article 4708
---
---
Send This Story to a Friend!
Letter to the editor
Link to this Story
Printer-Friendly Story View
---
--- Advertisments ---