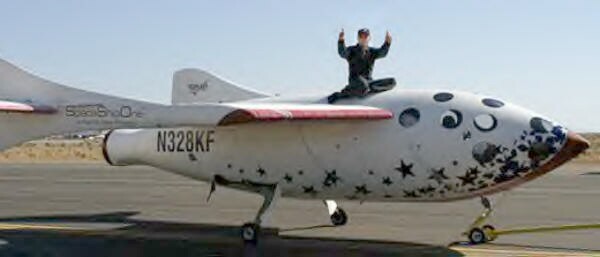 SpaceShipOne, first private manned spacecraft, goes aloft with help from Bay City's Gougeon Brothers, Inc., PRO-SET expoxy.
---
Gougeon Bros. Product Part of First Private Manned Mission by SpaceShipOne
PRO-SET Epoxy by Gougeon Goes Into Outer Space
      The world witnessed the dawn of a new space age Monday as investor and philanthropist Paul G. Allen and Scaled Composites launched the first private manned vehicle beyond the Earth's atmosphere.
      The successful launch demonstrated that the final frontier is now open to private enterprise.
      Bay City's Gougeon Bros. Inc. played a part in the space triumph by furnishing the specialized PRO-SET epoxy used on the space vehicle and also the launch vehicle, White Knight.
      Gougeon PRO-SET Laminating Epoxies are formulated for the manufacture of lightweight, high-performance composites of glass, aramid, carbon fiber or hybrids, using contact molding, vacuum bag and resin infusion procedures. They bond to all fabrics, core materials, wood and metal.
      Robert Monroe, president of Gougeon Bros. Inc., described the Scaled Composites organization as "a group of very intense people" who operate a sort of "skunkworks" operation that is very innovative and successful.
      Under the command of test pilot Mike Melvill, SpaceShipOne reached a record breaking altitude of 328,491 feet (approximately 62 miles or 100 km), making Melvill the first civilian to fly a spaceship out of the atmosphere and the first private pilot to earn astronaut wings.
      This flight begins an exciting new era in space travel," said Paul G. Allen, sole sponsor in the SpaceShipOne program.
      "Burt Rutan and his team at Scaled Composites are part of a new generation of explorers who are sparking the imagination of a huge number of people worldwide and ushering in the birth of a new industry of privately funded manned space flight."
      The historic flight also marks the first time an aerospace program has successfully completed a manned mission without government sponsorship.
      "Today's flight marks a critical turning point in the history of aerospace," said Scaled Composites founder and CEO Burt Rutan. " We have redefined space travel as we know it."
      "Our success proves without question that manned space flight does not require mammoth government expenditures," Rutan declared. "It can be done by a small company operating with limited resources and a few dozen dedicated employees."
      A large crowd watched the momentous flight live from the grounds of the Mojave, California, Airport, joining millions of others around the world who tuned in by television, radio, and the internet. Dignitaries attending the event included U.S. Representative Dana Rohrabacher, former astronaut Buzz Aldrin, and Konrad Dannenberg, one of Werner Von Braun's lead scientists on this country's original space development effort.
      Allen is founder and chairman of Vulcan,Inc., a firm that develops high impact science and technology projects. Rutan developed the Voyager, the only aircraft to fly non-stop around the world without refueling, accomplished in 1986.
The Discovery Channel and Vulcan Productions are producing "Rutan's Race for Space," a world premiere television special that documents the historic effort to create the first privately-funded spacecraft. "Rutan's Race for Space" will be broadcast later this year.
      Gougeon Bros. Inc. was founded in 1969 by Meade and Jan Gougeon as Gougeon Brothers Boatworks to build iceboats. The firm became the largest builder of iceboats in the country and soon moved into epoxy resins as a structural adhesive for wooden boats.
      The Gougeons studied the wood joining processes used in Howard Hughes' Spruce Goose, the largest wooden airplane ever built, in Long Beach, California, and formulated their own epoxy in cooperation with The Dow Chemical Co., Midland.
      A plant was established on the grounds of the Huskins Brothers Boatworks on the Saginaw River at Marquette Avenue in the late 1960s. Brother Joel Gougeon, who had served as a pilot with the U.S. Air Force in Vietnam, joined the firm in 1971and helped develop the epoxy business.
      The Gougeon brothers developed a new formulation of the epoxy system, the WEST SYSTEM(R) so it could be applied as a moisture barrier over wood or fiberglass. The Gougeons built high profile racing sailboats that won many regattas and set world speed records. They also built wind-turbine blades for the National Aeronautics and Space Administration, the success of which was used to improve the performance of WEST SYSTEM epoxy.
      The firm is now employee owned and employs about 40 at its plant at 100 Patterson Avenue, Bay City, MI 48706. ###
---
---

Dave Rogers




Dave Rogers is a former editorial writer for the Bay City Times and a widely read,
respected journalist/writer in and around Bay City.
(Contact Dave Via Email at carraroe@aol.com)

More from Dave Rogers
---
Send This Story to a Friend!
Letter to the editor
Link to this Story
Printer-Friendly Story View
---
--- Advertisments ---