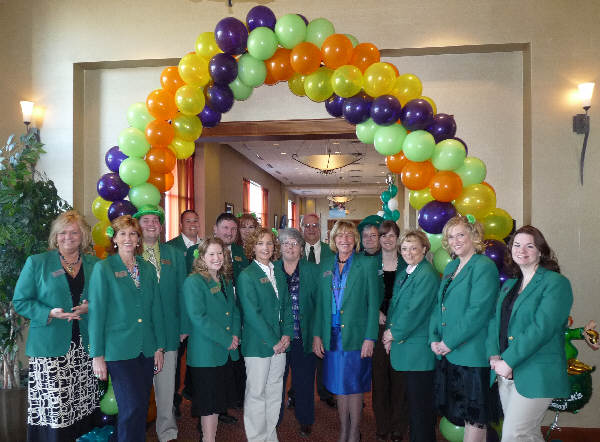 (MyBayCity Photos By Julie McCallum)
---
Bay Area Chamber Annual Dinner Draws Huge Crowd of 456
Area on Verge of Major Economic Revolution, Says Rep. Jeff Mayes
March 18, 2010 2 Comments
By: Dave Rogers

"There once was a Chamber of Bay . . .
. . . That blew all the others away . . .
It was headed by Mike . . .
Who everyone likes . . .
. . . And that's why we're all here today!"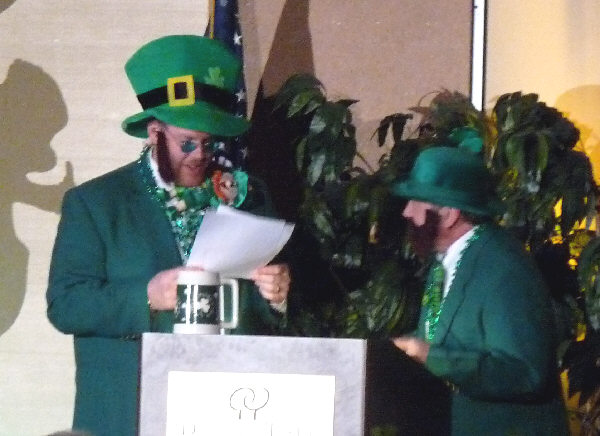 (MyBayCity Photo By Julie McCallum)
The mock Irish lingo of Mike Stodolak and Chris Girard
set the festive tone for the 127th annual Bay Area Chamber of Commerce annual meeting at the DoubleTree Hotel - Bay City Riverfront.

(MyBayCity Photo By Julie McCallum)
Decked out in huge Irish hats, red hair wigs and other leprechaunish apparel, the pair entertained the overflow crowd of 456 along with Mike Bacigalupo and the Josh Ramses Band. (Below)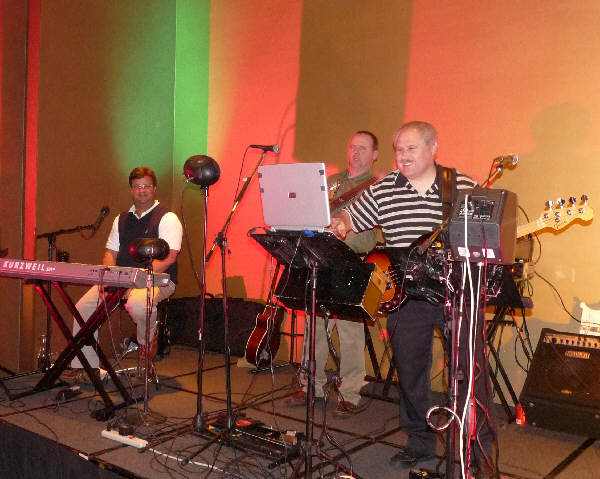 (MyBayCity Photo By Julie McCallum)
Oh, and wasn't it a foine toime had by all at the St. Patrick's day soiree?
A strongly positive note was the highlight of the evening as speakers touted an estimated $7 billion in already announced new investments and at least 1,200 new jobs by General Motors, Dow Corning, Hemlock Semiconductor, Dow Chemical and new firms moving into the area.
"Continue to let the Michigan bureaucracy know we support the Karn-Weadock expansion," said Chamber President Mike Seward. That project alone, if approved, would bring 1,800 construction jobs, 100 permanent jobs and about 2,500 indirect jobs, he added.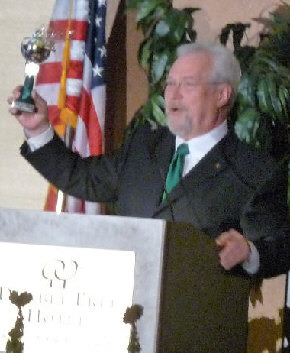 He credited State Rep. Jeff Mayes, County Executive Thomas L. Hickner and Chemical Bank executive Dominic Monastiere with starting the Bay Future public-private economic development organization seven years ago.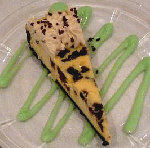 Speeches, awards, hundreds of silent auction items, Irish whiskey chicken and Guinness corned beef colcannon, Irish creme and chips cheesecake (lots of folks ate that first), shamrock centerpieces on the tables along with "gold" coins by the handfuls -- well, you get the idea.
(Above Right) Eric Jylha, WNEM-TV personality,
was master of ceremonies and Brad Kessel, new chairman, of Independent Bank, recognized retiring chair Mike Debo of Chemical Bank as well as retiring board members Barb Behmlander of the Bay City Mall and Stu Reid of Weinlander Fitzhugh CPAs.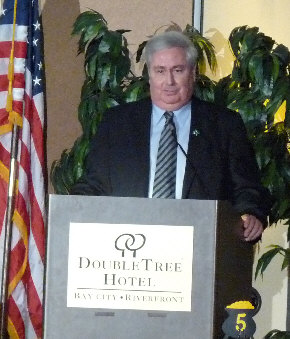 (Left) A new award was unveiled, "Excellence in Public Service," that went to popular outgoing State Senator James A. Barcia for 35 years in public life.
Tributes to the longtime public servant, state representative, Member of Congress, and two time state senator, were issued by Chamber President Mike Seward and state legislative colleague Jeff Mayes who is running for Barcia's state senate seat. The chamber event was Barcia's 13th meeting of the day, Rep. Mayes noted.
Citing "green energy" developments, Rep. Mayes said "we are poised on the verge of a major economic revolution." He further exclaimed: "The best days of the Great Lakes Bay Region are ahead of us."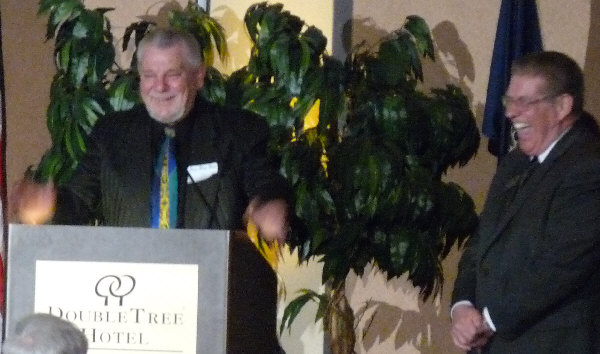 (MyBayCity Photo By Julie McCallum)
(Above) Mr. Seward (Right) pulled out all the stops with a boxing ring announcer's patter in introducing Art Dore, legendary local boxing promoter and entrepreneur as an honoree in the Business Hall of Fame.
"Art never belonged to a country club but now he owns one," exclaimed Mr. Seward, referring to the recent purchase of the Bay City Country Club by Mr. Dore.
"I'm not much of a talker like these politicians," said the surprised Mr. Dore. "They just keep on talking and I just keep on doing."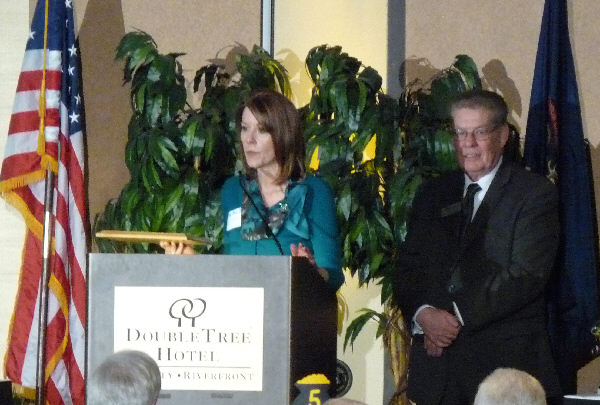 (MyBayCity Photo By Julie McCallum)
(Above) Johanne Luth, who employs 350 at several area McDonald's franchises, was the second Business Hall of Fame award recipient. Mr. Seward gave tribute to Ms. Luth for an impressive list of community activities.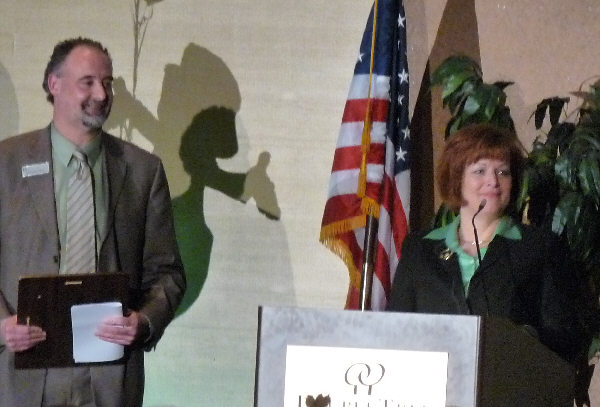 (MyBayCity Photo By Julie McCallum)
The 2010 Alumni Leadership Award went to Laurie Bush, Realtor of Harris-Bush Real Estate, who told her dad, retired state police officer Chuck Bush from the podium "this is better than Miss America."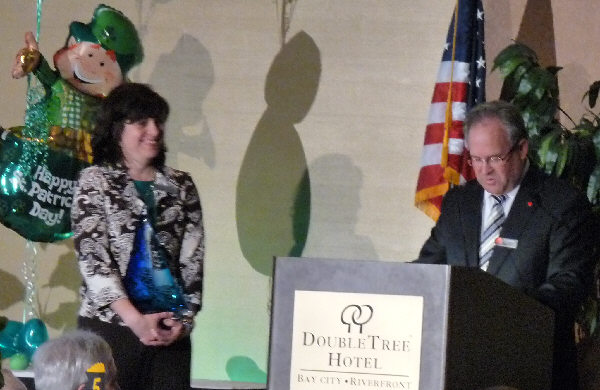 (MyBayCity Photo By Julie McCallum)
(Above) Ambassador of the Year went to Sandy Loomis, branch manager of Chemical Bank,
also part of the Ambassadorial All Star Team of the Year that also included Stephanie Kolomak, Sue Pike, Barb Engelhardt, Luke Russell and Mark Delestowicz.
The Family Friendly Employer Award went to Bay Regional Medical Center, accepted by Ellen Talbot, and Gougeon Bros. Inc., accepted by Alan Gurski.
The coveted Athena Award for professional excellence, community service and assisting women in attainment of leadership skills went to Lori Appold, CPA, of Andrews, Hooper & Pavlik.
The Chamber has six goals and 60 initiatives on tap for next year, said Mr. Kessel, including county-wide school board meetings to seek more collaboration and efficiencies, a Young Professionals Group, a Detroit Tigers game outing, a small business council and seminars, improvement of the Opportunity website, and an agri-business council.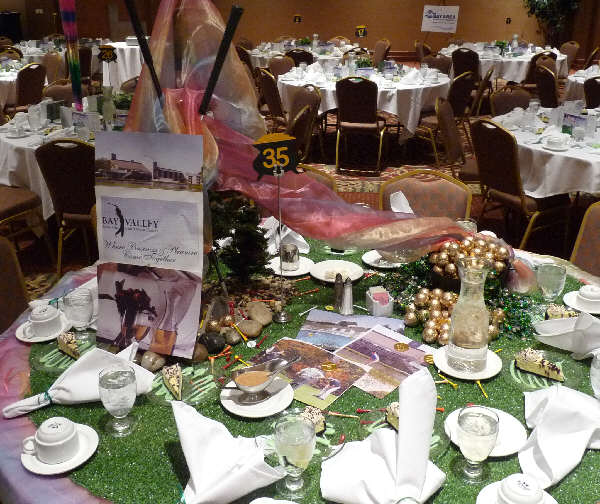 (MyBayCity Photo By Julie McCallum)
(Above) The traditional Sponsor table decorating contest winner went to Bay Valley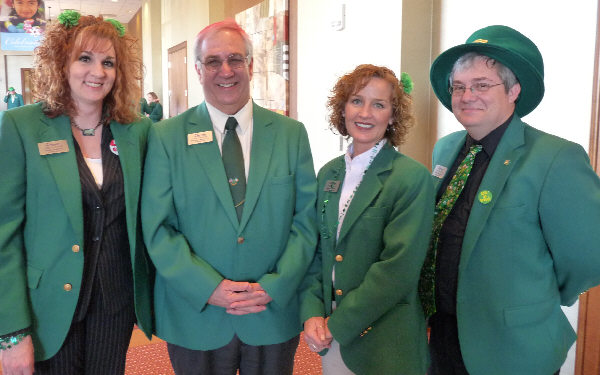 (MyBayCity Photo By Julie McCallum)
(Above) Chamber Ambassadors; Steph Kolomak, Norman Moore Jr., Sandy Peariso and Mark Delestowicz smile for MyBayCity cameras before the festivities began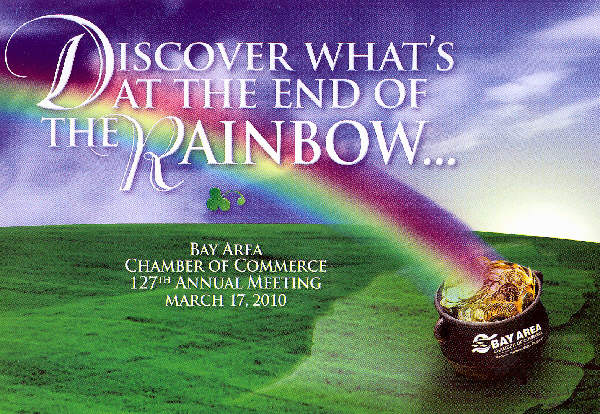 ---
---

Dave Rogers




Dave Rogers is a former editorial writer for the Bay City Times and a widely read,
respected journalist/writer in and around Bay City.
(Contact Dave Via Email at carraroe@aol.com)

More from Dave Rogers
---
Send This Story to a Friend!
Letter to the editor
Link to this Story
Printer-Friendly Story View
---
--- Advertisments ---