PIERCING: Important Facts You Should Know
March 22, 2010 1 Comments
By: Ken Nelson, DDS, Dentistry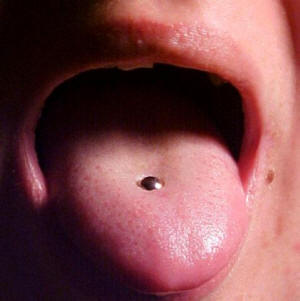 Most dentists discourage oral piercing due to the many risks involved.
Oral piercing can cause pain, swelling, infection, drooling, taste loss, scarring, chipped teeth, and tooth loss. Most dentists discourage oral piercing due to the many risks involved. If you do decide to get an oral piercing it is important to understand the regulations, associated problems and proper maintenance.
Regulations on piercing vary from state to state, so it is important to be careful and find a professional who is prepared to answer any and all questions. They should use a fresh needle every time and sterilize all needles and instruments in an autoclave, which uses extreme heat to sanitize the instruments, to avoid serious infections such as HIV or Hepatitis. Also, make sure that they use the right kind of metal, such as surgical-grade stainless steel. Some people have allergic reactions to certain metals, which can lead to further complications.
Fractured teeth are a common problem for people with an oral piercing. People chip teeth on the piercing while eating, sleeping, talking or by chewing on the jewelry. It is possible for the fracture to go deep into your tooth, which may require a root canal or extraction.

While it is not unusual for the tongue to swell after being punctured, in some cases the swelling indicates infection. When that happens, it is possible the swelling will cut off your breathing. In rare cases, doctors may pass a breathing tube through a patient?s nose until such an infection passes. Also, rubbing of the barbell on the gums excessively can cause the gums to recede. Any infection can be serious and it is necessary to see a dentist at the first sign of a problem.
It takes three to four weeks for an oral piercing to heal. Unless complications occur, you will be able to remove the jewelry for short periods of time without the hole closing. Dentists suggest removing the jewelry to protect your teeth every time you eat or sleep. The piercer will place a larger, starter ?barbell? in your tongue to give it enough room to heal when your tongue swells. If you decide to keep the piercing, after the swelling goes down, get a smaller barbell which will be less likely to get in the way of your teeth.
It is very important to care for your piercing by using an antiseptic mouthwash after every meal and brush the jewelry the same as you would your teeth. After your tongue has healed, take the piercing out every night and brush it to remove any unseen plaque. You should also consider removing the piercing before eating, sleeping or strenuous activity. As always, if you have questions please consult your dental professional.
Or Contact Dr. Ken Nelson at:
800 S. Euclid Ave, Bay City, MI 48706
(989) 686-5410


A message from West Bay Dental, P.C. and The Academy of General Dentistry
West Bay Dental, PC
No Cavity Club List - March 2010
These children, 12 and under, scored a cavity free check-up at their last dental appointment. We congratulate them and their parents for practicing good oral health.
Mallory Miller
Riley Messing
Samantha Davis
Hannah Floyd
Grace Jankoska
Caleb Colberg

Dugan Box
Tyler Floyd
Meghan Zalucha
Matthew Cole
Aaron Smokovitz
Special congratulations to
Matthew Cole
who was the winner in our children's no cavity drawing and to
Paul Bolduc
who won the Applebee's gift card in our adult drawing.
Or Contact Dr. Ken Nelson at:
800 S. Euclid Ave, Bay City, MI 48706
(989) 686-5410


---
Ask The Experts Article 4749
"The BUZZ" - Read Feedback From Readers!
happyjessi Says: On February 03, 2011 at 08:14 AM

Hi there : )
Why do people (society generally) still pre-judge people who have body art. girls commonly?
I'm a 26 year old F, have 10 tats, most of which can't be noticed on my daily travels. Five To Six during the warm months are pretty much constantly on display. I do not work for notice and I have a loving boyfriend WITH NO TATTOOS .I get the impression that a majority of people think that tattooed people are blind, as we get stared at, even when we return a glance many people carry on staring. When will society improve?
---

Ken Nelson, DDS, Dentistry




Dr. Nelson has served patients at West Bay Dental since 1985. Dr. Nelson provides most dental services with an emphasis on cosmetics, full mouth reconstruction, oral surgery and implants.

More from Ken Nelson, DDS, Dentistry
---
Send This Story to a Friend!
Letter to the editor
Link to this Story
Printer-Friendly Story View
---
--- Advertisments ---