Educational Improvement is Top Goal of Town Hall Forum Participants
Means of Achieving Goal to Support Economic Development are Lacking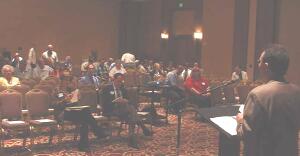 County Executive Thomas L. Hickner opens the Wednesday morning Town Hall Forum in the new DoubleTree Hotel - Bay City Riverfront.
About 150 participants in two Town Hall Meetings on the Bay Area Economic Development Plan focused on education as the key priority.
      "Everybody talks about education but nobody seems to be able to do anything to affect it positively," one participant said after the Town Hall session.
      Ideas for increasing student academic achievement and facilities improvement will likely evolve as the process of community consensus building continues, according to County Executive Thomas L. Hickner.
      Education was top priority in five out of six breakout sessions in the Wednesday morning session, noted another participant. Other consensus areas emerging from the small group process were the perceived need for more governmental efficiency and lower taxes through collaboration and consolidation and a more business-friendly environment.
      Both Williams Township Supervisor Tom Paige and Cliff VanDyke, of the Monitor Township DDA, noted that plans for expansion of industrial parks in those townships are stalled by lack of consensus with the county or local residents on tax revenue "capture." The DDA development process involves devoting all or a major share of taxes from new developments toward costs of infrastructure for the parks themselves. Local governments often do not receive additional tax revenue until the industrial park is fully developed. This process is leading to conflict among local governments and interest groups and in turn is stalling development.
      The County Executive said he is weighing suggestions that he appoint a blue-ribbon panel from across the county to explore ways to improve the quality of education.
      Other community leaders interested in education are reportedly researching incentives offered by the state for merger or other consolidation processes for school districts. Hickner has noted previously that school consolidation may not be politically viable in a county where pride in local school operations and especially athletic teams runs high.
      Other observers note that tax savings from school consolidation would likely be welcomed by the vast majority of voters.
      Discussions about schools inevitably focused on the one-third of all students who come from economically disadvantaged homes. Academic achievement is directly related to economic levels in most cases, educational researchers state.
      The situation is like a "Catch 22" one participant observed: "We need good schools to attract companies with jobs but first we need companies to provide good incomes to families to raise achievement of students. What comes first? How can we have one before the other?"
      "Results of the forums will be compiled over the summer to finalize recommendations and strategies to guide development in the county over the next five years," said Mr. Hickner.
      Mike Seward, president of the Bay Area Chamber of Commerce, credited Mr. Hickner for initiating theprocess leading to Bay Futures, a new public-private development partnership and Laura Ogar, county director of environmental affairs and community development, for being the project manager for the new cooperative economic development effort.
      "You're going to set the direction to help move this great community forward," Mr. Seward told the Wednesday morning crowd of about 100. He called for a "realistic economic development plan with business, local government and the community joining forces. Teamwork, cooperation and unity -- those are the Chamber's ways of doing business," Mr. Seward concluded.###
---
---

Dave Rogers




Dave Rogers is a former editorial writer for the Bay City Times and a widely read,
respected journalist/writer in and around Bay City.
(Contact Dave Via Email at carraroe@aol.com)

More from Dave Rogers
---
Send This Story to a Friend!
Letter to the editor
Link to this Story
Printer-Friendly Story View
---
--- Advertisments ---