Terry Watson's Most Intrepid Fireworks Fundraiser Almost Cost His Life
Living in Ice Shanty on River, January Thaw Turns to Below Zero Temperature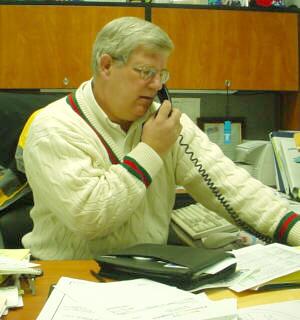 Terry Watson has pulled many "stunts" to raise money for the Fourth of July Fireworks and one nearly cost his life.
      Among the more memorable stunts were:
      Living in a sewer under Veterans Memorial Park for four days;
      Staying aloft in a 65 foot "cherry picker" truck for three days;
      Camping out in a 25,000 pound concrete box in the F.P. Horak Printing Co. parking lot for four days.
      Tying himself to a flagpole on top the Mortgage America building for two days.
      Watson's most intrepid, and life threatening as it turned out, antic was parking himself in an ice shanty in the middle of the frozen Saginaw River.
      It was during the 1990s when all these "stunts" were performed, he recalled.
      The ice shanty caper was in January when suddenly the temperature went up to about 70 degrees and the ice melted. Watson's police pals had to load the shanty on a barge provided by Tom Brennan of Brennan Marine.
      Just as suddenly as the thaw had come on, the temperature plunged to 19 below zero. Watson's generator providing heat for the shanty froze.
      "I started to laugh and act silly and from my training I knew I was going into hypothermia," he recalled. "I had enough wits about me to try to get off the ice, which by then was about half an inch thick. I had to row the 10-foot rescue boat as far onto the ice as I could and then jump up and down tobreak the ice and move ahead."
      Although disoriented, the exercise helped him wake up. Then he found he was being pelted with what seemed like little rocks, strangely coming from overhead.
      "It was raining stones;I had gone 200 yards under Veterans Bridge and the salt falling through the bridge grating was hitting me. This got my attention; I was going the wrong way."
      Watson paddled his way back to the barge and reoriented himself, finding the right direction toward the shore where two policemen were standing watch in Santa House at the foot of Sixth Street.
      "My hands were frozen so I couldn't pull myself up over the seawall; luckily one of the policemen happened to look out to check on me and sawme in the boat. They pulled me out and I warmed up and went back to the ice shanty. Nobody ever knew the difference."
      Watson has discontinued his "stunts," but still remains the mainstay of the ongoing fundraising effort for the Fireworks.
      "I'm one of the luckiest guys in the world," he says. "Fortunately we've had a lot of success over 30 years. Everything worked out."
      The Bay area community, and several hundred thousand people in all, will see the latest results of Watson's efforts beginning Thursday and culminating in the thousand-shot staccato blasts on Saturday. Terry, some day we'll all thank you properly for all your incredible work!###
---
Sports Article 480
---

Dave Rogers




Dave Rogers is a former editorial writer for the Bay City Times and a widely read,
respected journalist/writer in and around Bay City.
(Contact Dave Via Email at carraroe@aol.com)

More from Dave Rogers
---
Send This Story to a Friend!
Letter to the editor
Link to this Story
Printer-Friendly Story View
---
--- Advertisments ---