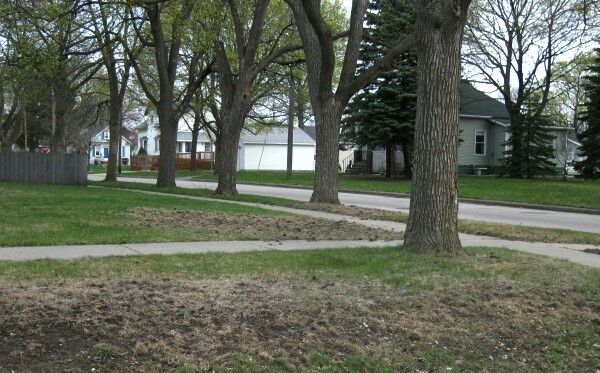 Got Grubs?
Bumper year for pesky June Bug larvae making a mess of local lawns
April 10, 2010 Leave a Comment
By: Stephen Kent
Have you noticed any of those gray brown patches in your otherwise green lawn? If so you're not alone. The area is "enjoying" a bumper grub crop this year. "It's the worst I've seen in 30 years" said Jim Begick of
Begick Nursery and Garden Center
in Bay City.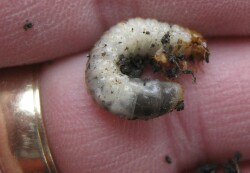 Yuck Factor
There are three common beetles responsible for the grub in our lawns. The common June Bug is the major pest this year. To a lesser degree you may have Japanese Beetles or European Chafer beetles.
The damage you see now started last summer when the grown beetles laid their eggs. "You'll see or even hear the beetles flying around the trees in late summer" said Ray Schwall, also of Begick's Nursery. "They don't eat anything at this time. They just fly, mate, lay eggs and die".
According to the MSU extension service's
lawn grub fact sheet
, the adults lay eggs on the surface in June and July. The grubs hatch and feed on grass roots until November. They go inactive for a few months and begin feeding again in March. In May they enter the pupa stage and emerge as adults in June or July to start the cycle over.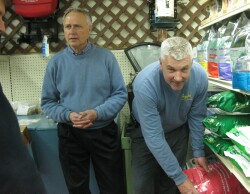 Jim and Ray advise a customer
on grub treatments
"There's not much you can do about the damage at this time", said Jim Begick. "We recommend a product called Dylox to kill the grubs". Dylox is a quick acting agent that remains active for 10 to 14 days. You spread it on just the affected area and water it in to reach the grubs. "You don't want to use Dylox on anything but the damaged area", said Schwall. "It will also kill earthworms and we don't want to do that."
Where Dylox is a quick treatment for the grubs, Begick recommends Merit for long term control. Merit is a systemic granulated product designed to kill the new grubs when they emerge. Timing is important to catch the young grubs while they are close to the surface, usually in late July or early August.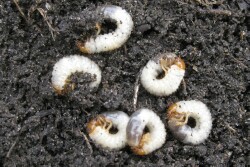 "Easy pickins" for coons and skunks!
There is one group that likes grubs. You may notice that something has been digging in the affected area. That's probably skunks and raccoons. They find the fat grubs "easy pickins."
Although the damage is ugly, all is not lost. "Lawns can often recover from early season damage" said Schwall. "Spring rain and mild temperatures may get the grass growing. Late season attacks, when it's hot and dry, are worse."
Grub treatment is probably worth the effort. Dylox and Merit to treat about 5,000 square feet cost around $20 each. "That's a lot better than replacing an entire lawn", said Begick.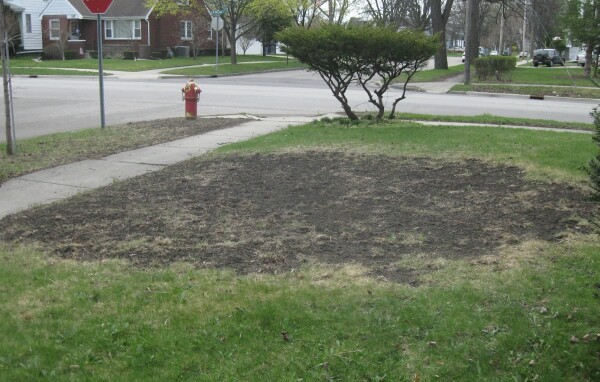 The dead grass is easily raked up leaving bare soil.
---
---

Stephen Kent




Steve Kent and his family have lived in Bay City for 40 years. He is VP of Technical Services at MMCC which produces MyBayCity.Com. Kent is active in many Bay City civic organizations.

More from Stephen Kent
---
Send This Story to a Friend!
Letter to the editor
Link to this Story
Printer-Friendly Story View
---
--- Advertisments ---