After Five Suicides, Michigan Solons Eye Anti-Bullying Legislation Again
Bill Stalled Last Year in GOP Controlled Senate Up For Reconsideration
April 14, 2010 Leave a Comment
By: Dave Rogers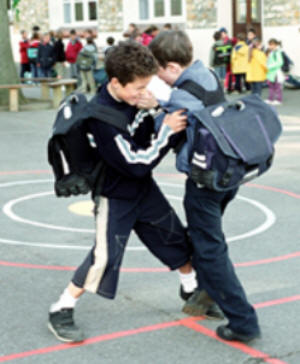 Bullies try to control other children by using words or physical means. Bullying usually involves an imbalance of power or strength.
The Republican-controlled Michigan Senate is now the focus for proposed legislation forcing schools to adopt anti-bullying legislation.
Last year, after a bill passed the House, Senate Republicans delayed action and criticized the bill for not mandating that schools investigate bullying more thoroughly or provide disciplinary measures.
They also criticized the bill for creating classes of students and not simply providing a safety net for all children.
Since then a 12-year-old Ontonagon student, who allegedly had been harassed at school, committed suicide.
It was the fifth such death related to bullying in Michigan since 2001.
Bullying is a very serious threat to school safety and has been linked to higher levels of dropout rates, crime, suicide, and school shootings, according to House Speaker Andy Dillon, D-Redford Township, a strong advocate for anti-bullying legislation.
Statistics show that 30 percent of students in grades six through ten are affected by moderate or frequent bullying with 19 percent of students having participated in bullying.
"Here in Michigan and across the nation, suicides among young people who have been subjected to bullying demonstrate the need for anti-bullying legislation," Gov. Jennifer Granholm said.
The House Education Committee is slated to consider legislation (HB 4580) sponsored by Rep. Pam Byrnes (D-Chelsea) soon, said Rep. Tim Melton (D-Auburn Hills), committee chair.
Rep. Byrnes said the bill should be taken up first by the Senate, noting that Sen. Ron Jelinek (R-Three Oaks), has introduced similar legislation (SB 275).
Last term, the House passed "Matt's Safe School Law" named after Matthew Epling, an East Lansing student who committed suicide after being harassed at school. The bill was advanced by the Senate Education Committee, but died when the 94th Legislature ended.
The legislation defines bullying to include conduct "reasonably perceived to be motivated by animus or by an actual or perceived characteristic."
Ms. Byrnes said bullying is occurring to students other than those who are lesbian, gay, bisexual or transgender.
Senator Glenn Anderson, D-Westland, introduced anti-bullying legislation in the 2006 Session and again in the 2007 Session. "Since 2001, Michigan has lost five children to bullycide, passage of 'Matt's Law' is long overdue," said Kevin Epling, Matt's dad. He has been promoting "Matt's Safe School Law" at www.MattEpling.com.
Mr. Epling noted Michigan has a statewide anti bullying education policy (model after the original legislation) adopted in 2006. Although policies are NOT state laws, policies are mandated by law - 2nd best to having a law. If your child is currently being bullied in Michigan, I would suggest you obtain a copy of this policy by going to www.michigan.gov/documents/mde/SBE_Model_AntiBullying_Policy_Revised_9.8_172355_7.pdf and pulling down this PDF file. Take this policy to your school and demand that the "Policies on Bullying" be enforced.
For a copy of the most up to date legislation: www.legislature.mi.gov/documents/2007-2008/billengrossed/House/pdf/2007-HEBH-4162.pdf
Contact your MI Legislator here: www.mistopbullying.com
(Sen. Anderson first introduced "Matt"s Safe School Law" during his term in the State House) A note from Senator Glenn Anderson of concerning Anti-Bullying legislation:
"House Bill 4162, requires school districts to establish a policy prohibiting bullying or harassment at school and was drafted with the input of a large number of education and children advocates and is the most comprehensive and far-reaching bill on this issue to date.
"Through this bill, a bullying/harassment policy would be adopted through a process that includes representations of parents, guardians, school employees, volunteers, pupils, school administrators, and community representatives.
"After gathering actual school district bullying policies from over 50 school districts around Michigan, it is clearly evident that policies range from non-existent to a few reasonably good policies.
"My legislation would ensure that school districts have some degree of uniformity and clarity in their bullying and harassment policies to provide a safe learning environment for all Michigan children."
Contact: SenGAnderson (at) senate.michigan.gov
###
---
---

Dave Rogers




Dave Rogers is a former editorial writer for the Bay City Times and a widely read,
respected journalist/writer in and around Bay City.
(Contact Dave Via Email at carraroe@aol.com)

More from Dave Rogers
---
Send This Story to a Friend!
Letter to the editor
Link to this Story
Printer-Friendly Story View
---
--- Advertisments ---