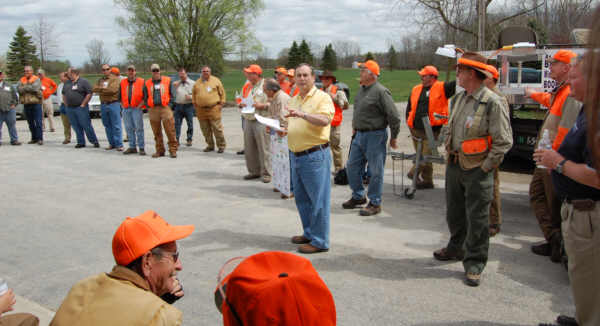 Keith Markstrom, front, gives instructions to shooters, as Jim Sharrard holds sponsor sign and Bob Short, left center, assist. Rooster Ranch owner Kim Anthony is at right rear.
(MyBayCity Photo by Dave Rogers)
---
Record Number of Shooters at Bennett-Powell Memorial Pheasant Shoot
Nurse/Medical Scholarship Fund Benefit from 10th Annual Sportsman's Event
April 16, 2010 1 Comments
By: Dave Rogers
Ralph Powell and Dave Bennett would have been immensely pleased.
And, there are young men and women, aiming to become nurses, who --though they don't know it yet -- will benefit from the event held in the name of the two Bay City leaders.
There were 73 sportsmen who drove the 90 miles or so to Rooster Ranch, near Ubly, last Friday, April 16, 2010, to honor their memory and contribute the cause of scholarships for nurse education.
Mr. Powell was a former manager of the plant of Chevrolet-Bay City and a community leader who was a longtime board member of the Bay Medical Center, now Bay Regional Medical Center.
Mr. Bennett was a dynamic car sales executive, a community leader and a noted sportsman. He helped raise funds for BRMC and was a staunch supporter of the hospital system.
The event was the 10th Annual David E. Bennett & Ralph L. Powell Memorial European Pheasant Shoot. The turnout was a record and the net income is likely to exceed the $10,000 raised last year, according to Keith Markstrom, director of the Bay Medical Foundation.
Besides Mr. Markstrom, other organizers of the shoot included Heather Bauman, Jason Essex, Scott Janke, Ed Keating, Guy C. Moulthrop, Bob Short, Mike Stodolak and Evan VanTol.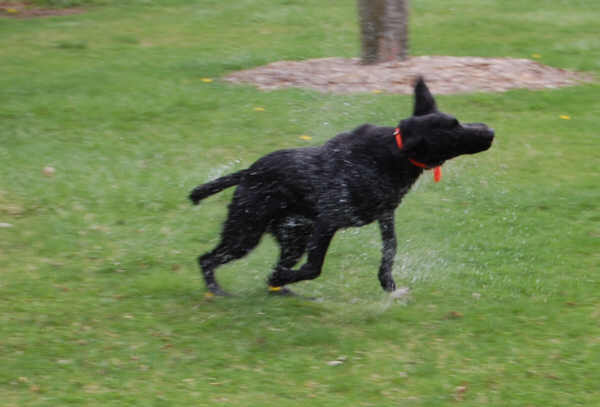 Black Jack Ben, four year old Black Labrador, shakes off water from a previous jump as he sprints toward the pond for another retrieve.
(MyBayCity Photo by Dave Rogers)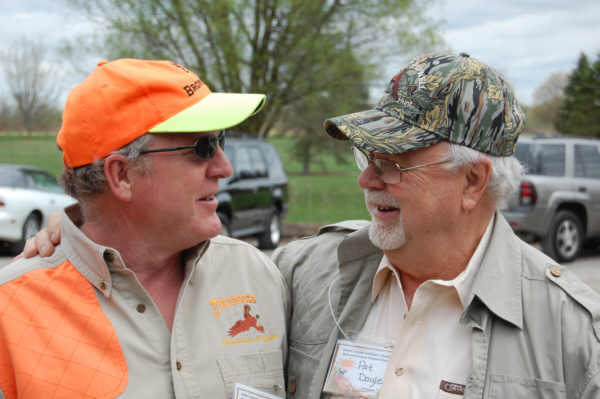 Tim Boutell, left, of Bay City, greets Pat Doyle, of Canton, at the shoot.
(MyBayCity Photo by Dave Rogers)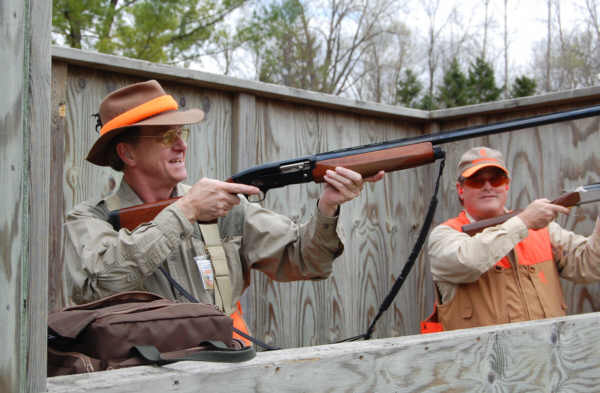 Pat Jacobs, left, and Bob Thomas, both of Bay City, prepare for the pheasant release.
(MyBayCity Photo by Dave Rogers)
After a sandwich and chili lunch, shooters repaired to the nearby corn fields where they paired up in blinds. A total of 730 pheasants were released, with each shooter taking home about seven birds, according to the ranch owners, Kim and Nick Anthony, father and son. The family has operated the ranch for 23 years.
The 1,000 acre ranch raises about 12,000 pheasants a year, and buys about 28,000 birds from a farm in Ohio. It is busy almost every day of the season, August to April. The facility sports two overnight lodges.
Prior to the shoot, Nick Anthony and Black Jack Ben, a Black Labrador retriever, demonstrated how a trained dog brings back birds in any setting. In this case Ben, when tapped on the head, would race toward a pond and swim to the simulated bird (a foam toss on a rope), swim back and deposit the "bird" at his master's feet.
Ben, a $2,500 dog from Black Jack Kennels in Kansas, is going to be a father soon, and the pups sell for $600 a pop. Two litters a year are slated to be sired by this member of canine royalty and a bitch of comparable bloodline.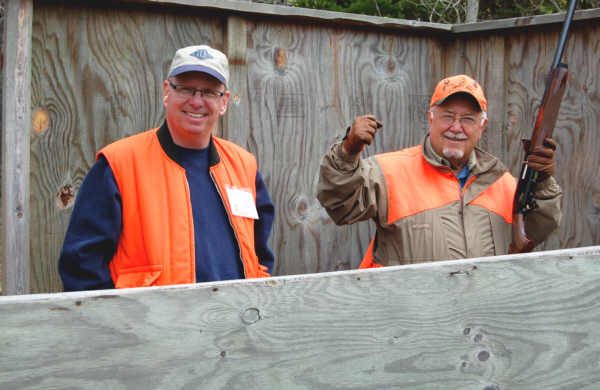 Brian Kay, chief financial officer of Bay Regional Medical Center, left, and W. Rex Gibson, of Cincinnati, celebrate a good shot.
(MyBayCity Photo by Dave Rogers)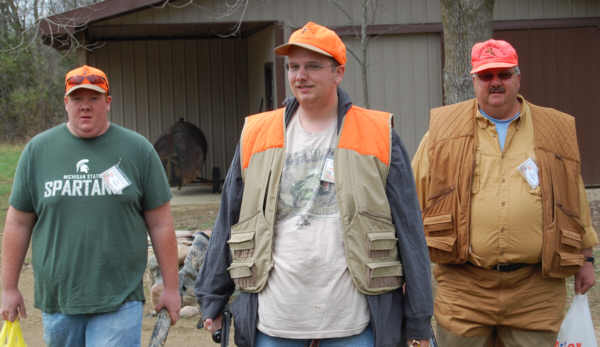 Dr. Jim Compau, right, and sons Phil and Max, left, head for their blind at the pheasant shoot.
(MyBayCity Photo by Dave Rogers)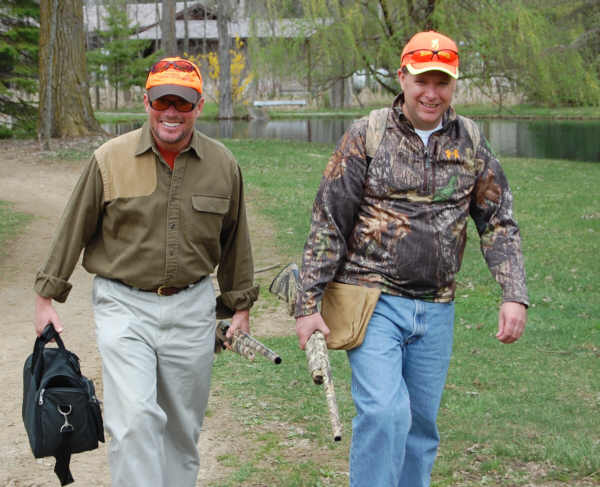 Bay City Realtor Frank Janca, left, and mortgage broker Ivan Miller are all smiles as they head for the field.
(MyBayCity Photo by Dave Rogers)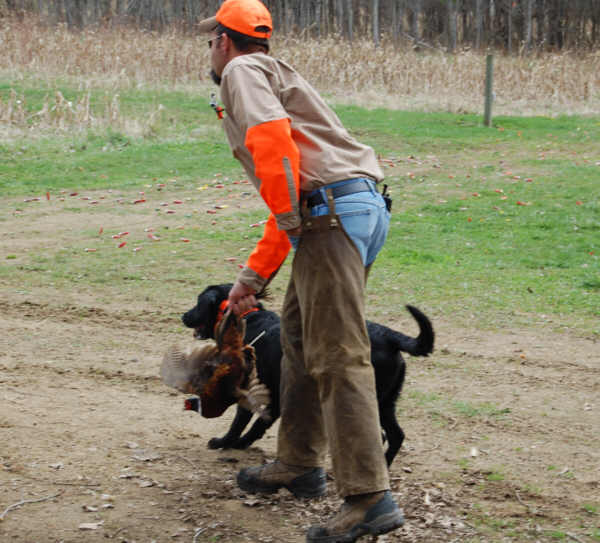 Chad Byrd, of North Branch, secures a ringneck from Boone, an eager 6-year-old Black Labrador retriever.
(MyBayCity Photo by Dave Rogers)
###
---
Outdoors Article 4827
"The BUZZ" - Read Feedback From Readers!
hbauman Says: On April 20, 2010 at 12:01 PM

Great job on the article Dave! It is really appreciated by all the committee members to have you there and capture the moments and people that really make a difference in our community. Thank you to all that participated, sponsored and donated to such an important cause.
---

Dave Rogers




Dave Rogers is a former editorial writer for the Bay City Times and a widely read,
respected journalist/writer in and around Bay City.
(Contact Dave Via Email at carraroe@aol.com)

More from Dave Rogers
---
Send This Story to a Friend!
Letter to the editor
Link to this Story
Printer-Friendly Story View
---
--- Advertisments ---