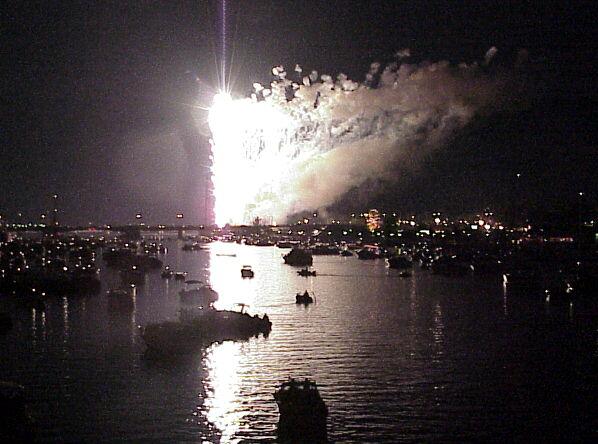 40 Years of Bay City Fireworks Festivals
Festival honors fallen US Soldiers lost in Iraq and Afghanistan
What started in 1964 as a small fireworks display has grown into one of the summer's largest attractions. People come from far and wide to see this show. Every street within ten blocks of the riverfront is lined with parked cars. Every parking lot and yard with a view of the skyline is loaded with people on blankets and in lawn chairs. When one arrives at the riverfront parks the crowds are huge. Even the river is packed with boats which arrive well before dark to get a good spot.
Where most cities have one night of fireworks on the Fourth of July, Bay City has three. Thursday and Friday nights featured "small" shows which ran about fifteen minutes. These are great "warm ups" for the main event on Saturday night. The crowds are much smaller and parking is not such a challenge.
Saturday's 45 minute main event show was a tribute to the U.S. Soldiers killed in the conflicts in Afghanistan and Iraq. At 9:45, just as the sky was becoming dark, the crowd was treated to a low level flyover by two Marine FA-18D night strike fighter jets. It was fast, it was loud, and it was exciting. At exactly 10:00 pm, the jets returned for a second pass up the river. As they passed the new Doubletree Hotel Conference Center on the riverfront both jets lit their afterburners and became fireworks of their own as they climed out on tails of fire!
The fireworks started with a spectacular mortar barage of white shells and huge booms. The entire river was bathed in intense whitelight. The evening then proceeded through a great show set to music. The finalle featured rockets fired from both sides of the river to the center in a huge arc of light. The show then crescendoed into a traditional finalle with hundreds of shells going up in a huge display.
The fireworks were the main event of the weekend, but there was much more including a parade, a riverfront carnival, evening concerts, helicopter rides, contests and other events. The party started Thursday and ran through Sunday. It was just a typical weekend in Mid-Michigan's summer event city.
---
---

Stephen Kent




Steve Kent and his family have lived in Bay City for 40 years. He is VP of Technical Services at MMCC which produces MyBayCity.Com. Kent is active in many Bay City civic organizations.

More from Stephen Kent
---
Send This Story to a Friend!
Letter to the editor
Link to this Story
Printer-Friendly Story View
---
--- Advertisments ---