Dow Chemical Solar Shingles to be Available Soon, Company Announces
Green Technology: Can It Overcome Job Losses From Global Energy Shifts?
April 21, 2010 Leave a Comment
By: Dave Rogers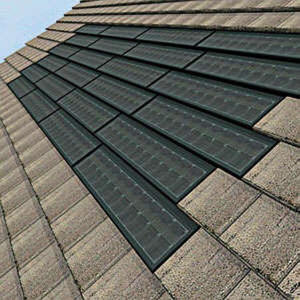 The Dow Chemical Company's "Powerhouse" Solar Shingle Technology is expected to be available soon.
Everybody's going green!
And, the shift in technology is happening fast.
Also, it's a worldwide trend.
In a development close to the Great Lakes Bay Area, The Dow Chemical Company's "Powerhouse" Solar Shingle Technology is expected to be available soon.
Announced last October,the evolutionary photovoltaic solar panels in the form of solar shingles that can be integrated into rooftops with standard asphalt shingle materials.
The solar shingle systems are expected to be available in limited quantities by mid-2010 and projected to be more widely available in 2011, putting the power of solar electricity generation directly and conveniently in the hands of homeowners.
Groundbreaking technology from Dow Solar Solutions (DSS) integrates low-cost, thin-film CIGS photovoltaic cells into a proprietary roofing shingle design, which represents a multi-functional solar energy generating roofing product.
The innovative product design reduces installation costs because the conventional roofing shingles and solar generating shingles are installed simultaneously by roofing contractors. DSS expects an enthusiastic response from roofing contractors since no specialized skills or knowledge of solar array installations are required.
Dow officials say the new solar shingles are the first-ever mass-market building integrated photovoltaic (BIPV) shingles that seamlessly blend with residential asphalt rooftops while also providing the roof protection of the asphalt shingles that they replace.
Other residential BIPV products currently exist, but they are not compatible with asphalt shingles and can only be utilized on homes that have upgraded to more expensive roofing tiles or slates.
DOW? POWERHOUSE Solar Shingles are cost competitive with frame-mounted panels on asphalt rooftops, and offer significant system savings over integrated PV panels used on tile or slate roofs.
Despite the green trend, according to the U.S. Energy Information Administration, world consumption of energy is projected to increase 44 percent from 2006 to 2030.
China and India are predicted to be the fastest-growing economies and the world's largest energy consumers. Together, they accounted for about 10 percent of the world's total energy consumption in 1990, but are projected to be 28 percent of world energy consumption by 2030.
In contrast, the U.S. share of world energy consumption is predicted to fall from 21 percent in 2006 to about 17 percent in 2030.
While conservationists may applaud such a decline in U.S. energy consumption, economists understand the impact is potentially ominous. A decline in energy consumption will most likely lead to economic contraction and expanded job losses.
Green technology will face a global shakeout in 2010 as companies rethink their business and communication strategies and focus on economic rather environmental benefits, according to Phillips & Company, a global communications and business development firm.
"We are no longer faced with a trade-off between the air we breathe and the dollars we spend. Economic growth is not only possible, but fueled by our decidedly human drive for green technology and energy efficiency," says company president Rich Phillips.
The firm, which has launched its Green Technology and Sustainability Practice, is working with companies to help them reassure investors and customers that green technology is not only good for the environment, but good for their wallets too.
According to a recent survey by the National Association of Home Builders, 49 percent of Baby Boomers want "green homes" but only 12 percent are willing to pay more for it. Similarly, data center managers are struggling to address rising energy costs and they are turning to green technology for cost savings first; environmental benefits are secondary.
On the other hand, 30 percent of companies see sustainability as core to their business operations, including the sale of green products or services. Respondents to the survey for The 2009 Greening of Corporate America Report said they expect green practices will reduce energy costs (75 percent), retain and attract customers (70 percent), and provide market differentiation by contributing to the firm?s financial performance (61 percent).
Says Phillips, "Consumers and businesses admit their primary motivation for "going green" is cost savings and efficiency. If the market for green technology is going to grow, companies preaching green tech solutions must present a strong case for why green can help the bottom line, especially in these challenging economic times."
This reality can lead to a challenging balance in communications strategy pitting the message of stewardship against profit. Added Phillips, "We are no longer faced with a tradeoff between the air we breathe and the dollars we spend. Economic growth is not only possible, but fueled by our decidedly human drive for green technology and energy efficiency."
"Over time, green technology promises to make our lives healthier and our earthly resources more sustainable. But this revolution is not sacrificial. The most successful green technologies will enable us to consume more, not less. Green technology that enables us to produce more, eliminate energy waste and optimize energy inputs will ultimately win. Sustainability is not about conserving the status quo -- but nourishing and supporting growth."
The green trend affects cities, too. Research shows that developing green spaces in urban areas provides significant economic, social and environmental benefits to communities. Urban parks create jobs, protect property values and help small businesses grow, all while increasing the health and well-being of residents.
In Congress, H.R. 3734, the Urban Revitalization and Livable Communities Act, would help communities build and rehabilitate more parks and green spaces.
---
---

Dave Rogers




Dave Rogers is a former editorial writer for the Bay City Times and a widely read,
respected journalist/writer in and around Bay City.
(Contact Dave Via Email at carraroe@aol.com)

More from Dave Rogers
---
Send This Story to a Friend!
Letter to the editor
Link to this Story
Printer-Friendly Story View
---
--- Advertisments ---