Grave Gesture Helps Heal Catholic-Protestant Conflict on Clare Island
Myth, Storytelling Summer School Set on Pirate Queen's Irish Lair
July 6, 2004 1 Comments
By: Dave Rogers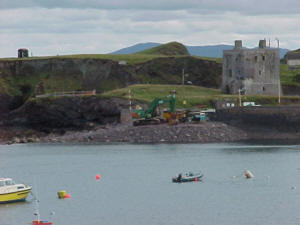 Fishing boats, ferries and a work boat and barge are moored in the Clew Bay harbor of Clare Island, County Mayo. Notable historical site is the 15th century castle of pirate queen Grace O'Malley, right.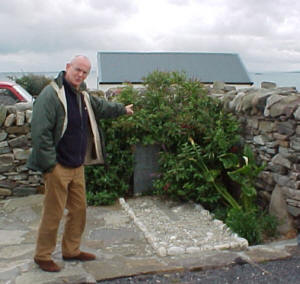 Dublin bookie (betting is legal in Ireland) John McMonigle shows the grave of British Navy Petty Officer J.J. Tweed, now enclosed in the walls of the Clare Abbey Cemetery after 60 years outside the walls.
      When the body of British Royal Navy petty officer J.J. Tweed washed ashore on Ireland's Clare Island in 1941, the local priest refused to allow his burial in the tiny church cemetery. You see, Tweed was British, and a Protestant. So the victim of aship battle on the Irish Sea had to be buried outside the cemetery walls.
      Sixty years later, Father Ned Crosby of Clare Abbey, a 16th century Cistercian monastery, righted the wrong done decades earlier to Petty Officer Tweed. He ordered the wall rebuilt so Tweed's grave was included in the main cemetery. Parishioners at the abbey revere Father Crosby for that act, offered in the spirit of the peace that reigns today after centuries of Protestant-Catholic conflict in Ireland.
      Former President Bill Clinton's book is prominently displayed here; local residents explain that Clinton won the hearts of the Irish by helping start the peace process.
      Dave and Dolores Rogers are here on Clare Island, County Mayo, for a week-long Bard Summer School, exploring myth and storytelling. Two dozen scholars, mostly Irish and British, with a few Americans, are led by a team of Jungian psychoanalysts from Dublin and Galway. Team leader Alexander "Sandy" Dunlop, advocates a business consultanting strategy using storytelling and myth.
      Psychoanalyst Ellen O'Malley-Dunlop, former chieftain of the O'Malley clan worldwide, and Dr. Mairin Nolan, Galway psychiatrist, are team leaders who established the school 10 years agoon Clare Island. (Information: www.bard.ie)
      Mrs. Dunlop is a descendant of the 16th century pirate queen Grace O'Malley (aka Granuaile), whose galleys and men dominated the waters of Clew Bay and the Irish Sea.
      Granuaile's three-story summer castle still stands at the mouth of the harbor on the island. Her statue stands in nearby Westport on the mainland, honored for her boldness in demanding an audience with the autocratic Queen Elizabeth I and living to tell the tale. She went to London and met the Queen, but the governor of Connaught foiled her agreement with to release her imprisoned son. Granuaile died a few years after her historic meeting with Elizabeth.
      As the story goes, Grace's skull and two gold earrings, on display in the abbey, were swept up by a Scotsman raiding graveyards for a bone meal factory. It was a final irony for the Amazon who had pillaged Scottish ports with her raiding galleys.
      The only industry on this timeless, mountainous rock is a salmon "farm" established 17 years ago and employing a hardy dozen. The farm is half a dozen pens in the azure, pure waters, producing boatloads of tasty fish processed on nearby Achill Island.
      So far, the wish of island development council chairman Donal O'Sheaghe, not to be "over-run by tourists" is being fulfilled.###
---
Arts/Theater Article 484
---

Dave Rogers




Dave Rogers is a former editorial writer for the Bay City Times and a widely read,
respected journalist/writer in and around Bay City.
(Contact Dave Via Email at carraroe@aol.com)

More from Dave Rogers
---
Send This Story to a Friend!
Letter to the editor
Link to this Story
Printer-Friendly Story View
---
--- Advertisments ---