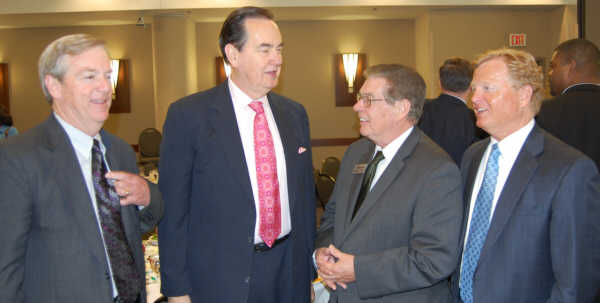 Columnist and Great Lakes Bay Regional Expo luncheon speaker Cal Thomas (red tie), meets with three chamber of commerce presidents, Sid Allen, Midland, left, Bob Vandeventer, Saginaw, right, and Mike Seward, Bay, chatting with Thomas.
---
165 Vendors Make Big Splash at Great Lakes Bay Regional Expo
Columnist Cal Thomas Entertains Huge Crowd at Kickoff Luncheon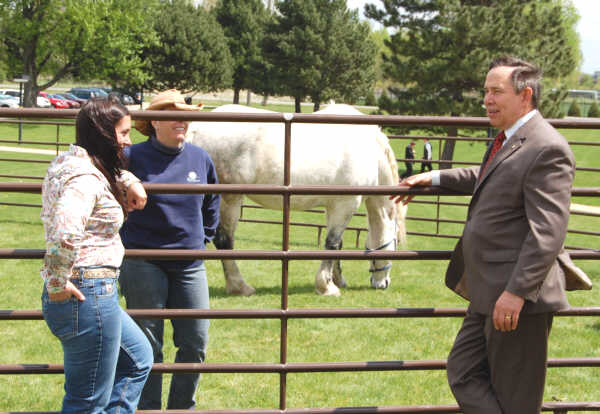 CPA Gary Riedlinger talks with Courtney Vassall, left, and Tracy Weber, Ph.D., (behind fence) about their Kaleidoscope Learning Circle team building training, leadership and personal growth training using horses.
(MyBayCity Photo by Dave Rogers)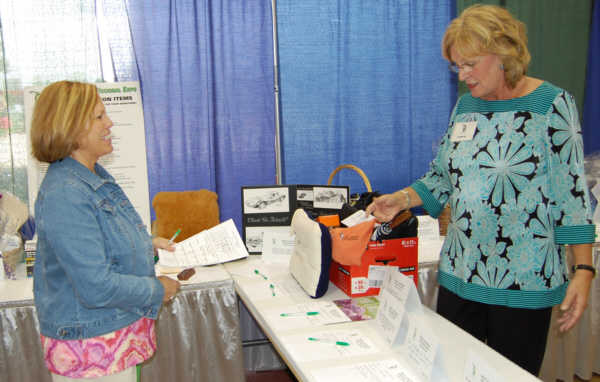 Debbie Stevens, of Stevens Cycle Sales, Bay City, left, discusses her bids at the event's first-ever silent auction run by Josie Meyer, operator of the Whitestone Pointe Cabins, AuGres.
(MyBayCity Photo by Dave Rogers)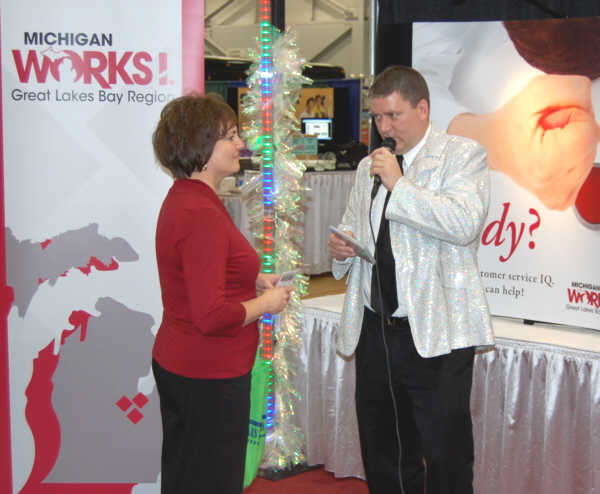 Pam Sowinski, of Health Plus of Michigan, is interviewed by Dennis Beson of Michigan Works in a game show format. Gerritt Wierda of Michigan Works explained the promotion is part of a customer service program designed to encourage employers to locate in this area.
(MyBayCity Photo by Dave Rogers)
When the three chambers of commerce of Bay, Midland and Saginaw get together, they do it up right.
Some 165 exhibitors displayed their wares, goods, services, programs, etc., in the Saginaw State University field house.
It was the event of the year as usual, this year called the "Great Lakes Bay Regional Expo," and the crowds loved the scene.
Columnist Cal Thomas was a scintillating luncheon speaker, even jousting agreeably with Saginaw film student Alex Mixter to wind up his peroration.
Thomas, well known as a conservative voice, nevertheless gave both barrels to both political parties, along with dispensing his own brand of beltway and downhome populist wisdom.
"Vote intelligently and keep an eye on these characters afterward," Mr. Thomas counseled his eager listeners.
One of his most interesting observations was about a book called "The Nun and the Bureaucrat: How They Found a Cure for America's Sick Hospitals," by Louis M. Savary and Clare Crawford-Mason.
The secret to success of hospitals, and other organizations, said Mr. Thomas, is a program called "systems thinking" described in the book. It came from the auto industry and involves employees focusing on the organization as a whole and transforming it as a whole, rather than just their own job, he explained, adding: "This is a tool for seeing that the world can be improved."
Through all of his self-proclaimed "political Darwinism," Mr. Thomas said he has been able to escape the corruption of Washington, even though he was born there and lives there, because "Journalism allows me some separation."
We the people, Horatio Alger doing for yourself, getting rid of "stuff," emphasis on character, integrity, faith and morality -- he couldn't really miss with those bromides.
What he called "the dependent culture" was a prime target, charging that 20 percent of the population is receiving government aid despite welfare reform, along with the health care bill, that he called "a sick care bill."
Tried and true "conservative" positions were expounded upon: too many and too high taxes, living within your means, being responsible for yourself.
The columnist spared few politicians, having special jibes for, of course, Nancy Pelosi, Barack Obama, Tom Harkin -- even Sarah Palin, of whom he said: "I got a problem with her."
Although Washington was a favorite whipping boy, he summarized: "The problem is not in Washington, it's in the human heart."
He got enthusiastic applause and ran off to catch a plane for another speech elsewhere.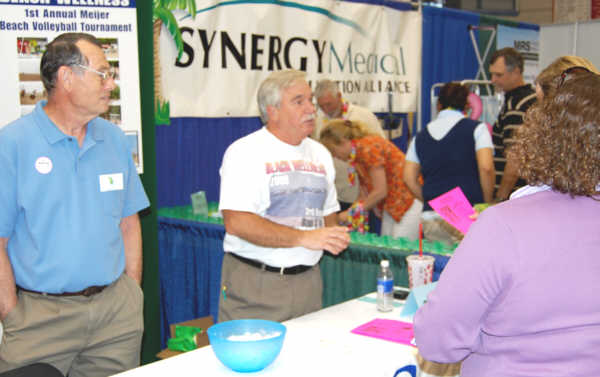 Ron Graham, left, and Ernie Krygier, tell visitors about the Save Our Shoreline organization efforts.
(MyBayCity Photo by Dave Rogers)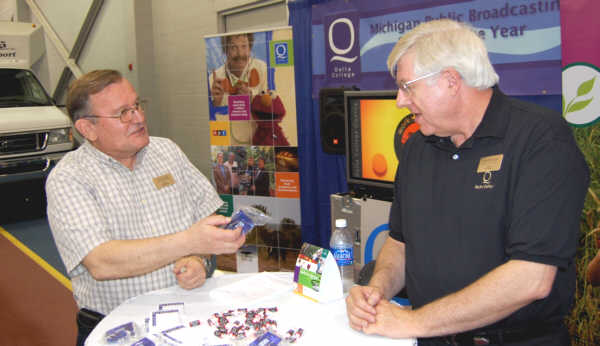 Tom Garnett, left, chief engineer, and Scott Seeburger, business and community relations director, talk about upgrades being made to the Delta College Public Broadcasting studios.
(MyBayCity Photo by Dave Rogers)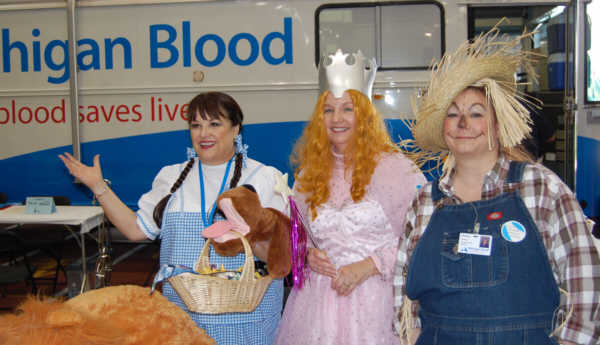 "Dorothy" (Gail Manntz of Frankenmuth), "The Good Witch" (Arlene LeTarte of Saginaw) and "Scarecrow" (Cristy Trerice of Bay City) clown around and entertain donors at the Michigan Blood Bank vehicle.
(MyBayCity Photo by Dave Rogers)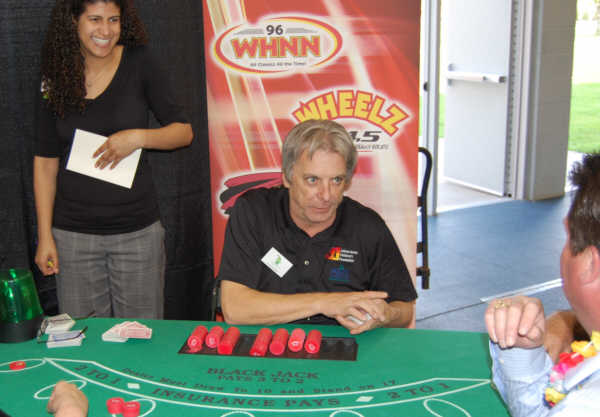 Rachel Geddes and Johnny Burke, disk jockeys on WIOG and WHNN, respectively, teach customers how not to gamble with their advertising dollars
(MyBayCity Photo by Dave Rogers)
---
---

Dave Rogers




Dave Rogers is a former editorial writer for the Bay City Times and a widely read,
respected journalist/writer in and around Bay City.
(Contact Dave Via Email at carraroe@aol.com)

More from Dave Rogers
---
Send This Story to a Friend!
Letter to the editor
Link to this Story
Printer-Friendly Story View
---
--- Advertisments ---