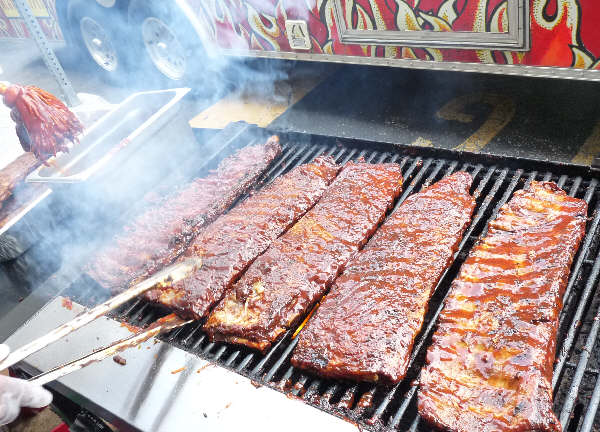 Get Ready For Labadie Pig Gig 2010 !
Wendy Dore and Doreable Entertainment Inc. Are Getting Ready For You!
May 31, 2010 Leave a Comment
By: Julie McCallum, Entertainment Editor
Recently the Labadie Pig Gig Press Conference was held. Labadie Auto Company was host to event as Ribs and all the fixins' were catered by Famous Dave's of Saginaw!
The Labadie Pig Gig presented by State Farm is set to kick off August 5th through August 8th in Veteran's Memorial Park in Bay City.
Covenant Health Care, Dow and Muehlenbeck Distributing have joined with Labadie & State Farm and other local sponsors to make sure that the Boys and Girls Clubs of Bay County and other area charities will have another successful fund-raising weekend!
Advance tickets again will be only $5.00. Kids 12 and under are FREE! What a great way to keep your kids happy for the weekend! Advance discount of HALF PRICE tickets through August 3rd for only $5.00. (Daily admission at the gate will still only be $10.00) Weekend passes are only $18.00! Again - kids 12 and under are FREE!
Tickets are on sale today at both Labadie locations, participating State Farm agencies and on-line soon at labadieauto.com.
This Championship Rib Cook-off is the setting for national competitors vying for the title of 'The Best in the Midwest'. Including Rib champions from around the country and even from around the world.
New competitors this year are 2 Fat Guys from Massillon, OH, BBQ Masters Stockbridge, GA, and Smokin Joe's from Mansfield, OH.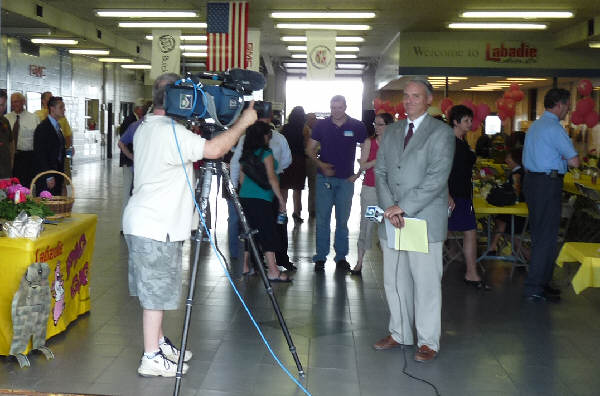 (Above) TV 5's Craig McMorris was in attendance reporting live for the Noon News!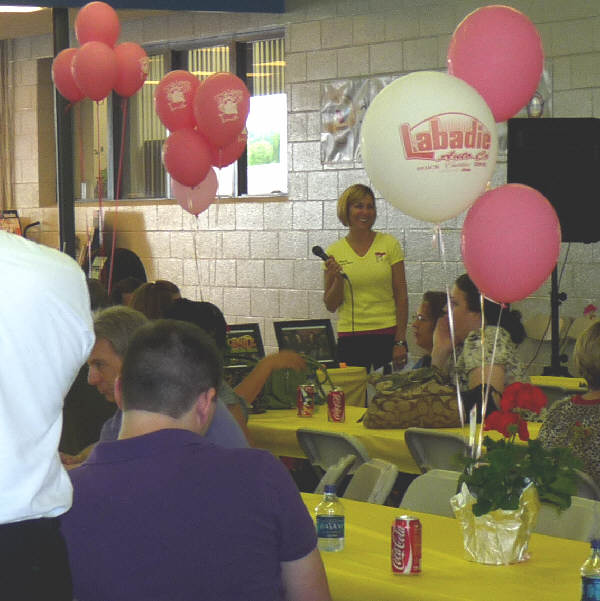 Wendy Dore, President of Doreable Entertainment, said, "Our goal is to provide a family friendly event that is affordable for everyone in the community. Dore continued, "Without the support and sponsorship of the Labadie Family, the $5.00 advance ticket pricing would not be possible."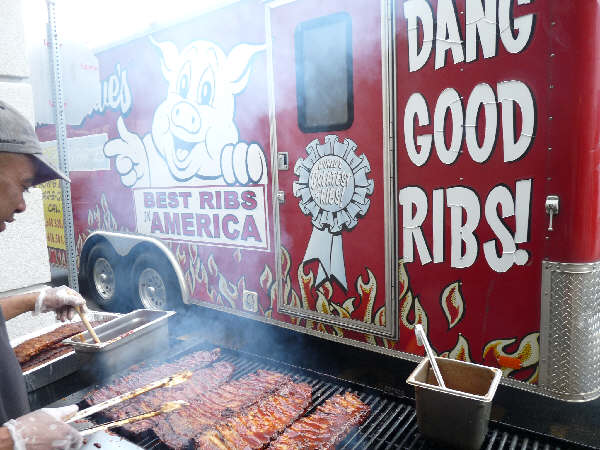 Famous Dave's of Saginaw will also be competing again this year.
The
2010 concert line up
offers an exciting mix of musical performances! Concert sponsors supporting the 2010 Labadie Pig Gig are AmericInn, HealthPlus, Mid-Michigan Toyota Dealers, Merrill Lynch and 7-Eleven's SLURPEE! All evening concerts will begin at 7:11 p.m.
THURSDAY - Toys In The Attic, Aerosmith Tribute Band
FRIDAY - Candlebox
SATURDAY - Gloriana
SUNDAY - Patty Smyth & Scandel
New addition this year - WHEN PIGS FLY!!
Each participating Charity will be selling $10.00 Raffle Tickets that correspond to a numbered piggy. On Sunday, August 8th at 5 PM, 1,000 of the numbered pigs will be dropped from a helicopter onto a targeted area in Veteran's Memorial Park. (Plastic pigs, not real!!) The 3 pigs closest and one the farthest away from our 'pig pen' will win cash prizes totaling $2,000.00.
The most significant aspect of the Labadie Pig Gig presented by State Farm is the fund-raising effort for the Boys and Girls Clubs and other participating charities. With the efforts of volunteers and the continued support of our sponsors and patrons, throughout the years we have raised
over $800,000.00
for their worthwhile charities.
State Farm Insurance, will again be hosting a hospitality tent to provide additional covered seating for patrons.
For all that fun in the sun, Covenant Health Care will again be providing
sun screen
and their Hospitality Tent as a place to get out of the heat and enjoy your rib dinners.
Increasing their sponsorship involvement this year is Dow Chemical. Dow is one of the premier sponsors this year in addition to hosting the Dow Family Stage; they will also be providing the business community with a fun evening at the Dow Chemical Chamber Hospitality Tent on Thursday, August 5th. Chamber of commerce members from Bay City, Saginaw, Midland and Mt. Pleasant will receive free admission courtesy of Dow Chemical. Chamber members will receive their invitations through their Chamber mailings.
The Labadie Pig Gig presented by State Farm will also feature on-going entertainment on The Dow Family Stage. Game shows, clowns, dance and musical performances will delight young and old alike! In addition, a special appearance will be made by Ronald McDonald courtesy of Larry & Diana Peters of the Bay City McDonalds!
Another major sponsor is Meijer, who will be hosting the Michigan Lottery Booth where attendees can play great lottery games and win some cool lottery prizes! Meijer is a tremendous addition to Bay City and the surrounding communities and we appreciate their support.
The AmericInn will also be presenting some fun games on the Dow Family Stage!
Saganing Eagles Landing Casino and Soaring Eagle Casino will again provide a covered area to meet and greet our entertainment and get an autograph. Plus they will be hosting some fun games for everyone to win!
Pig Racing returns to the Labadie Pig Gig as well! Several individual races each day will provide fun you can bet on! Back by popular demand, the pig races offer our guests the chance to bet on their favorite pig and bring home the bacon. Again this year, Racing Hot Dogs', these races have to be seen to be believed!
The
Catholic Federal Credit Union 5K Race
will be held on Saturday, August 7th as part of the event! It is a true test of commitment, not only to finish the race but to the charities as well. The event is open to all runners and walkers. This race is associated with the prestigious Crim Race in Flint. Many of the runners will use the Catholic Federal 5K race as a qualifier. The race begins at Vets Park, travels along the Riverwalk and loops back to finish at the Labadie Pig Gig festival grounds in Veterans Memorial Park.
Dow Corning & The Great Lakes Loons are sponsoring the Charity Area to provide space for over 20 various non-profit groups that will be hosting many activities to raise awareness & monies for their organizations. This is a significant commitment to the fund-raising efforts of the event! Because of this sponsorship, 100% of the monies collected by the charities are kept by them!
Great Lakes Harley Davidson
will once again sponsor the Teddy Bear Run to Covenant Health Care. New stuffed animal or teddy bear donations can be dropped off at Great Lakes Harley Davidson on M-13 in Bay City. These teddy bears and animals will be strapped on the motorcycles of a caring group of riders that will take them from Great Lakes Harley to Covenant HealthCare's Pediatric Center. Having a warm cuddly stuffed animal greet a sick or injured child will surely be a comfort! Plus after the riders leave Covenant HealthCare they will ride back to the Labadie Pig Gig presented by State Farm and park in Hog Heaven, a special parking area for motorcycles.
The Pigalicious Tasting Tent
was a huge success last year and will be expanded in 2010. This year the tasting tent will be held in conjunction with the State Farm Hospitality Tent. Attendees can sample the food and have a relaxing place to sit and enjoy the shows. This exciting FREE food demonstration tent is provided for our attendees to learn professional cooking tips from the experts! Area chefs, rib competitors, media personalities and food columnists will demonstrate their culinary creations from appetizers, summer salads, BBQ fare to desserts. There will be entertainment from singing chefs to Barefoot Wine tasting. Samples will be offered to compliment the fare when appropriate. Admission to the tent is free for our guests. The State Theater of Bay City will benefit from this tent by selling lottery tickets for a chance to be able to taste the savory dishes that are prepared!
The Boys and Girls Clubs of Bay County will staff the 'Kids Kraft' Center, which is sponsored by Meijer.
'Sand Art' and many more activities and contests will be ongoing continuing throughout the weekend. Face painting will be available to transform all the kids into little piggies for the day!
The Labadie Pig Gig will again this year host a
"Celebrity Rib Challenge"
in which local media personalities compete against each other with their own "secret recipe" to win "The Best Celebrity Ribs". Proceeds generated during this competition will be donated to worthwhile charities in the area. The general public can try the ribs specially prepared by their favorite local celebrity and vote for their favorite.
The first 100 people voting will receive a special goody bag compliments of The Bay City Mall!
Batschke Garden Center
donates the beautiful decorations at the event entrance, VIP 'Swine & Dine' tent and the Pig Racing Area.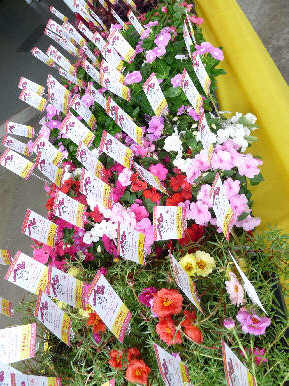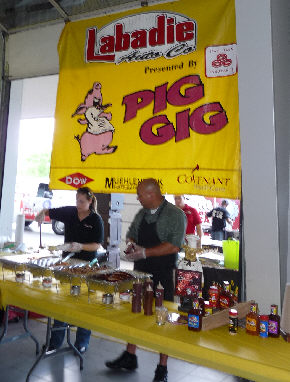 DoreAble Entertainment, the organizing event company of the Labadie Pig Gig presented by State Farm is proud to have been part of this fund-raising event. Wendy Dore, the festival organizer, said, "Along with the Labadie family, we are proud to be part of this supportive community which offers a great quality of life. We thank our sponsors, media representatives, city officials, employees and volunteers who contribute to the event to raise the funds that are donated to our recipient charitable organizations".

Log on to www.Piggig.com for more information.

---
---
---
Send This Story to a Friend!
Letter to the editor
Link to this Story
Printer-Friendly Story View
---
--- Advertisments ---