MEDC Announces Funding for Farmers Markets Under 'Farm to Food' Program
Grant Program Aims to Help Create Jobs Through Expanded, Improved Markets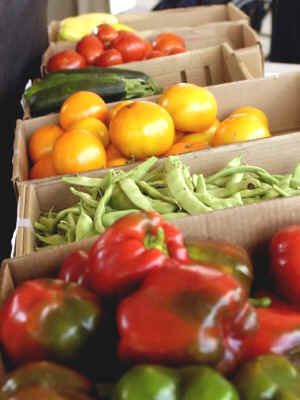 Farm to Food market grants will be available for communities seeking to construct, rehabilitate, acquire, expand, or improve facilities.
The Michigan Economic Development Corporation (MEDC) is launching its first farmers market initiative this summer: the Farm to Food program, according to Katharine Czarnecki of the agency.
The program provides funding opportunities for farmers markets in the state of Michigan to expand and positively impact communities through new job creation and job retention.
Farm to Food market grants will be available for communities seeking to construct, rehabilitate, acquire, expand, or improve facilities for the support of a three- or four-season farmers market.
Funding through the program must be used for the construction, expansion, acquisition, or improvements of new or existing farmers markets that will be or are located in low- and moderate-income communities.
Farmers markets are a stable source of economic activity because the food is grown, bought and sold in the community, allowing everyone involved in the exchange to benefit. The local farmers' profits are kept in the area and invested back into local farming practices and consumers enjoy fresh food that hasn't been frozen of imported from across the globe.
The impacts of farmers markets on communities are advantageous for three audiences: farmers, consumers and businesses. The Farm to Food program will promote consumption of locally grown agricultural commodities by expanding direct producer to-consumer marketing opportunities. This will promote sales of small and mid-sized farms in the area, insuring job security for local farmers. By retaining farmers' jobs, the markets will also protect farmland and green space.
Businesses benefit because farmers markets do not have a niche market, they are desirable in urban and rural areas. More funding to farmers markets will provide opportunities to promote training, education, networking, and information sharing for farmers, vendors, and sponsors.
Farmers will be able to allocate funding towards businesses that assist in production planning, market growth management, and understating branding and consumer trends. The grant also includes facility support, which may be given to local businesses able to house and accommodate farmers markets.
Farmers markets provide fresh food to under-served consumers. The benefits of implementing the program in low-moderate income communities will provide greater fresh fruit and vegetable access to communities that need it the most, communities with a high prevalence of low-income households and communities with children and seniors in need. In addition, the program may provide the opportunity to 'grow farmers', develop training and educational programs for women, minorities, immigrants, transitioning, and young farmers in Michigan.
By assisting farmers, consumers, and businesses, the Farm to Food program will benefit the entire community. Markets increase social activity because they create active public spaces that bring together diverse groups of people, shape growth and minimize sprawl. The MEDC Farm to Food program is geared so that agricultural community development will become a staple in Michigan communities.
The MEDC is working with local and statewide partners to strengthen this community development endeavor and continue a cycle of fresh food. The Farm to Food program will open up opportunities and lines of communication between economic development corporations, local governments, agricultural cooperatives, university specialists, and regional farmers market authorities.
---
Local News Article 4952
---

Dave Rogers




Dave Rogers is a former editorial writer for the Bay City Times and a widely read,
respected journalist/writer in and around Bay City.
(Contact Dave Via Email at carraroe@aol.com)

More from Dave Rogers
---
Send This Story to a Friend!
Letter to the editor
Link to this Story
Printer-Friendly Story View
---
--- Advertisments ---