Chamber to Hear Bay Regional Medical Center CEO on Health Care Bill Effect
Alice Gerard, RN, to Address Key Issue of the Year as Medicaid Crisis Looms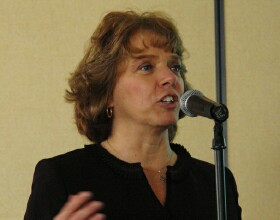 Alice Gerard, RN, president and CEO of Bay Regional Medical Center, Bay City.
The area's leading nurse-health care executive, Alice Gerard, CEO of Bay Regional Medical Center, will speak to the Bay Area Chamber of Commerce on Tuesday morning.
Ms. Gerard will address the question of the day: How will the new federal health care reform legislation affect the industry?
She will speak at a chamber "eye opener" breakfast slated to begin at 7:30 a.m. Tuesday at the Bay Valley Resort Hotel. Her remarks also will include an outlook for health care and an assessment of the overall status of the industry.
Ms. Gerard is a 1985 graduate of Saginaw Valley State University and received her master's degree in nursing there in 1991. She was honored by SVSU as its "outstanding alumnus" in 2007.
Bay Regional Medical Center (BRMC) provides a full range of medical services for the residents of Bay County. A part of McLaren Health Care, the hospital's main campus at 1900 Columbus Avenue, Bay City, has more than 400 beds and provides general medical and surgical care, as well as specialty care in areas such as cardiovascular disease, neuroscience, oncology, rehabilitation, orthopedics, and women's health.
BRMC also features an emergency room and Level II trauma center, and provides home health and hospice care. A second campus, Bay Special Care Hospital, 3250 E. Midland Road, Bay City, is a long-term acute care hospital serving patients requiring hospital stays of longer than 25 days.
The state of health care in Michigan was outlined recently by the Michigan League for Human Services, (MLHS) a Lansing-based social advocacy organization:
"Michigan's Medicaid program strained to the breaking point Over the past decade, many in Michigan turned to Medicaid, as unemployment grew and fewer employers offered insurance." reported MLHS.
Meanwhile, Kathleen Sibelius, secretary of the U.S. Department of Health and Human Services, has issued a statement noting that Medicare benefits will remain the same under the new act. She said there will be better access to care and better longterm care under the plan. In the fall citizens will have a choice between the original Medicare and a Medicare Advantage plan. Everyone will receive a handbook detailing changes in the fall, she said.
Medicaid -- the state and federal health care program for low-income children, some very low income parents, the frail elderly and others with disabilities -- now covers more than 1.8 million in Michigan, nearly one in every five people in the state, and 38 percent of all children, according to a MLHS report.
To meet the growing demand at a time when state resources are severely limited, state policymakers have cut some "optional" services, including dental and vision care for adults on Medicaid, and cut provider payments by 8 percent. Without new revenue for fiscal year 2011, more cuts will be required.
Those cuts happened despite enhanced federal funding from the American Recovery and Reinvestment Act (ARRA), which is expected to pump $2.2 billion in enhanced Medicaid funding into Michigan between October 2008 and December of this year.
If proposed federal legislation is signed to continue the enhanced funding until June 2011, Michigan will realize $500 million more.
"It's hard to think of what health care would have looked like in Michigan without these extra Recovery Act dollars to pay doctors, nursing homes, hospitals and clinics for services in communities throughout the state," said Karen Holcomb-Merrill, director of the state fiscal project for the League.
"Michigan is now struggling to find state match dollars to keep this money in Michigan, making it critical that lawmakers consider additional revenue."
Under the Recovery Act and the new federal health care reform law, Michigan and other states cannot reduce Medicaid eligibility below what was in effect July 1, 2008 in order to receive the enhanced funding. For now, federal dollars pay for 75 percent of the health care, making every $1 cut at the state level a loss of $4 in actual health care services.
Governor Jennifer Granholm has proposed a tax on physicians to help build the state match to draw down these federal dollars. That proposal has little support. The Senate, while voting to restore optional services, cut 4 percent from some doctor fees next year, and eliminated some 19-and 20-year-olds from the program and caretaker relatives (not allowed under federal health care reform that passed the day before the Senate action).
Without new sources of revenue, cuts will have to be made in the Medicaid program in the Department of Community Health budget. More cuts to payments to doctors and other providers will further restrict access to health care for low-income people in Michigan. ?We do have choices, other than a cuts-only scenario," Holcomb-Merrill said.
"Extending sales tax to services, moving to a graduated income tax, closing tax loopholes or a physician's tax to raise the match for Medicaid are all viable options."
The report "Déjà vu: Michigan Struggles to Fund Medicaid Program" is available on the League's website at www.milhs.org ### The League
---
---

Dave Rogers




Dave Rogers is a former editorial writer for the Bay City Times and a widely read,
respected journalist/writer in and around Bay City.
(Contact Dave Via Email at carraroe@aol.com)

More from Dave Rogers
---
Send This Story to a Friend!
Letter to the editor
Link to this Story
Printer-Friendly Story View
---
--- Advertisments ---