Bay City's Roots in the Paul Bunyan Tales To Be Subject of Documentary Film
Lumberjack Competition on the Saginaw River to Bring Back Lumbering Days
July 21, 2004 1 Comments
By: Dave Rogers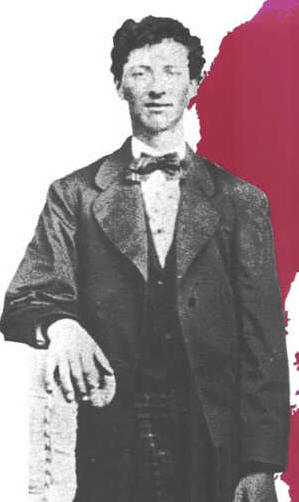 The main model for the Paul Bunyan legend was this unassuming French-Canadian lumberjack Fabian "Joe" Fournier, pictured at about age 18 in 1865 just after emigrating here from Quebec.
      The lumberjack competition of Saturday, July 31 in Veterans Memorial Park will reprise the heady days of the late 1800s when Bay City was the lumber capital of the world and 100 lumber mills stretched along the river from here to Saginaw.
. . . . .
This is embarrasing, but only paid subscribers can view archived articles on MyBayCity.com.

The maximum of 1 free blocks have been shown.
A paid subscription is required to read the full article.

If you have a subscription, please use the Log-in (top of screen) to log in.

If you do not have a subscription you may use the Log-in (top of screen) to subscribe now.


---

Diags build while calculating max body blocks.
P3_Article.ArticleID: 497
P3_Article.CategoryID: 3
P3_Article.ArticleDate: 2004-07-21 161 months old

1 P3q_CurrCategory records
WHERE CategoryID = '3'
CategoryName [Arts/Theater]
Category_Free []


The following are read in P3v3-t010.cfm
PUB_Free_Article_Age [120] months
PUB_Free_Blocks [1]
PUB_Subscription_Fee [120]
PUB_Subscription_Term [12] in months
session.LoginID [Default]
session.Login_Type [reader]

0 P3q_CurrSubscriber recs ---------------
Subscriber_Paid_From []
Subscriber_Paid_To []

Diag-020:
P3q_CurrSubscriber.RecordCount: 0
P3q_CurrSubscriber.Subscriber_Paid_From: []
P3q_CurrSubscriber.Subscriber_Paid_to: []
Diag-024:
After date test.
Not logged in as subscriber
P3body_Sub_from [2001-01-01]
P3body_Sub_to [2001-12-31]

Diag-100:
P3wkURL [subscriberid ='9191919' ] Used by t010 to get subscriber
P3body_Sub_from: [2001-01-01]
P3body_Sub_to: [2001-12-31]
Diag-200:
P3_PublicationDef.PUB_Free_Blocks: 1
P3body_Subscribed: N

P3body_MaxBlocks defaults to 9999.

Teaser only
P3body_Subscribed NOT = "Y"
P3body_MaxBlocks=1 are allowed

Build P3_Fulltext looping over 19 bodytext records WHERE ArticleID = '497'
We've already com up with the P3body_MaxBlocks above.
We test it now and display the message at the top if necessary.
---
"The BUZZ" - Read Feedback From Readers!
Pepe Says: On June 01, 2017 at 06:40 PM

Sacre' blue! I still appreciate your accidently allowing the photograph to be downloaded despite your cheapskate way of trying to extort money just to read the article.
---

Dave Rogers




Dave Rogers is a former editorial writer for the Bay City Times and a widely read,
respected journalist/writer in and around Bay City.
(Contact Dave Via Email at carraroe@aol.com)

More from Dave Rogers
---
Send This Story to a Friend!
Letter to the editor
Link to this Story
Printer-Friendly Story View
---
--- Advertisments ---