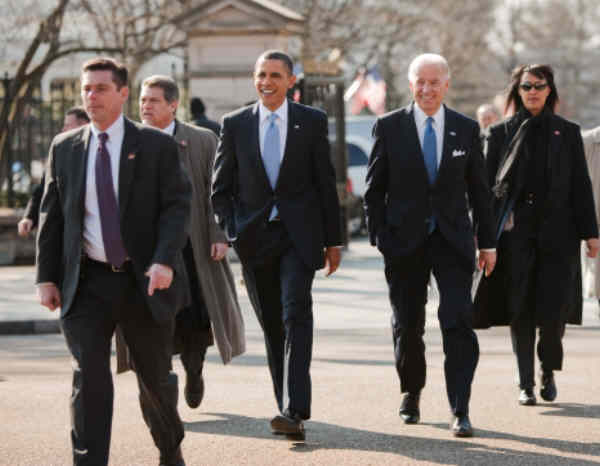 Vice President Joe Biden, center right, and President Barack Obama head to another policy meeting in Washington.
---
Vice President Biden Due at Battery Plant Groundbreaking Monday in Midland
State Strategy Aimed at Creating Center of Auto Battery Production Gains
Advanced auto batteries clearly are charging Michigan's -- and the Great Lakes Bay Area's -- economic future.
Part of the confirmation of that will come from Vice President Joe Biden's attendance at the groundbreaking ceremony of a new $600 million Dow Kokam advanced battery production plant Monday in Midland.
The Midland plant to be visited by Biden is expected to create about 1,000 construction jobs and 320 permanent jobs over the next four years. The Midland plant has received a $161 million federal grant.
Last August the Vice President was in Detroit to announce billions of dollars in federal grants for battery development.
Federal and state incentives to private companies are boosting Michigan hopes to emerge as a major center of production for advanced batteries that can power electric cars.
Gov. Jennifer Granholm's strategy of making Michigan a center of battery production is achieving early success. There are now 16 battery companies building factories in the state.
Michigan has attracted $6 billion in investment over the past 18 months geared toward battery-powered vehicle production. Granholm estimates that battery production will create a total of 62,000 new jobs in the state.
Ford Motor Co. recently announced it would spend $135 million to retool two plants to assemble battery packs and build electric drive transaxles. Nearly half of Ford's investment comes from the federal government.
Last year's federal stimulus package included 30 percent tax credits for clean-energy manufacturing facilities -- part of an effort not only to promote economic growth but also to address climate change.
Biden traveled to Michigan to announce that $1.3 billion in Energy Department grants for battery development and manufacturing -- more than half the funds available under the two year federal stimulus program -- would be spent in the state.
"Frankly, these are the most significant subsidies I've seen in 17 years of doing this," says Randy Thelen, president of Lakeshore Advantage, a west Michigan economic development firm. "I've never seen anything quite like this."
---
--- Advertisements ---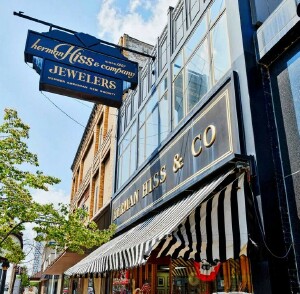 ---
In his Tuesday evening Oval Office address about the Gulf of Mexico oil spill, President Obama underscored what he sees as the critical importance of such investments: "The tragedy unfolding on our coast is the most painful and powerful reminder yet that the time to embrace a clean energy future is now," Obama said.
"Now is the moment for this generation to embark on a national mission to unleash America's innovation and seize control of our own destiny."
Michigan has emerged as a battery research and production center partly because of its historic strengths as a manufacturing center, but also because of the state's aggressive policy on tax incentives for private firms.
Michigan has jumped on the federal bandwagon. Anticipating passage of the stimulus program in the early days of the Obama administration, the state legislature in December 2008 approved a major tax incentive package. The state has now spent some $2 billion on its battery efforts.
Michigan's main motivation, of course, is creating jobs. Other states may be struggling to emerge from the so-called Great Recession, but Michigan has never really recovered from the recession that officially ended in 2001.
The state has suffered the nation's worst unemployment rate for several years and currently stands at 13.6 percent.
"There's no guarantee in life that this will be the next big thing," says Mayor Kurt Dykstra, of Holland, a city of 35,000 along Lake Michigan where two of the big lithium ion battery cell plants will be located. "But I'd rather be in the position we're in, having these two facilities in our community, rather than having them be somewhere else."
One part of the strategy involves the Dow Chemical Company of Midland which is developing a lithium ion battery plant for electric vehicles in partnership with TK Advanced Battery.
The latest action on the battery development front came recently when TSC Michigan broke ground for a new national headquarters in Northville Township near Detroit.
TSC is a subsidiary of South Korea's Techno Semichem, which develops components for lithium-ion batteries for electric vehicles, cut the ribbon Wednesday for new U.S. headquarters in Northville Township near Detroit.
The plant is seen creating 279 new direct jobs, and 1,394 indirect ones over five years. The Michigan Economic Development Corporation has awarded TSC Michigan $3.2 million in tax credits over seven years. Northville Township also offered property tax breaks.
The company plans to invest $31.1 million in the new headquarters in a now-vacant building. Development of a new way of producing advanced electrolyte materials for lithium-ion batteries will be moved from South Korea to the new Michigan site.
TSC joins a number of other lithium-ion battery and components developers in Michigan, as the state tries to reinvent itself as the center of advanced automobile battery manufacturing.
Last year, Michigan awarded A123 Systems, of Watertown, Mass., $100 million in refundable tax credits to support a new manufacturing facility in Livonia.
Compact Power, a Troy-based subsidiary of LG Chem, of South Korea, will invest $303 million in a new lithium-ion battery plant in Holland, Michigan. The plant will break ground this summer and by 2013 is expected to employ more than 400 people.
Johnson Controls, headquartered in Milwaukee, Wisconsin, also reportedly is opening a plant in Holland to manufacture lithium-ion batteries. ###
---
---

Dave Rogers




Dave Rogers is a former editorial writer for the Bay City Times and a widely read,
respected journalist/writer in and around Bay City.
(Contact Dave Via Email at carraroe@aol.com)

More from Dave Rogers
---
Send This Story to a Friend!
Letter to the editor
Link to this Story
Printer-Friendly Story View
---
--- Advertisments ---