No Experience Required:
Tall Ship Celebration Looking for Volunteers
June 18, 2010 Leave a Comment
By: MyBayCity Staff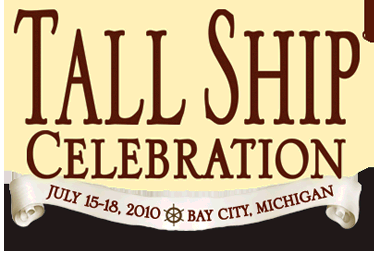 Tall Ships -- Bay City, MI -- July 15-18, 2010
[Bay City, MI] When the American Sail Training Association Tall Ship fleet arrives in Bay City on July 15th,volunteers will spring into action catching lines, carefully maneuvering ships into their pre-assigned docking spaces and working with crew to make sure the vessels are secure and ready to receive guests the following morning.
These volunteers provide an important service, but represent just one of several different tasks to be filled by area volunteers."Tall Ship Celebration: Bay City has been extremely fortunate to have the support of 400 to 500 volunteers for each of the earlier events in 2001, 2003 and 2006," explained Volunteer Coordinator Gary VanHoogstraten. "We are counting on their generosity and enthusiasm again to make the 2010 event a smooth running success."
"Volunteers are needed for positions ranging from taking tickets to managing parking lots, and from assisting guests on ships to assisting children with craft activities.
A list of volunteer tasks and a Volunteer Application Formcan be found on the festival's website www.tallshipcelebration.com.
Volunteer Sponsor Named Citing the importance of volunteerism to local communities, Bay Regional Medical Center has agreed once again to sponsor the Volunteer component of Tall Ship Celebration.Bay City's community hospital has experienced firsthand the critical role played by volunteers and the difference they can make in the lives of people and communities.
"Hundreds of volunteers responded to our call and have helped provide health care to thousands of uninsured people in our community through the Helen M.Nickless Volunteer Clinic," said Kurt Miller, Director of Marketing and Public Relations for the 404-bed hospital.
"Because we understand the importance of volunteers, we are delighted to be the Volunteer Sponsor for a great community event like Tall Ship Celebration.
Tall Ship Celebration: Bay City - P. O. Box 820 - Bay City, MI 48708 - www.tallshipcelebration.comTall Ship Celebration: Bay City -Volunteers Needed -- Tall Ship Celebration: Bay City is an award-winning maritime festival featuring twelve Tall Ships July 15-18,2010. Bay City is the only Michigan port to host the visiting Tall Ships Challenge fleet this year.Tall Ship Celebration: Bay City is presented by the Dow Corning Corporation and sponsored by The Bay City Times and Neighborhood Ford Dealers Association with additional support from the Dow Chemical Company, St.Mary's of Michigan, Consumers Energy, WCMU Public Broadcasting, Wildfire Credit Union and Citizens Bank.
The American Sail Training Association's Tall Ships Challenge is a series of races and rallies that occur annually,rotating among the east, west and Great Lakes coasts. Other ports to host the Tall Ships Challenge fleet in 2010 include Toronto, Ontario; Cleveland, Ohio; Duluth, Minnesota; Green Bay, Wisconsin; and Chicago, Illinois. The Challenge is not expected to return to the Great Lakes again until 2013.For more information about Tall Ship Celebration: Bay City volunteer opportunities or to purchase tickets, visitwww.tallshipcelebration.com or send an email message to info@tallshipcelebration.com.
---
---
---
Send This Story to a Friend!
Letter to the editor
Link to this Story
Printer-Friendly Story View
---
--- Advertisments ---