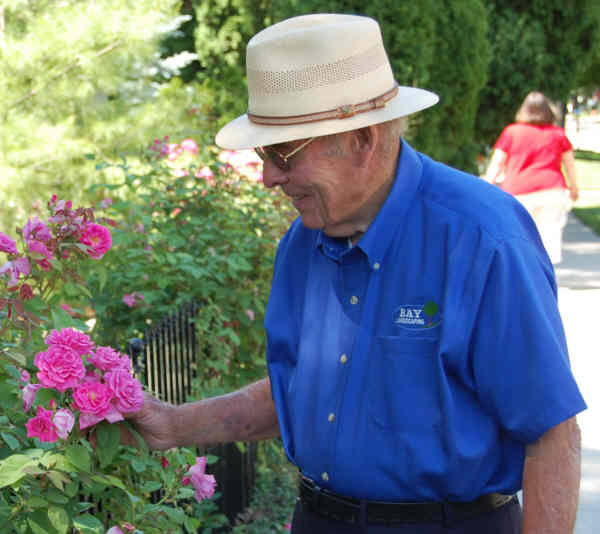 Horticulturist and nursery owner Dick Somalski inspects roses flowing over the fence at Claire Gregory's during the recent Garden Walk.
(MyBayCity Photo by Dave Rogers)
---
Hundreds Throng Garden Walk on Gorgeous Day for Benefit of Do-All, Inc.
Day Features 5 Gardens, Gourmet Luncheon, Market & Plant Sale
June 18, 2010 4 Comments
By: Dave Rogers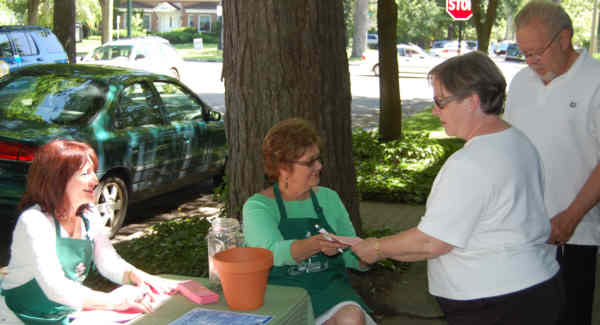 Garden Club Volunteers Luci Horak, left, and Judi Hill greet Midlanders Terry and Sue Nussear outside the garden of Grant and Sandy Urband, 1611 Center Ave.
(MyBayCity Photo by Dave Rogers)
Hundreds of garden lovers reveled in the flora that lived up to the name of the Roman goddess of flowers.
Proud garden owners described their plats and plots, their fountains and bosky dens.
Artists painted the scenes and helped to set the scene themselves.
And the Bay City Garden Club "Garden Walk 2010" went down in history as a great success. Initial reports were that more than 400 tickets were sold.
The event, entitled "Small Spaces, Special Places," was held for the benefit of Do-All Community Gardens and the purposes of the Bay City Garden Club, a member of the Garden Club of America.
The club promotes interest in horticulture, conservation, civic beautification and artistic use of plant material.
Gardens on display were at the homes of:
Richard and Sandra Block, 2222 McKinley Ave
.;
Starting with a blank canvas in 2004, Sandy envisioned a lush, private retreat for eating, entertaining, meditation and relaxation. This young garden is maturing into everything she intended. Each year brings a new feature to the garden. A series of circles and semi-circles of cobbled pavers create walkways and a patio. Flowerbeds overflowing with perennials, shrubs, annuals, vegetables and herbs create that lush look. There is even a grape arbor and a few strawberry plants. The raised pond and fountain is the focal point and helps to drown out the city noise. Many recycled items were used, such as the old clothes poles holding the swing. Old windows were used to provide a holding place for the new seedlings to harden off.


Anita Bowden, 1614 McKinley Ave
.;
This small textured secluded garden was created as a peaceful outdoor space for quiet reflection and an intimate area for entertaining friends. Crafted eight years ago in the area between the house and detached garage, small trees, ornamental grass and a variety of flowering shrubs provide three-season appeal. Colorful rock-strewn berms and a meandering brick walkway frame the planting beds and water features. Plantings include wisteria, Japanese maples, trumpet vine, and bittersweet and are punctuated with evergreens for an Asian-infused English garden theme.


Grant and Sandra Urband, 1611 Center Ave
.;
This is a surprising green expanse bordered by flowers and foliage typical of an English garden. A hidden terrace features a mermaid fountain and is sheltered from the noise of the city by maple trees and a perfola. This garden and the Victorian home are pleasant reminders of times gone by and are examples of the beauty found in blending architecture and horticultural design against a backdrop of nature's unpredictability.


Claire Gregory, 701 N. Grant Place;
The garden sits on 20 truckloads of new soil after more than 20 truckloads of cement and debris were removed approximately 20 months ago. This English garden is complete with walkways and paths developed from two restored chimneys and other miscellaneous recycled items. Railroad ties, which were discarded on this property provide raised beds encompassing a variety of flowers, berry bushes, herbs and vegetables. Neighbors shared many of the plantings and the installation of the rock garden. Three large White Pine trees provide privacy and fit the theme because the house was constructed of White Pine 130 years ago. Twenty-nine antique rose bushes border the fence and Hydrangeas and white and purple Lilacs add to the antiquity surrounding the porches.


Stuart Barbier and David Spear, 924 Center Ave.
Stuart and David did most of the work themselves, designing the gardens over the past seven years to complement the historic city setting of the house and to give some privacy. Victorian wrought iron fencing from a convent in Buffalo, New York, surrounds the inner gardens, which feature a free-standing fountain, old street bricks, natural stone and man-made pavers among a variety of plantings. A hidden garden along the back of the carriage house focuses on a bronze wall fountain and pergola/swing. The outer gardens include container plantings, a vegetable garden and various rock gardens.
A gourmet luncheon, or rather a series of gourmet luncheons, were served at Chesny's Keswick Manor, 1800 Center Ave.
A Garden Market and Plant Sale was held in a lot on Center Avenue west of Johnson Street.
---
--- Advertisements ---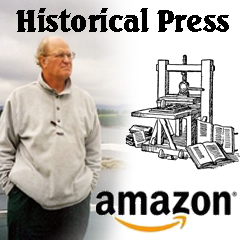 ---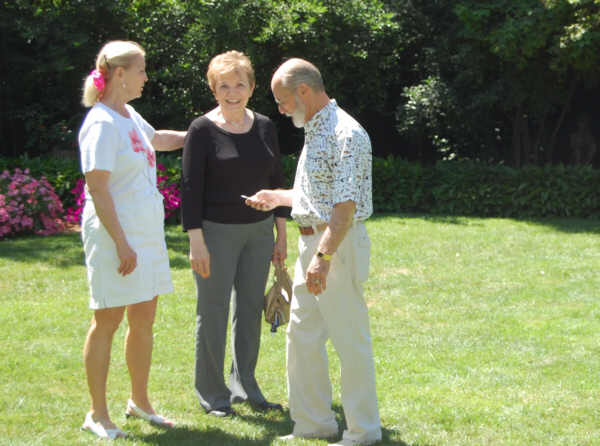 Sandy and Grant Urband chat with Dolores Barron-Rogers (center) in the Urband's spacious garden replete with wrought iron gazebo crammed with a profusion of flowers and plants.
(MyBayCity Photo by Dave Rogers)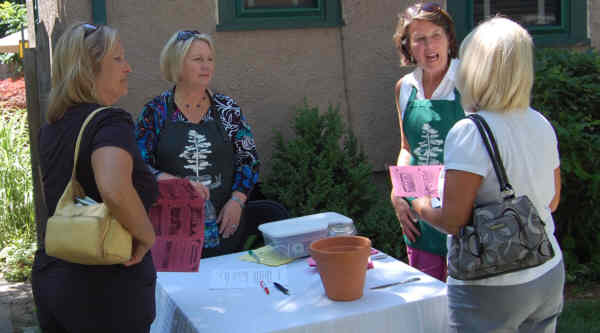 Connie George and Sandy Webb, (back, left to right) Garden Club workers, greet Marlene Phillips, left and Marcia Mathews at the garden of Anita Bowden.
(MyBayCity Photo by Dave Rogers)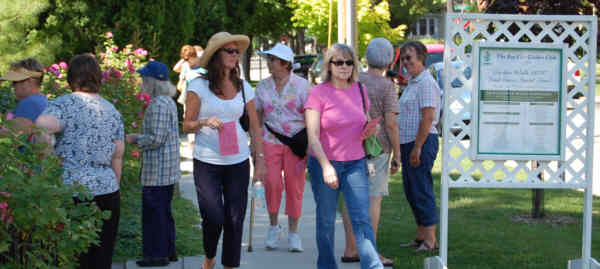 Crowds of garden viewers flock outside the home and garden of Claire Gregory, 701 N. Grant Place.
(MyBayCity Photo by Dave Rogers)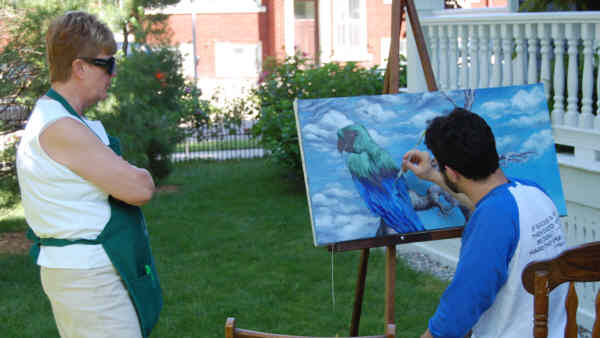 Debbie Holbein watches as Rashad Baiyasi, Physics student at Delta Colleges, works on a watercolor of an eagle.
(MyBayCity Photo by Dave Rogers)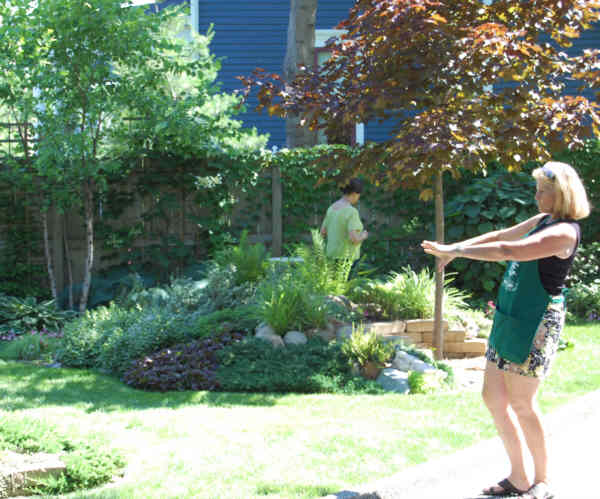 Sue Girard, Garden Walk volunteer, waves at the expanse of floral varieties in the spacious garden of Stuart Barbier and David Spear.
(MyBayCity Photo by Dave Rogers)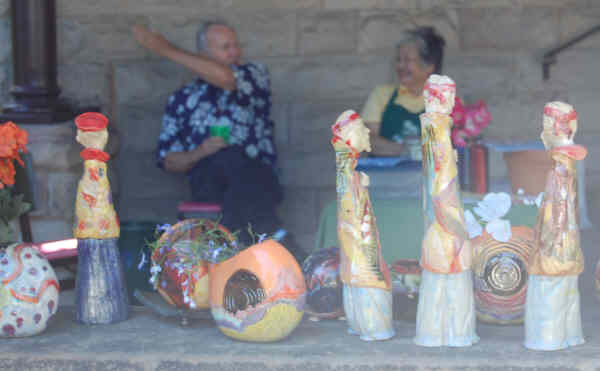 Artist John McCormick and Garden Walk worker Hope Shimabukuro keep watch on a shelf full of Mr. McCormick's ceramic garden art at the Barbier-Spear house.
(MyBayCity Photo by Dave Rogers)
###
---
"The BUZZ" - Read Feedback From Readers!
pauliemaj Says: On June 23, 2010 at 07:58 AM

Wow! Great job on the coverage of a great day in Bay City.
Paul & Ellie Majchrzak
dworks15 Says: On July 01, 2010 at 10:25 AM

The Garden Walk is a yearly project for the Bay City Garden Club and always delivers a beautiful day no matter what the weather.

Thanks to all who supported this year's walk which benefited Do-All inc. and their community gardens. Look for Do-All at the Downtown Farmer's Market this July with the "fruits(veggies)" of their labor!
Sue Girard
hshima32 Says: On July 03, 2010 at 02:16 AM

Thanks for the coverage of this and previous garden walks. The home owners deserve so much credit for opening their gardens to the public.This helps Do-All to continue to do their good work for the community.
Hope Shimabukuro,
gholbein2002 Says: On July 03, 2010 at 10:04 AM

Terrific Coverage of our Annual Garden Walk!!
Thanks for the article;nice pics recognizing the club's volunteers.The event next year is already being planned, with the Kantzler Arboretum receiving the funds for it's Revitalization & improvements!!
Debbie Holbein
---

Dave Rogers




Dave Rogers is a former editorial writer for the Bay City Times and a widely read,
respected journalist/writer in and around Bay City.
(Contact Dave Via Email at carraroe@aol.com)

More from Dave Rogers
---
Send This Story to a Friend!
Letter to the editor
Link to this Story
Printer-Friendly Story View
---
--- Advertisments ---






0200 Nd: 03-22-2019 d 4 cpr 0






SPONSORED LINKS
---
LOCAL LINKS
(Ads not affiliated with Google)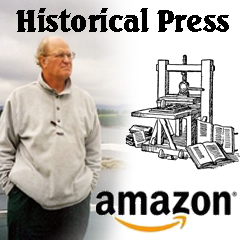 ---
---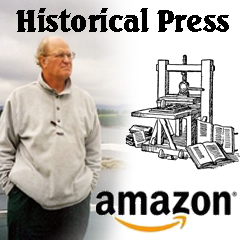 ---
Ads By MyBayCity.com
Rotary Club of Bay City
rotary.org


Click Here To Join Today
---
Ads By MyBayCity.com
Bay Area Chamber of Commerce
Click Here to Visit Our Site!


Improving The Economic Climate, Business Environment & Quality of Living Throughout The Bay Area
---
Ads By MyBayCity.com
Rotary Club of Bay City
rotary.org


Click Here To Join Today
---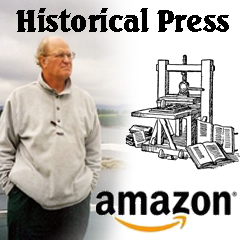 ---
---