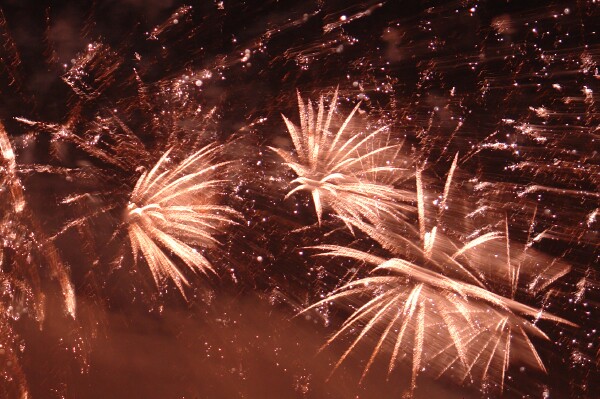 ROAR, BANG, GLIDE
Three weeks of big events come to Bay City River Front
June 23, 2010 1 Comments
By: Stephen Kent
Bay City is going to be the center of activity in Michigan for the next four weekends. The city, known for summer festivals, usually takes a break between events by scheduling them two weeks apart. Well, take a deep breath because two of the three largest events of the summer are happening back to back then there's a one week break before the largest event of the year.
---
Dow Bay City River Roar - June 25-26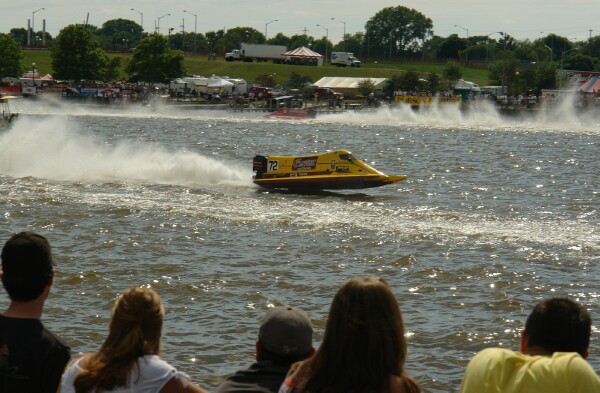 The events kick off June 25 and 26 with the
Dow Bay City River Roar
boat races. Over the last twenty years Bay City has become known for having one of the most difficult courses on the circuit with the seawalls that reflect the waves and increase the chop.
Bay City also has some of the best public viewing of any course with the bleachers on the West side and the tents, promenade, and docks on the East side.
Proceeds from the event support a number of charitable organizations.
---
Bay City Fireworks Festival - July 1, 2, 3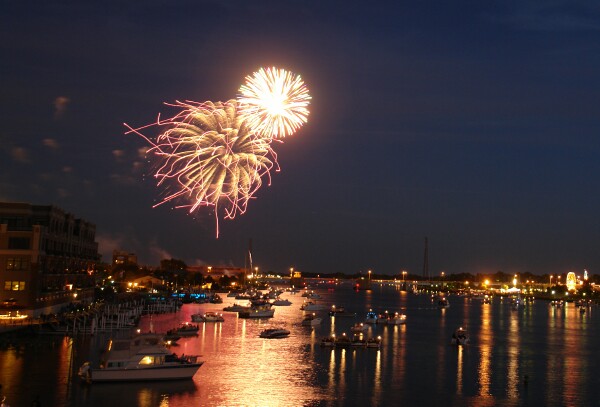 The following weekend, July 1 to July 3, is the three day
Bay City Fireworks Festival
. Besides some of the best fireworks in Michigan, shot on THREE NIGHTS, the festival will include a Jeff Diffee concert, a Pageant to crown a King and Queen, a Baby Pageant, a Carnival with great rides and games, and a Beer Tent all three days. But the fireworks are the big draw.
In a schedule presented to city fathers, organizers show
452 shells
on July 1 and
542 shells
on July 2. The big show on July 3 is scheduled to shoot
5,505 shells
PLUS
150 Roman Candles
and
2,700 "Cakes"
. That's a lot of fireworks!
---
Tall Ship Celebration 2010 - July 15 - 18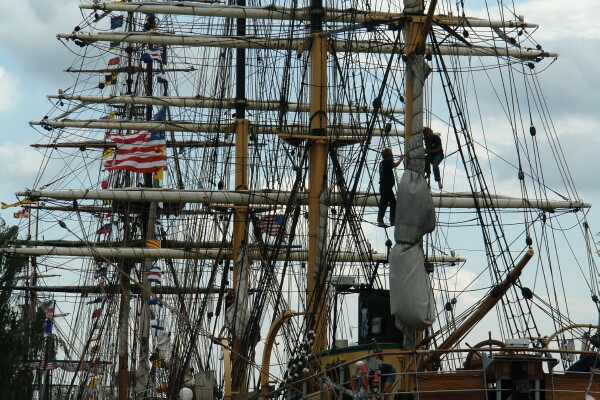 July 15 through 18 will see
Tall Ship Celebration 2010
come to town. This is the fourth time since 2001 that the Tall Ships have come to Bay City.
This is one of the largest events the City mounts. Organizers expect over 100,000 visitors. According to Shirley Roberts, over $6,000 in tickets were sold to people from a half dozen states in the first days the web site was opened. Roberts personally took an order from Washington DC for Ten Passports and Ten tickets for the Alice Cooper concert.
Bay City puts on a great event and has been named Port of the Year by the the American Sail Training Association multiple times. Organizers are going all out to continue the tradition and win Port of the Year again.
Find the ships using the
ASTA Fleet Tracker
---
MyBayCity.com is know for covering the summer events. We plan to cover this year as well with our usual expanded photo spreads and articles.
River Roar Articles over the years
2015 River Roar In Pictures
06-27-2015 Bay City River Roar 2015
04-28-2015 Bay City River Roar One Day Ticket Sales Will ROCK and ROAR!
04-12-2015 Bay City River Roar 2nd Annual Springfest
06-29-2014 Bay City River Roar ROCKS
06-27-2014 River Roar Midland Street Pub Crawl
06-13-2014 River Roar Hits Bay Valley Golf Course
03-19-2014 Bay City River Roar Announces 1 Day Ticket Sale on May 3
03-19-2014 Bay City River Roar Announces 1 Day Ticket Sale on May 3
03-04-2014 WINE about Winter and CHEER About Beer Event to Benefit River Roar
06-24-2013 River Roar 2013 Enters Record Books
06-22-2013 Bay City Roar Rocks Another Year of Concerts
06-20-2013 26th Annual River Roar Headlines Big Weekend!
04-12-2013 River Roar Announces 2013 Concert Line-up
06-24-2012 25th Annual River Roar In Downtown Bay CIty
6-24-2012 The Weekend Place To Be Bay City's 25th River Roar!
06-24-2012 River Roar Pub Crawl
04-29-2012 Kroger Food Can Be Used For River Roar Event Entry
03-22-2012 Bay City Dow River Roar Announces Concert Line Up
06-26-2011 2011 Dow River Roar's High Speeds, Sharp Turns Make for Thrilling Weekend in BC
June 27, 2010 River Roar 2010 Damp But Great Fun
July 5, 2009 DOW River Roar Review
June 28, 2009 River Roar 2009 Delights Crowds
April 15, 2009 Gearing Up For 2009 DOW RIVER ROAR Dow Title Sponsor for 2nd Year
June 26, 2008 PHOTO GALLERY RIVER ROAR WEEKEND IN BAY CITY JUNE 2008
June 22, 2008 Ratt & Roll & River Roar -- With Special Guest Jackyl
June 22, 2008 River Roar Makes Waves
In the Pits with Rinker Racing and Team AMSOIL Rinkers Finish 7th and 8th in Champ Boat River Roar Finale June 24, 2007 In the Pits with Rinker Racing and Team AMSOIL 2007
June 24, 2007 You Know It's Summer In Bay City When . . . THE RIVER ROARS! 2007
June 24, 2007 Poison & Ted Nugent Rock the 2007 River Roar in Bay City
June 25, 2006 19th Labadie River Roar Highlight of Weekend 2006
June 26, 2005 RIVER ROARS FOR 18 YEARS - 2005
June 27, 2004 Bay City River Roar # 17 - 2004
June 26, 2004 River Has Been Roaring for A Century in Bay City
June 23, 2004 READY TO ROAR! - 2004
June 22, 2003 River Roars on First Day of Summer 2003
July 1, 2002 RiverRoar 2002!
---
Fireworks
July 2015 Kicks Off With First Of Three Nights Of FIREWORKS
More 2014 Bay City Fireworks Photos!
Bay City Fireworks Festival 2014 - Faces and Fun
Bay City Fireworks Festival Schedule 2014
2013 Fireworks - Three Nights of BOOM!
50,000 Shells In 50 Minutes - Bay City 50th Year Fireworks
Patriotic Music to Kick Off Bay City 2012 Fireworks Festival
2011 Bay City Saturday Fireworks - A Pictorial Event
By: John Keuvelaar
2011 Bay City Fireworks Finale Video
By: Julie McCallum
First of Three Nights of Fireworks - 2011
By: Steve Kent
Bay City Fireworks Finale 2010
By: Julie McCallum
Afternoon BEFORE The Fireworks Just As Much Fun - 2010
By: Steve Kent
Fireworks Spectacle In Bay City - 2010
By: Steve Kent
Local Fireworks Tradition Is Fueled by Volunteer Efforts
2009 Fireworks video by Andy Rogers
2009 Fireworks Spectacular! with video
Annual Fourth of July Fireworks Better Than Ever - 2009
Bay City Celebrates The Fourth, 2008
Bay City Fireworks Weekend In Pictures! 2008
Bay City Fireworks Spectacular Kicks Off Fourth 2007
Bay City Blast Off With Annual Fireworks Spectacular 2007
Blowing Stuff Up. What Could Be More Fun? Bay City's Polish Pyros Light Up Shows All Summer Long 2006
Bay City 4th Photos 2006
Bay City's Fourth - More Than Just Fireworks 2005
40 Years of Bay City Fireworks Festivals 2004
Terry Watson's Most Intrepid Fireworks Fundraiser Almost Cost His Life 2004
Bay City Celebrates the Fourth! 2003
---
Tall Ship Celebration
Seven Regional Companies Join Down Corning Corp. to Sponsor 2010 TALL SHIPS
No Experience Required: Tall Ship Celebration Looking for Volunteers
'Celebration of the Great Lakes' at the State Theater Bay City Featuring Dan Hall & Ric Mixter
Saginaw Bay Symphony Orchestra Plays Tall Ship Celebration 2006
Tall Ships and Great Carnival Food! 2006
Tall Ships Offer Something for Everyone During Weekend Celebration 2006
Tall Ships Make Port in Bay City! 2006
Saginaw River Has 220 Year History of Tall Ships Dating to the Trombleys 2006
Bay City Opens Arms and Bridges To Welcome Tall Ships - 2006
Tall Ships Heading For Bay City 2006
Two of the Six Appledore Tall Ships Call Bay City Home Port - 2005
Sail Training Conference Sked Here in November Heralds Return of Tall Ships - 2005
Tall Ships Festival Draws Tourists and Increased Web Traffic - 2003
We Have Tall Ship Links For You - Ships Arrive August 14, 2003
---
---

Stephen Kent




Steve Kent and his family have lived in Bay City for 40 years. He is VP of Technical Services at MMCC which produces MyBayCity.Com. Kent is active in many Bay City civic organizations.

More from Stephen Kent
---
Send This Story to a Friend!
Letter to the editor
Link to this Story
Printer-Friendly Story View
---
--- Advertisments ---