Stables Michigan Idol 1 Month To Go Till Big Show
Vote for Your 3 Favorite Performers !
June 27, 2010 Leave a Comment
By: Julie McCallum, Entertainment Editor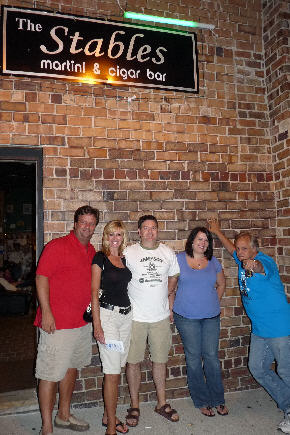 The Michigan Idol Show which is held every Thursday at the Stables Martini & Cigar Bar located inside BARTS on Historic Midland Street In Bay City has one more month of the competition left. Contestants can still join at anytime through the 18 week segment.
Four Finalists plus a wild card (on-line voting) will be chosen after competition on Thursday, July 29, 2010.
Those 5 will perform at the Labadie Pig Gig held August 5, through August 7, 2010. One winner will be announced after the night's performances.
Beginning on the 14th week of the competition contestants will be asked to sing songs according to the "Theme Nights" -- listed below.
July 8 - Motown
July 15 - Beatles
July 22 - Rock
July 29 - Country
Michigan Idol Judge, Mike Bacigalupo, said, "The 'Cast Of Characters' that are vying for the title, need to really 'Bring It' in the next 5 weeks if they want to make the final four and the "Wild Card" spots."
(Above Right)
Bacigalupo, Debbie Waltz, George Lynch, Sarah McQuade, Tom Anderson
(Below) Show Host Doug Dore
says, Full dress attire is expected and contestant are not allowed to use the screen for lyrics.