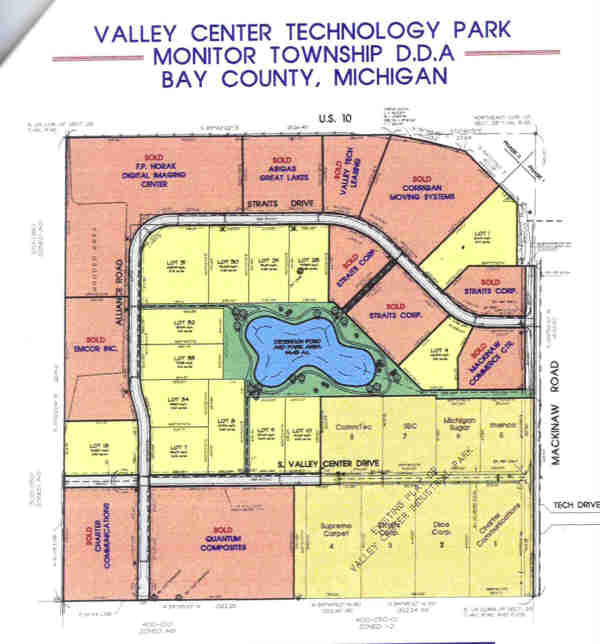 Valley Technology Park - Michigan's Number One Certified Business Park
---
Future Job Growth May Depend on Political Decisions on Valley Center Park
Land 10 Times Cheaper Than Oakland County Offers Expansion Potential Here
August 1, 2004 Leave a Comment
By: Dave Rogers
      Valley Center Technology Park is promoted as "Mid-Michigan's No. 1 Michigan Certified Business Park" and for good reason: land here is 10 times cheaper than business/industrial property in Oakland County.
      That's why local economic developers are hopeful that Michigan firms wishing to expand will discover Bay County.
      They're hoping to parlay a good start made by the park in creating a dynamic center of growth in high technology business and jobs, just what the doctor ordered for revitalization of the local and Michigan economy to meet global competition.
      "Because of today's speed to market requirements by site seekers, business park infrastructure needs to be in place for sites to be competitive and readyfor building," states the CPA consulting firm of Deloitte & Touche Fantus.
      While lots in Valley Center are $23,000 to $27,000 per acre, comparable property in the Oakland County area is priced in the $250,000 per acre range, according to commercial Realtors.
      "We offer all the improvements any industry can get in the Detroit area plus unlimited water and very reasonable utility costs," says Cliff Van Dyke, president of the Bay County Growth Alliance, development and management firm for the park. The 100-acre park is owned by the Monitor Township Downtown Development Authority.
      The Michigan Economic Development Corporation indicates that over 90 percent of new jobs are created by the expansion of local businesses, the Growth Alliance policy statement asserts. That's why facilities offered by Valley Center underpin all business retention and attraction programs by economic development agencies, the planning document states.
      However, the park faces two big hurdles -- political holdovers from the old agricultural and smokestack industrial economy -- that will be decided in the next few months:
      1-A proposal to double the size of the park, facing opposition from local traditionalists whowant to preserve farmland; and
      2-Holdup from county officials who want to claim taxes generated by the park rather than allow "capture" of taxes by the Monitor DDA to be used in added development of the park.
      Van Dyke told aBay Area Chamber of Commerce forum in June that he is hopeful both issues will be settled by combatants recognizing that Valley Center is Bay County's best hope for future job growth.
      The case for expansion of property in the park was bolstered recently when a local firm, Kerkau Manufacturing, bought three lots for a new plant, reducing the available property inventory in the park by about a quarter.
      Monitor DDA and Growth Alliance officials are still hopeful that a proposedpurchase of the former United Technologies plant by a firm planning to bottle water under a large government contract will materialize.
      A new building, the Mackinaw Commerce Center, offers prime space for incubator-type development of new or expanding firms, Van Dyke points out.
      The lineup of firms in the park includes high tech firms like Quantum Composites, Charter Communications, Emcor, Inc., F.P. Horak Digital Imaging Systems, Airgas-Great Lakes, Dice Corportation, CommTec, SBC, Michigan Sugar, Imenco, as well as more traditional business companies like Corrigan Moving Systems, Straits Corp., and Supreme Carpet.
      Responding to criticism that the park has attracted mainly local firms, Van Dyke contends that Valley Center is helping to retain jobs that might go elsewhere in the tri-county area. "By providing a center where these firms can collaborate and share excellent facilities we have kept companies and jobs here that might well have been lost," said Van Dyke.
      He notes that the Bay County Department of Water and Sewer provides 12 inch looped mains and 8 inch service leads. The system has 40 million gallons per day capacity and 11 million gallons per day average use, a massive source of 29 million gallons per day available. Few other parks or areas in Michigan have this capacity available, one reason why the water company is looking at Valley Center for location of its plant.
      The sanitary sewer system serving the park has extensive available capacity and a 4.5 acre storm water detention pond is called "the most outstanding feature" of the park. Electric power is offered by both Consumers Energy and the Bay City Electric Light and Power Department through underground cables. Consumers gas comes in through a 4 inch main.
      All important in today's wired world, telecommunications comes in through SBC and Charter via underground cables with fiber optic cable available.
      For more information, contact Cliff Van Dyke or Carol Johnson at the Bay County Growth Alliance, bcga@concentric.net, website valleycentergtechpark.com.###
---
---

Dave Rogers




Dave Rogers is a former editorial writer for the Bay City Times and a widely read,
respected journalist/writer in and around Bay City.
(Contact Dave Via Email at carraroe@aol.com)

More from Dave Rogers
---
Send This Story to a Friend!
Letter to the editor
Link to this Story
Printer-Friendly Story View
---
--- Advertisments ---