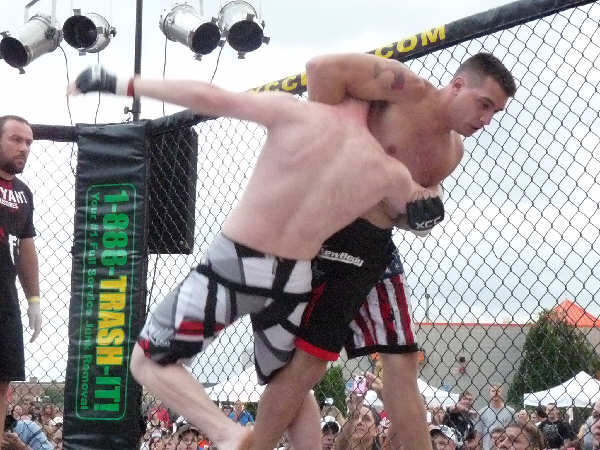 TJ Peters (R) vs Tyler Lowe (L)
---
Double Night of July Super Fights at Hooters Bay City
Feature Video Montage of Main Event Friday Night
August 1, 2010 Leave a Comment
By: Julie McCallum, Entertainment Editor
Summer in Bay City wouldn't be complete with the doubleheader of Hooters Fight Nights which were recently held, July 23, 24, 2010. held at Hooters Parking Lot Bay City.
AdoreAble Promotions, Inc., in association with The American Boxing & Athletic Association featured a two night hit, with the return of the action packed HOOTERS FIGHT NIGHTS.
It was a little bit of everything with Boxing, Cage Fights, Live Bands, Hooters Wings, Hooter Ring Girls, presented by Miller Lite, Coors Light Beer and held outdoors in the Hooters parking lot.
One night of Tough Gloves Boxing and the next night in the Cage with Extreme Cage Combat 8.0 MMA/Extreme Toughman Cage Fighting
On Friday night for Tough Gloves, temperatures were in the mid 80's but more like 102 inside the ring.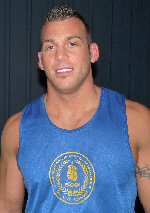 Tough Gloves Main Event,
Chad Hugo (Right)
won in a majority decision against Unity's Richard Castilla. Head Coach Robert Arsenault said, "This was quite a war, Hugo was thundering away, throwing some hay-makers and his opponent, (Castillo), was throwing some bombs of his own."
ABAA'S Mike Doran's bout against Torque's William Wilson, was awarded "Fight of the Night" by the judges. Doran made a big come back after the second round leading him to a win by majority decision. Arsenault said, "Fight fans definitely got their money's worth." Arsenault added, "It was a good night for our team."
A late light rain on Saturday night during the MMA fights added a little extra entertainment to the cage.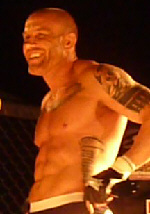 (Right) New Body Health & Fitness Owner John Schultz
wrapped his match up within minutes of the first round in the Main Event on Saturday night against Chad Ellison.
Other stand out matches included New Body's Jimmy Woodrow against Bill Holiday, which got the fight fans going as Woodrow took home a title belt. Jimmy Tromba won his match which resulted in a tap out from his opponent Taylor Hogan. TJ Peters won against Tyler Lowe when the referee stopped contest.
Mike Tuttle not only opened the cage match fights, but also came back 14 matches later, and had a taste of both a victory and a loss.
Also superstar Wrestler David O'Neil won his match against Mark Johnson. O'Neil who also tried his hand in boxing a few months ago decided to stick to the MMA. O'Neil said, "It's more like a game of chess, with kicks, punches, submissions. I'm more comfortable with the moves."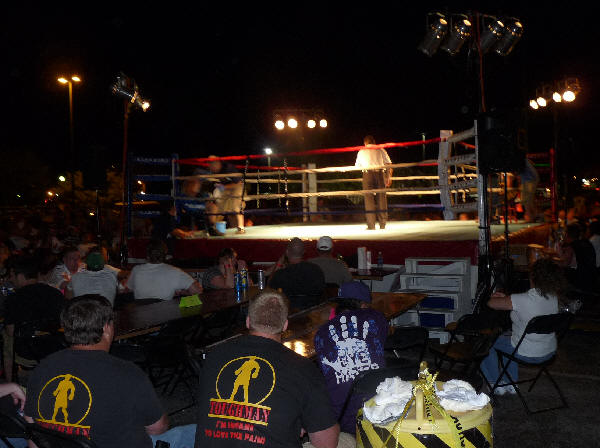 On Friday night for Tough Gloves, temperatures were in the mid 80's but more like 102 inside the ring.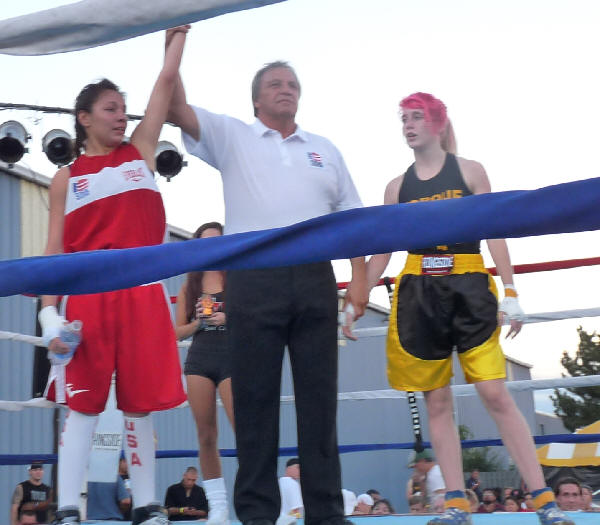 (Above) Krystal Garza (L) of Shiloh took on Kayla McRoriz of Torque Boxing.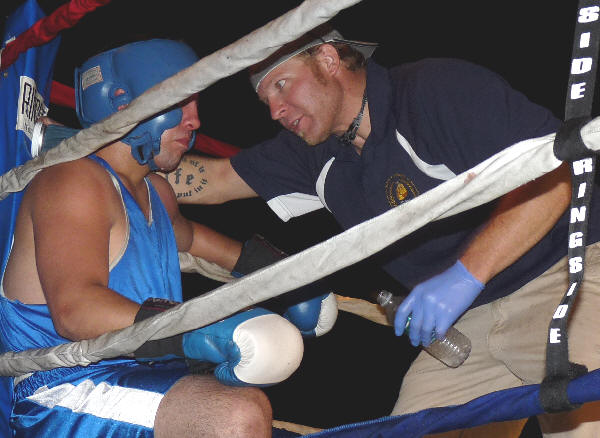 (Above) Mike VanDoran (ABAA) made an impressive come back against William Wilson (Torque), pictured with Eastern Michigan Golden Gloves Champ Matthew Maciag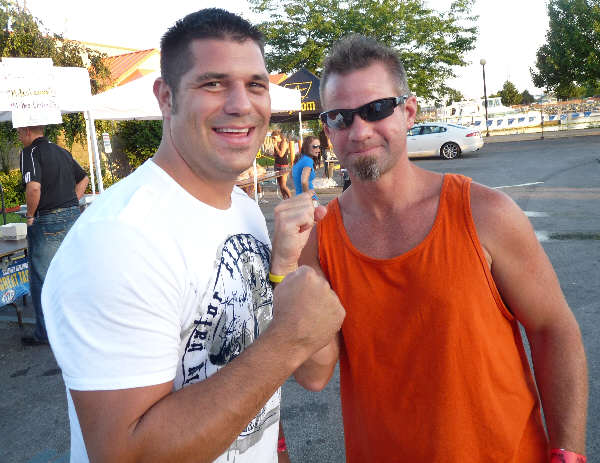 (Above) Former Pro Boxer Branden Arsenault and former boxer Scott Peterson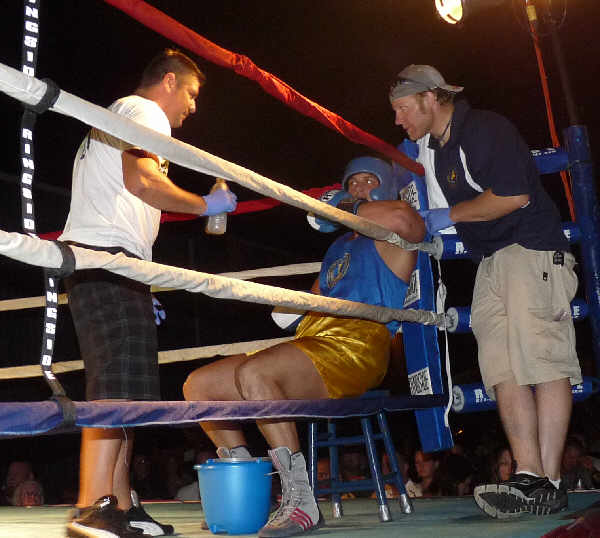 (Above) In the corner with Chad Hugo, cornermen, Branden Arsenault and Matt Maciag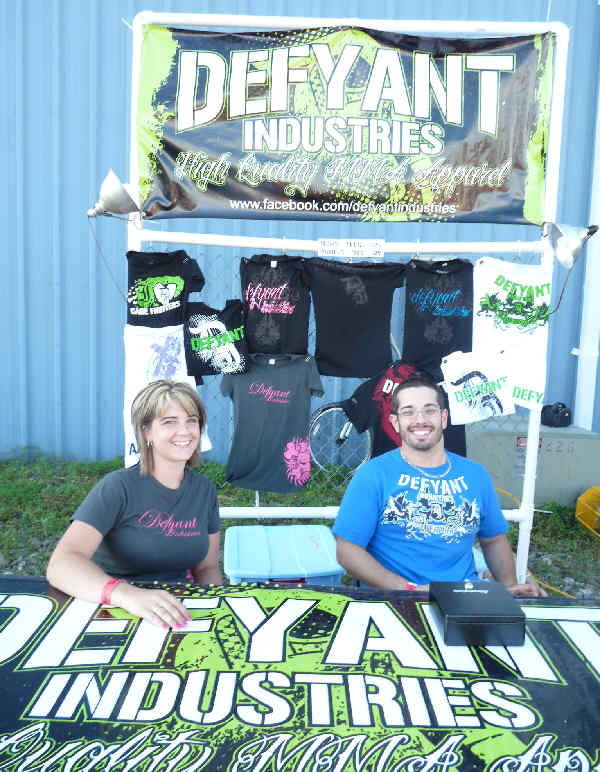 (Above) Defyant Industries displayed their new line of apparel. Pictured, Kayleigh Jezak and Anthony Lebron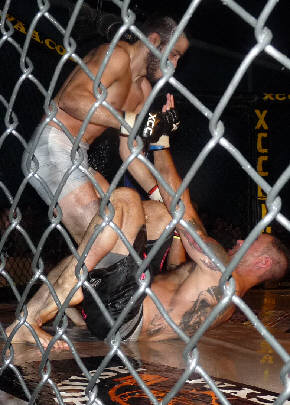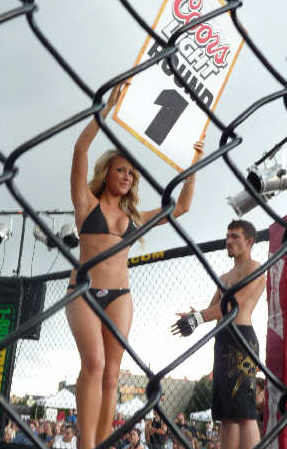 (Above Left)
Bourbina VS. Lehome
(Above Right)
Saturday night cage fight ring girl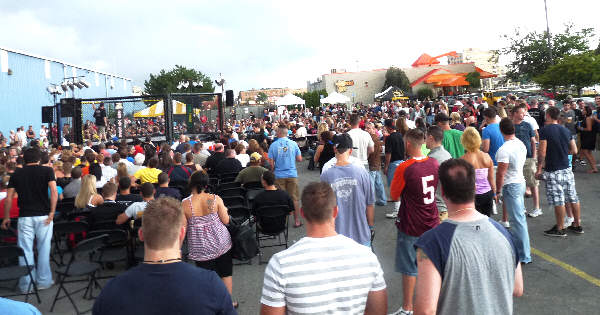 Hundreds of Fight Fans fill Hooters Parking lot on Saturday Night Cage Fights.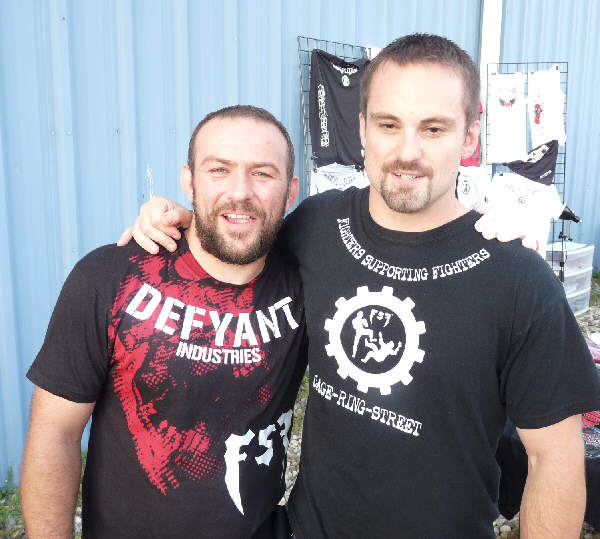 (Above) Dave Knaggs (L) takes a deep breath before he steps into the cage for a night's work as referee (Pictured here with Chris Fernette)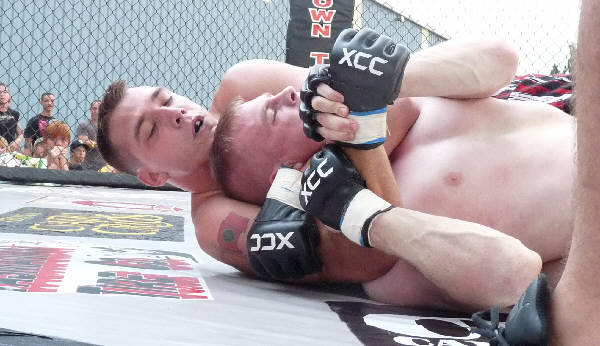 (Above) *TJ Peters (L) vs Tyler Lowe (R)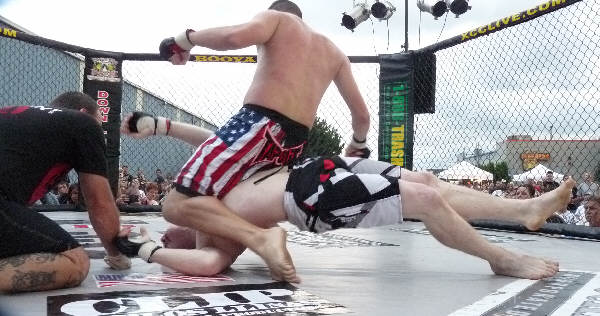 (Above) *TJ Peters (Top) vs Tyler Lowe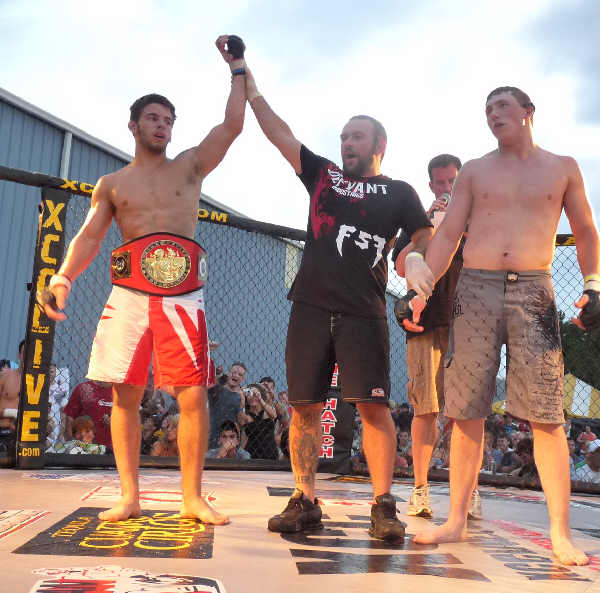 (Above) Jimmy Woodrow (L) vs. Billy Holiday put on quite the show, for fight fans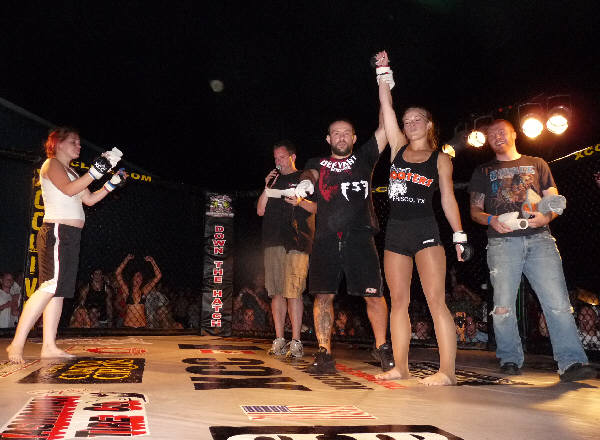 (Above) A Female match, always seems to fire up the crowd. Hooter's Alexandra took on the challenge of Amanda Haney, and made for a short but fiery match.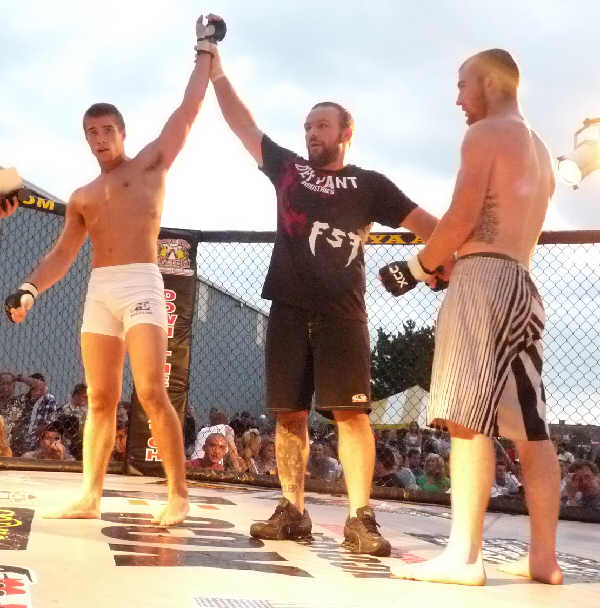 (Above) Brent Weinknoff (L) VS. Matt Gattica (R)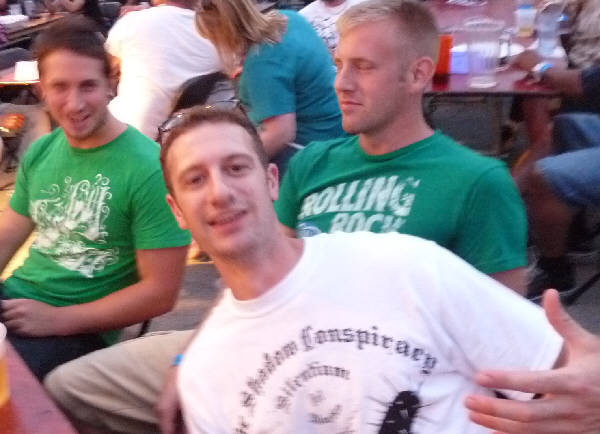 (Above) Ringside, Jeff Wittkopp, Erich Lutzke and Chriss Grappin enjoy Saturday night fights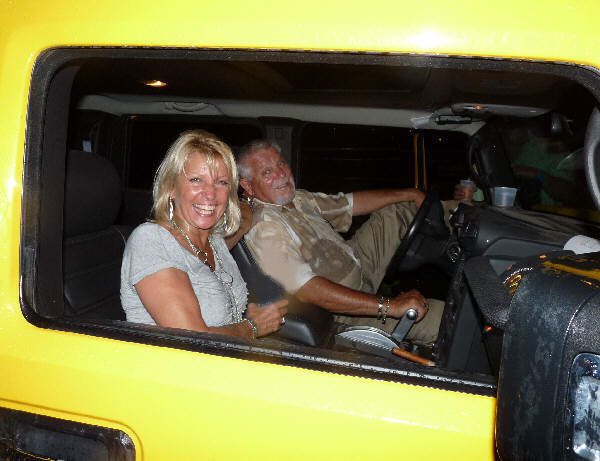 (Above) Some took cover during the light rain fall, that didn't last long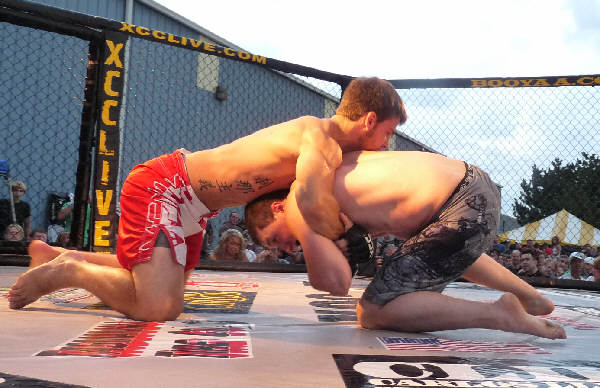 (Above) *Jimmy Woodrow (L) VS Billy Holiday (R)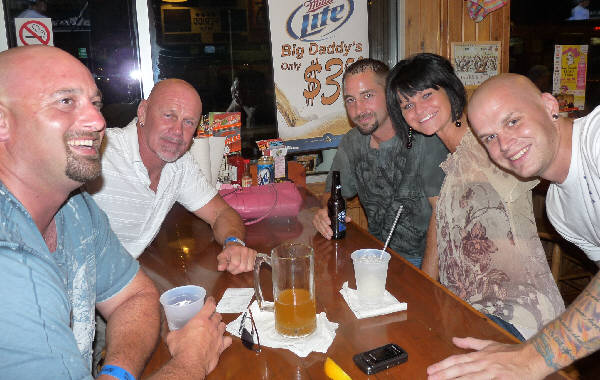 (Above) M U R R A Y Sutherland with family and friends, inside Hooters
Video Production by Julie Munger-McCallum, MyBayCity.com Entertainment
---
---
---
Send This Story to a Friend!
Letter to the editor
Link to this Story
Printer-Friendly Story View
---
--- Advertisments ---