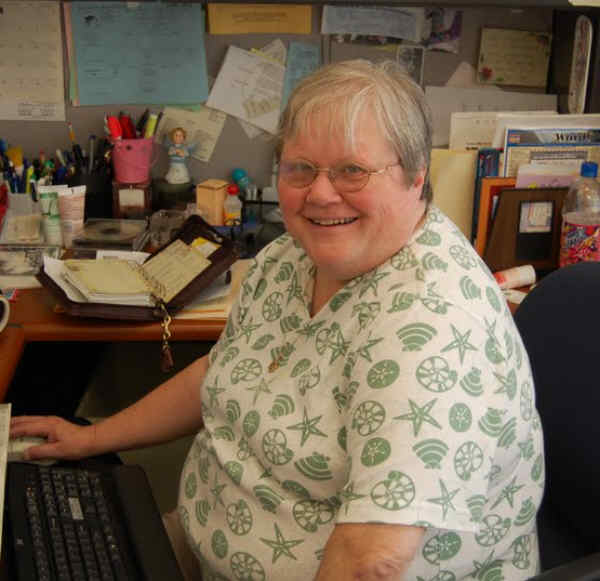 Sister Mary Epple, at her desk at Bay City St. Mary, reflects on 50 years as a nun.
---
Sister Mary Epple Celebrates Half Century as Mercy Sister
Fate Has Intervened Several Times to Direct the Course of Her Life
August 1, 2010 2 Comments
By: Dave Rogers
Fate has a dramatic way of determining the course of people's lives.
And well that is known by an active local sister, Sister Mary Epple.
Mary Epple and her twin Rita were born in a maternity home in Midland Nov. 29, 1941.
We all know what happened a week later, Dec. 7, 1941. Besides the Pearl Harbor attack, the twin girls came home that day.
"Dad always wanted to take us to St. Anne de Beaupre in Canada," she recalled. "Who would have thought I would be traveling during my lifetime to Ireland, England, Italy, Germany, Switzerland, and India?
She mused, reflecting on 50 years as a nun: "Who would have ever thought that I would have a chance to work at a soup kitchen in the heart of Detroit, or work with people on the east side of Saginaw or have the rich experience of jail services that are so important to me?"
Their father, Victor Epple, was an employee of The Dow Chemical Co. and their mother, Elda, had an Irish, German and French background. A younger sister, Jane Zulewski, is a nurse who lives in East Lansing and older sister, Anne Devlin, lives in Ireland.
Her father, who was from Mt. Pleasant, had attended short courses at Michigan State College and had worked at Borden's Dairy in Detroit. He came to Midland hoping to start a dairy farm and making ice cream but times were rough financially and Dow was hiring.
The couple couldn't afford the $25 per month rent for a house, but Msgr. Joseph Illig of St. Brigid lent them $2,000 to buy a one acre farm with home. After it was paid off, they never bought anything on time, she recalled.
The twins completed grade school at St. Brigid of Midland but since there was no Catholic high there, they attended high school at Bay City St. Mary. That was the first twist of fate.
Going to high school at St. Mary involved daily bus rides the 20 miles to and from Bay City with tickets costing $5 per week.
After graduating from St. Mary in 1960, the next stop for Mary and Rita, and another girl from St. Brigid, was Mercy College in Detroit. "We went to the Mercies," she exclaimed, noting that as young girls she and her sister often played school, thereby presaging careers in education.
It was there Mary earned a bachelor's degree in History and Elementary Education.
After graduating from Mercy College in 1965, she earned a master's degree in Religious Studies at Marygrove College.
First stop on the vocational trail was Independence, Iowa to teach for three years, then back to Bay City St. Mary to teach first grade for two years.
Fate again intervened to cause a shift of course. She left the classroom when the Catholic schools were threatened with losing their tax exempt status and teaching sisters were encouraged to spread out into other areas.
She then served nine years as religious education coordinator at St. Matthew in Zilwaukee and then went to the Saginaw Diocesan office as vocational and youth ministry director.
She credited the late Bishop Francis Reh, for whom she worked five years, and the late Bishop Ken Untener, as her inspiration in the religious field. "Bishop Reh had a very great influence on me" she said, noting "I only worked for Bishop Untener for a very short time."
From 1985 to 1990, she was pastoral minister at Bay City St. Hyacinth, and then moved to Mt. Carmel and St. Rita in Saginaw as pastoral coordinator. Those parishes have since merged into St. Simon and Jude.
After her folks died in 1995, she took a year's sabbatical. Then came another fateful event -- a visit to Bay City St. Mary to attend mass on New Year's Day, 1997.
Father Jim Heller, a son of the parish, had just become pastor. "Do you have time for a cup of coffee?" she asked him after mass. "If you're hiring, I'd like to throw my hat --er, veil -- into the ring." She therefore became pastoral associate at St. Mary, a job she continues to hold.
Besides the bishops, her career has been shaped by prominent authors with whom she had contact during six summers. "Instead of reading their books, we actually got to talk to them," she recalled. The authors included Daniel Berrigan, Bernard Herring, Charles Davis, Greg Baum and Mary Ann Reuther and classes were held in the old Novitiate on Geddes Road in Pontiac.
Berrigan, a noted anti-war activist during the Viet Nam protest days, warned students not to tape his lectures for fear the tapes would end up in the hands of the FBI.
"It was a marvelous experience to be in his presence," she said.
Her work at St. Mary now includes, besides pastoral work, visiting the sick, a jail ministry, Food of Faith for the poor, Adopt a Highway, faith formation, counseling and other duties. ###
---
Community Article 5115
"The BUZZ" - Feedback From Readers!
barrettmi1 Says: On August 03, 2010 at 02:22 PM

I am so proud to have spent time with you and am missing your company. What a wonderful celebration for you. Be proud as you certainly should be.
Joan Barrett
jando Says: On August 10, 2010 at 09:11 AM

I really treasure you as a friend. I look for your smiling face every Sat. Don worked for Bordens dairy 45 years ago. Best job he ever had.
Janice Brandow
---

Dave Rogers




Dave Rogers is a former editorial writer for the Bay City Times and a widely read,
respected journalist/writer in and around Bay City.
(Contact Dave Via Email at carraroe@aol.com)

More from Dave Rogers
---
Send This Story to a Friend!
Letter to the editor
Link to this Story
Printer-Friendly Story View
---
--- Advertisments ---