Whitestone Point Water for Bay County From Saginaw-Midland Appears Closer
After Half a Century, Officials are Talking Seriously About Cooperation
August 29, 2010 1 Comments
By: Dave Rogers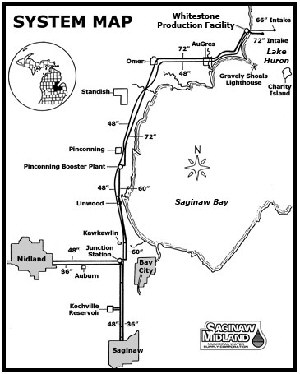 Whitestone Point Water Path to Saginaw & Midland.
By the end of the year, Bay County and Bay City officials are expected to have resolved issues and agreed on plans for a new water source from Whitestone Point, AuGres.
Gerald M. "Mick" Redmond, chairman of the Bay County Road Commission, said the new source is desirable and has the backing of most officials involved in studying the proposal.
He noted that this idea has been discussed for many years and that officials from Saginaw and Midland appear amenable to selling water to Bay County.
This project, in the works for nearly half a century, is critically needed because of the questionable purity of the water from the city's present source off Linwood, that is affected by present low water conditions in Saginaw Bay, according to some officials.
Bay City recently issued a public statement that its water was somewhat contaminated, but still safe, causing consternation among users as well as officials.
According to Tom Paige, new director of the Bay County Department of Water & Sewer, several reports in the works by consulting agencies are expected to be received soon, outlining three options:
1. A new joint city-county water treatment plant using raw water from the Saginaw-Midland line from Whitestone;
2. A new line serving Bay County from Whitestone using S-M treatment facilities; and
3. A new city plant using the old Linwood source which reportedly would be modified to meet present conditions.
Separate reports have been commissioned by the county, the city and the Saginaw-Midland system and another report gives an analysis of potential rate structures under the new scenarios.
Mr. Paige said the S-M system officials have informed him that up to 22 million gallons of water per day could be furnished from the Whitestone Point source.
"This exceeds our highest usage of about 17 million gallons on a very hot day a few years ago when everyone was using a lot of water on their lawns," he said.
Normal Bay County usages is 7 to 9 million gallons a day, he said.
The late Michael Studders, longtime member of the road commission, had reactivated talks with S-M officials less than a decade ago after a long period in which no deal was thought to be possible.
In 1971, city voters rejected a proposed merger with the Saginaw-Midland system by about 150 votes on a question that required a "no" vote to approve the merger. Some city employees who feared job losses if the merger went through were reportedly the main opponents of the proposal. ###
---
Government Article 5189
"The BUZZ" - Feedback From Readers!
lupine2 Says: On September 09, 2010 at 02:49 PM

Historically, I'm sure you remember Dr. Prophater was supporting the Whitestone Point water proposal. I think he was a commissioner at that time.
Dick Van Akker
---

Dave Rogers




Dave Rogers is a former editorial writer for the Bay City Times and a widely read,
respected journalist/writer in and around Bay City.
(Contact Dave Via Email at carraroe@aol.com)

More from Dave Rogers
---
Send This Story to a Friend!
Letter to the editor
Link to this Story
Printer-Friendly Story View
---
--- Advertisments ---