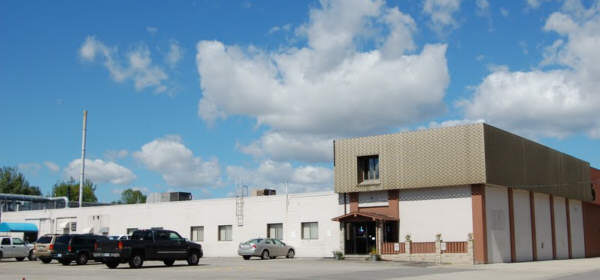 Bay City branch of Mersen has removed its old signage but has yet to attach its new logo and name to the building at 900 Harrison Street.
---
Carbonne Lorraine of Bay City Now Part of Mersen USA Corporation.
French Firm Re-brands and Sharpens Focus on International Growth
September 12, 2010 Leave a Comment
By: Dave Rogers
Shareholders of Carbone Lorraine, an international firm with a branch in Bay City, voted to change the Group's name to Mersen and refocus on growth.
The Group is adopting a new name, steeped in European history dating to 870 A.D., and identity to represent its new profile.
Mersen reflects the initials of the words Materials, Electricity, Research, Sustainability and ENergy, according to officials of the firm.
The Group has been pursuing a strategy based on four growth drivers, i.e. sustainable development, Asia, selective acquisitions and innovation.
This strategy is predicated on an international industrial and commercial network, headquartered in France, that has recently been bolstered by new plants employing the latest technologies.
Mersen also has a branch in Greenville, Michigan.
At the heart of this transformation, the Group's teams have strengthened their culture of expertise and developed dedicated solutions to stay even more closely in touch with their customers? needs.
Mersen has 56 plants in 40 countries. It holds world leadership positions in several fields, including world leader in graphite solutions and electrical components.
The firm specializes in implementing of high technology materials in demanding industrial environments and in the development of systems, which are fundamental to the smooth operation of the motor and the protection of electrical equipment. With over 85 percent of its sales carried out internationally, the Group holds leadership positions in all of its occupations.
It ranks No. 1 worldwide in anti-corrosion equipment in graphite; No. 2 worldwide in high temperature applications of isostatic graphite; No. 1 worldwide in brushes for electrical motors; No. 1 worldwide in fuses for powerful semi-conductors; and No. 2 worldwide in industrial fuses.
"This name change will thus focus teams energy on a common project. It will also help Mersen to pursue its aim of being recognized as a leading industrial player in all its markets (energy, transportation, electronics, chemicals/pharmaceuticals and process industries) and particularly in alternative energies," said Chairman Ernest Totino, adding:
"Our new corporate identity is rooted in its historical values: Mersen has expertise, curiosity and an ability to innovate as its dominant genes, and a human touch, reliability, a local approach right around the world and responsibility as its core values."
According to Mr. Totino, "Mersen materializes the corporate project of a Group firmly on course to become a key player in sustainable development. This name change is not an end in itself, but part of a highly motivating and galvanizing corporate project that aims to fashion a new identity predicated on one mission, one goal, a clear vision and shared values. I firmly believe that it will create value for our employees, our customers and our shareholders."
Electrical Components and Technologies sales were brisk in the electronics, transportation and energy markets in the first quarter of 2010. Business was especially strong in wind energy, particularly in North America and Asia, while trends in Europe were held back by the high level of inventories.
Sales of brushes for industrial motors and electrical protection systems for process industries showed tangible signs of recovery. As in the Advanced Materials and Technologies segment, the recovery is being led by inventory-rebuilding.
In addition, Carbone Lorraine finalized the acquisition of Boostec, a French company specializing in the design and manufacture of silicon carbide components. This deal will nicely complement its existing range of materials, enabling it to embark on new developments in strategic markets, such as solar energy and chemicals/pharmaceuticals.
Lastly, the Group has signed a preliminary agreement to buy M.Schneider, a company specializing in DIN-standard fuses and fuse holders. Through this acquisition, Mersen is set to become the world number two in this fast-growing standard and consolidate its positions in the energy market.
All the recent acquisitions not consolidated during 2009 are expected to generate additional sales of around E-35 to E-40 million during 2010.
An expert in high-performance materials and in the reliability and safety of electrical installations, Mersen will reinvigorate Carbone Lorraine's industrial aspirations, while firmly establishing it as a future-oriented enterprise.
Said Mr. Totino: "In electrical expertise and in high-performance materials, we develop highly specialized knowledge and know-how to offer our customers unparalleled reliability.
"To extend our can-do culture, we base our developments on a global analysis of markets, which enables us to plan ahead to meet the future needs of our customers.
"Our pragmatic and application-driven R&D program targets the pursuit of two principal objectives, i.e. delivering significant gains in competitiveness to our customers and contributing to sustainable development by helping to conserve natural resources. This new name is inspired by the historic personality of Marin Mersenne (1588-1648), who made a significant contribution to technological progress in his day. An influential, yet discreet man, Marin Mersenne was a mathematician, philosopher and physician. A friend of Descartes, Hobbes and Gassendi and a correspondent of Pascal, Fermat and Toricelli, he forged the first scientific discussion network while conducting his own theoretical, but primarily practical research work. An open-minded spirit and a man of integrity who made an un-ostentatious contribution to technological progress, he was a companion to the most advanced thinkers of his time.
It is also a name steeped in European history. Under the Treaty of Mersen (close to Maastricht in the Netherlands) in 870, King Charles the Bald and Louis the German, grandson of Charlemagne, divided up the land of their nephew Lothair II. The borders set were a harbinger of what later became the Kingdom of France, the Lorraine region and the Germanic Holy Roman Empire.
"Multiple areas of expertise, a single source of energy: a name with a human touch above all else. What are the only inexhaustible resources that can be counted on in the future.
"People, their knowledge and their inventiveness are the Group's most crucial capital. From Mersen, an expert in many different fields, flows an energy that it will harness to innovate and meet the needs of its customers" concluded Mr. Totino.
###
---
---

Dave Rogers




Dave Rogers is a former editorial writer for the Bay City Times and a widely read,
respected journalist/writer in and around Bay City.
(Contact Dave Via Email at carraroe@aol.com)

More from Dave Rogers
---
Send This Story to a Friend!
Letter to the editor
Link to this Story
Printer-Friendly Story View
---
--- Advertisments ---