New U-M Study: Work in Schools, Offices, Hospitals Replaces Factories
New "Think Tank" Report Says Good-Paying Jobs Don't Come From Manufacturing
August 11, 2004 Leave a Comment
By: Dave Rogers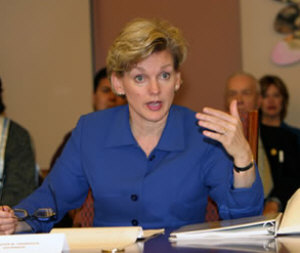 The governor was here Wednesday lauding the addition of 40 high tech jobs as she dedicated the new Dow Corning Corp. Advanced Engineering Materials facility at Salzburg and 11 Mile roads. (File photo)
      Michigan must do everything possible to save manufacturing jobs to secure our economic future. Right?
      Most of the new jobs being created are in low-paying, low-education industries. Right?      Maybe not, says a new report from Michigan Future and the University of Michigan.
      Knowledge-based industries are where it's at. "They are the most powerful engine fueling overall economic growth," states the report, entitled "A New Path to Prosperity? Manufacturing and Knowledge-Based Industries As Drivers of Economic Growth."
      Most of the new jobs being created in Michigan are in the knowledge-based industries. The report cites about 274,000 jobs created in that category from 1990 to 2003.
      Thegovernor was here Wednesday lauding the addition of 40 high tech jobs as she dedicated the new Dow Corning Corp. Advanced Engineering Materials facility at Salzburg and 11 Mile roads. (Please see MyBayCity.com June 13, 2004, "Dow Corning Consolidates 3-State Operations Here; Sees New Silicon Valley.")
      The 17-page report on knowledge-based industries was produced by Lou Glazer, president of Michigan Future, Inc., and Donald Grimes, senior research associate, Institute of Labor and Industrial Relations, University of Michigan.
      What are knowledge-based industries? The report authors describe them as "a cluster of industries where work is largely done in offices, schools and hospitals." In other words, little that is physicallytangible is produced.
      The list of knowledge-based industries includes: financial, information, professional and technical services, management, education, health care and social assistance, government and wholesale trade.
      However, there is another viewpoint, put forward by the National Association of Manufacturing (NAM), which states: "Manufacturing is the engine that drives American prosperity. It is central to our economic security and national security." The association makes some strong points:      Manufacturing:       Grows the economy. Every $1.00 in manufactured goods generates an additional $1.43 worth of additional economic activity - more than any other economic sector.
      Invents the future. Manufacturers are responsible for almost two-thirds of all private sector R&D, which ultimately benefits other manufacturing and non-manufacturing activities.
      Competes internationally. The United States is the world's largest exporter; 62 percent of all U.S. exports are manufactured goods, double the level of 10 years ago.
      Generates productivity increases. Over the past two decades manufacturing productivity gains have been double that of other economic sectors. These gains enable Americans to do more with less, increase our ability to compete and facilitate higher wages for all employees.
      Provides more rewarding employment. Manufacturing compensation averages more than $54,000, the highest in the private sector, and manufacturers are leaders in employee training.
      Pays the taxes. Manufacturing has been an important contributor to economic growth and tax receipts at all levels of government, contributing one-third of all corporate taxes collected by state and local governments.
      Yet U.S. manufacturers are challenged as never before. They are on the front lines of the most intense global competition in history where it is virtually impossible to raise prices. Yet, costs do rise, often because of what government does or does not do.###
---
---

Dave Rogers




Dave Rogers is a former editorial writer for the Bay City Times and a widely read,
respected journalist/writer in and around Bay City.
(Contact Dave Via Email at carraroe@aol.com)

More from Dave Rogers
---
Send This Story to a Friend!
Letter to the editor
Link to this Story
Printer-Friendly Story View
---
--- Advertisments ---