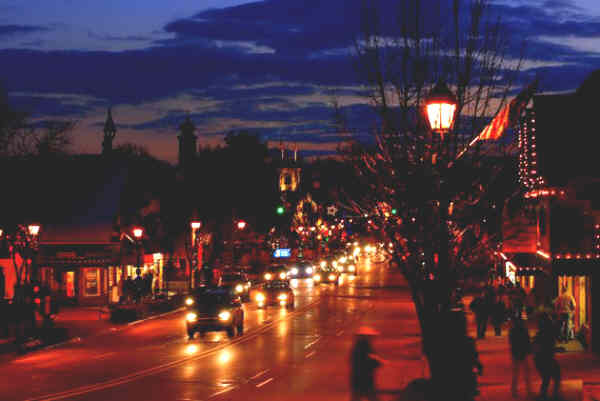 Frankenmuth holiday night scene illustrates vitality of mid-Michigan tourism leader.
---
Bay County's Tourism Potential Unrealized as Welcome Site Shifts
Michigan Cuts "Pure Michigan" Tourism Fall Campaign Because of Budget Woes
September 25, 2010 Leave A Comment
By: Dave Rogers
Bay City and Bay County promoters have tried mightily since the 1920s to develop a tourist trade.
Some residents will remember the Eastern Michigan Water Carnival, 1929-1931.
How about the Glad Hand Town, the City of Trees, the Gateway to the North??? Rock City!
Beginning in the 1880s the Wenonah Beach Amusement Park and Casino brought visitors from all over the Midwest, many coming by train. Bay City State Park lured about a million campers during the sweltering Depression summer of 1933.
The main tourism success over recent decades has come from the Tall Ships Festival, but that is a week-long event that can't be repeated every year.
We have a fantastic Fireworks Festival, River Roar, the Pig Gig, River of Time (coming up this weekend again) but Michigan tourism officials don't rate them as real ongoing attractions so we are not on the map as a tourist destination.
Lately local officials have touted tourism as one way to offset the shrinking manufacturing base --the same reason the water carnival was started at the end of the lumbering era in the 1920s --about 80 years ago!!!
But the need to shift the welcome center from the fabulous $6 million renovation of the Pere Marquette Union Station depot to the Delta College Planetarium because of a lack of traffic points out the need for rethinking that strategy.
Or revitalizing it under the banner of the Great Lakes Regional Alliance, headed by Bay Cityan Dr. John Lore, and with the increased revenue likely to be generated by that agency.
Directing the Great Lakes Bay regional tourism effort is Dr. Annette Rummel, a Frankenmuth resident who began her career in tourism in the East Michigan Tourist Association log cabin office when it was located on the river in Wenonah Park.
She has since headed the Saginaw County Tourist and Convention Bureau and the Saginaw Valley Tourist and Convention Bureau. She earned a Ph.D in Parks, Recreation and Tourism Resource Management from Michigan State University in 2008.
Money for advertising appears to be the key. Look at Frankenmuth, drawing up to 3 million visitors a year to the charming Bavarian-themed chicken dinner headquarters of the world.
While Frankenmuth gets 6-8 percent of the state's tourism business, Bay County is down around one half of 1 percent, according to informed sources.
What's the difference? You will see Frankenmuth, or Bronner's billboards from here west to Chicago and south to Indianapolis. Advertising is the magic bullet.
Go to any one of the state's welcome centers and its hard to find much about Bay City-Bay County. A visitor guide promoting general Bay County topics is occasionally available, but Frankenmuth is ever-present in the public eye.
We may have benefited from the state's "Pure Michigan" ad campaign, but now the state tourism agency Travel Michigan has canceled the fall portion of its 2010 advertising campaign due to funding shortages. The 2010 promotional budget of $17 million is down 37 percent from 2009.
Despite attracting 1.3 million visitors to the state last year, Michigan tourism will not have a fall advertising effort for the first time since 2005. Last year Travel Michigan spent $1.7 million on fall advertising.
The 2009 summer "Pure Michigan" ad campaign ran in Columbus, Cleveland, Dayton and Cincinnati, as well as Chicago, Indianapolis, St. Louis, Milwaukee and some Ontario, Canada cities.
The regional campaign drew visitors who spent an estimated $338 million at Michigan businesses, according to a study by Longwoods International, a tourism research firm.
"We chose to focus on the national effort that we introduced this summer to introduce Michigan as a national travel destination," said George Zimmermann, VP of Travel Michigan, part of the Michigan Economic Development Corporation (MEDC). "We don't like it, but we didn't have any choice. We knew this was coming, though we did have some hope that there would be additional funding provided."
"Pure Michigan" has spotlighted boating and other outdoor adventures and golf. Advertising agency McCann Erickson and digital agency Gammet Interactive were hired to do the creative end.
The campaign includes computer searches, TV, e-mail newsletters, print and social media, all aimed at getting consumers to visit Michigan.org. The campaign ended in June, but search engine marketing, social media and online ads continued throughout the fall.
When the digital media campaign first was launched, Travel Michigan had 50,000 Facebook fans compared to today's nearly 150,000.
Travel Michigan wants to use digital channels because they're a cheaper media buy than television. But reduced budgets have ruled out additional digital media.
"We are still running digital media, but we aren't necessarily doing any more of them," said Zimmerman. "We don't see one replacing the other, we see the benefit of doing digital media and more traditional advertising together."
Zimmermann said the state has seen considerable momentum in social media since it launched that aspect of its advertising last year. There is hope that "Pure Michigan" will get new life as the economy improves.
And that the Great Lakes Bay Region's strategy of beefing up promotional dollars through an increase in the room tax from 2 percent to 5 percent in Bay and Midland counties will bear fruit.
Even though that proposal seems to be on track in the Legislature, it will likely be a year or two before the legislation is implemented and funds start to rise and are accessible to local promoters.
For local business folks, the new program can't come too soon.###
---
Columns Article 5255
---

Dave Rogers




Dave Rogers is a former editorial writer for the Bay City Times and a widely read,
respected journalist/writer in and around Bay City.
(Contact Dave Via Email at carraroe@aol.com)

More from Dave Rogers
---
Send This Story to a Friend!
Letter to the editor
Link to this Story
Printer-Friendly Story View
---
--- Advertisments ---