No Tax Money Will Be Sought for Bay City Baseball Team, Says Seward
Reading is Bay City's Business on Tap Tuesday for Bay City Rotary Meeting
August 15, 2004 Leave a Comment
By: Dave Rogers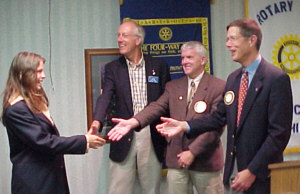 Rotary exchange student Anne Pleth from Denmark is welcomed by Dave Smith, Midland, district exchange chair, Club President Mike Stoner and former president Rob Monroe, initial host of the student.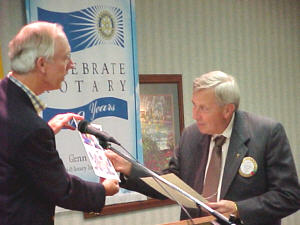 Dave Smith, Rotary District 6310 student exchange chair, presents outgoing district governor Jerome Yantz of Bay City with certificates for his championing of the student exchange program.
      This week's program: Pam Clifford, Reading is Bay County's Business. This cooperative community project is an important thrust in improving education in the community. It puts volunteers in hundreds of classrooms and emphasizes to parents the need to work with their children in reading.
      Last week: Mike Seward, President, Bay Area Chamber of Commerce. Topic: Baseball equals economic development.
      "We need jobs so we need to do everything we can to build the community."
      That was the fast ball thrown by Mike Seward, President, Bay Area Chamber of Commerce, in his stellar pitching performance at the Rotary podium last Tuesday.
      The game, of course, is economic development, and that includes sports development if the community needs it, he said.
He predicted that a minor league team will locate in the area within 10 years and emphasized the need for Bay City to grab the opportunity at hand. And teamwork is vital for success, Mr. Seward cheered, promising vehemently that there will be no attempt to seek tax money for the project.
      The Chamber's CHAMPS committee chairman Mark Pumford and his squad will be driving for a victory in the project by meeting soon with Donald Jakeway, CEO of the Michigan Economic Development Corporation (MEDC), and David Hollister, the governor's development director, both potential sources of dollars for "infrastructure" for the Bay City project.
      The main "infrastructure" needed here is a baseball stadium, and Mr. Hollister can give first hand advice since as mayor of Lansing he helped spearhead the Lansing Lugnuts. That team is a great success and a popular attraction in Lansing, as are the West Michigan Whitecaps in Grand Rapids, observers have noted.
      Twenty three Bay City sites are being analyzed and two or three will be selected as finalists, Seward said. The team owner who has indicated an interest in moving here will be consulted and all options will be considered, Mr. Seward said.
      "If we do this it could be very positive for the people of this community," said the Chamber executive, stressing: "We will make sure that on the longterm basis this won't increase taxes. People won't stand for it and it would not be in the best interest of the community. So you won't see that kind of proposal."
      Seward pumped up the intently listening Rotary crowd: "Dream with me for a little bit," he said, reciting the attractions developed by local leadership, including River Roar, River of Time, Tall Ships. "Picture sitting in a new ballpark with a panoramic view, watching pro ball outdoors and on green grass."
      Seward recited the strong recommendation for a baseball team inherent in the fact that the Saginaw Valley with 1.2 million residents is the largest television market in the U.S. without some type of professional baseball. The tri-county area alone has 490,000 people, many of whom would come out and enjoy 70 games every year, he said.
      A Bay City team in the Midwest A League would be situated in one of the largest population areas in the league, he noted. Out of 14 teams the Bay City area would be seventh in size. Medium household income here would be $3,650more per capita than other teams, he said.
      "Based on the size of the market and the income levels here, in the next decade you will see a franchise and a stadium in this TV market along the I-75 corridor," Seward emphasized. "It ought to happen in Bay City. This will give people more reasons to visit and live here. We need to continue the 'can do' spirit, move forward in a way most other communities aren't."
      He concluded: "We need to make sure we aim high, maybe take a risk.These are big ticket ideas not petty cash interests.
      The stadium will cost about $20 million and will host entertainment events along with baseball, he said. The location of a team here will create about 323 jobs and $5.2 million gross earnings per year. About $279,000 in sales tax and hotel assessments will be created each year in addition, the chamber executive said.###
---
eClub-One
: Members with internet connections are encouraged to visit eClub-One monthly for a makeup. To get makeup credit you need to fill out the makeup form on that site. Print the acknowlegement for you receive and turn it in to recive credit. Be sure to enter our club's district number (
6310
) on that form.
Click this link to open eClubOne in a new window:
www.RotaryEclubOne.org
---
---

Dave Rogers




Dave Rogers is a former editorial writer for the Bay City Times and a widely read,
respected journalist/writer in and around Bay City.
(Contact Dave Via Email at carraroe@aol.com)

More from Dave Rogers
---
Send This Story to a Friend!
Letter to the editor
Link to this Story
Printer-Friendly Story View
---
--- Advertisments ---