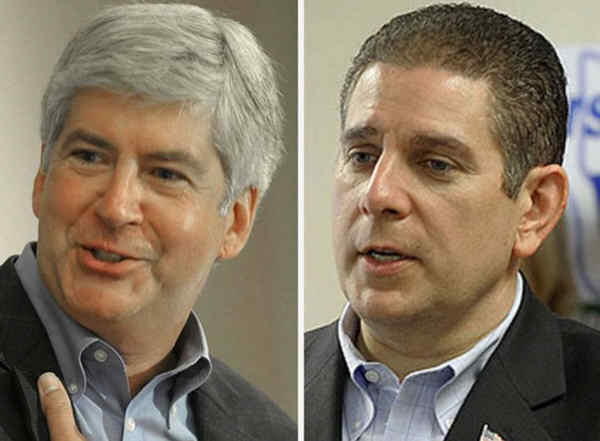 Michigan gubernatorial candidates Virg Bernero, right, Democrat, and Rick Snyder, Republican.
---
Bernero, Snyder Only Debate Seen as a Draw by PBS Pundits
Issue of Outsourcing Jobs Again a Key in Discussion Between Candidates
October 10, 2010 Leave A Comment
By: Dave Rogers
The only debate to be held between gubernatorial candidates Virg Bernero, Democrat, and Rick Snyder, Republican, was viewed mainly as inconclusive by a panel on a Detroit Public Broadcasting station.
The issue of outsourcing jobs was a key part of the discussion between Snyder and Bernero just as it was four years ago between Jennifer Granholm and Richard DeVos.
"Why didn't you fight the outsourcing?" Bernero asked Snyder, who pointed out that the Michigan Truth Squad of bipartisan journalists called charges leveled by Bernero untrue.
Bernero made a strong pitch for improvement of the corrections system, educating prisoners in an effort to reduce what he termed a 40-50 percent recidivism rate.
Money saved in the corrections budget could then be shifted to the education budget, the Lansing mayor suggested.
Neither candidate expressed support for an increase in the gasoline tax. Snyder suggested a better allocation of funds while Bernero laid out a plan for what he called "a comprehensive approach" that might draw more federal help.
"It's time to eliminate the Michigan Business Tax and replace it with a six percent corporate income tax," said Snyder.
The panel, moderated by Tim Skubick, rated Bernero a little higher in his closing statement based on an emotional pitch that featured his father's experience as an immigrant from Italy in 1948.
Snyder drew mild criticism for failing to specify the moves he would make to restore fiscal stability to the state and for not identifying potential staff members.
Panel members, including Nolan Finley of the Detroit News, Steven Henderson of the Detroit Free Press and Bill Ballenger, editor and publisher of Inside Michigan Politics, said it appeared Snyder was "sitting on his 20 point lead in the polls."
The survey of 600 likely voters between Oct. 3 and 7 by EPIC-MRA for the Detroit Free Press and WXYZ-TV was released today. The poll has Snyder at 49 percent and Bernero at 29 percent, with 18 percent undecided. Bernero's numbers haven't moved since September. It's a 4-point decline for Snyder since last month, when he was up 53 to 29 percent. The margin of error is four percent.
Despite his opportunity to make points, the panel felt Bernero did not score heavily since he failed to follow up on a strong opening statement that targeted "corporate buzzwords" and empty promises.
"It's time to reinvent Michigan, to change the culture from positive to negative" said Snyder who said he has a ten point plan to create jobs. However, panel members agreed that governors can do little to create jobs.
Bernero charged that Snyder has developed a new company, Discera, that has shipped jobs to China while Snyder denied the charge, saying the firm is located in Ann Arbor and San Jose, California. (Reports are that Discera has five employees in China.)
Snyder said he created 10,000 jobs at Gateway Computer Corporation and brought jobs back to the U.S., a claim challenged by his opponent. "Mr. Snyder, how could you?" asked Bernero.
Snyder's idea of "value budgeting" drew skepticism from the panel. He also said the state should address compensation of state employees and produce more transparency in spending by putting state needs on line and seeking public input.
The main goal posed by the panel was how to deal with the state's $1.6 billion structural deficit. Panel members said Snyder would be hard-pressed to get public input fast enough to deal with the budget by the deadline of February 2011.
Neither Bernero nor Snyder would agree to take no pay, as Detroit Mayor Dave Bing has done. Snyder said he didn't want to appear to be "pandering" while Bernero said he would cut his pay but needs a salary to support his family. ###
---
Government Article 5293
---

Dave Rogers




Dave Rogers is a former editorial writer for the Bay City Times and a widely read,
respected journalist/writer in and around Bay City.
(Contact Dave Via Email at carraroe@aol.com)

More from Dave Rogers
---
Send This Story to a Friend!
Letter to the editor
Link to this Story
Printer-Friendly Story View
---
--- Advertisments ---