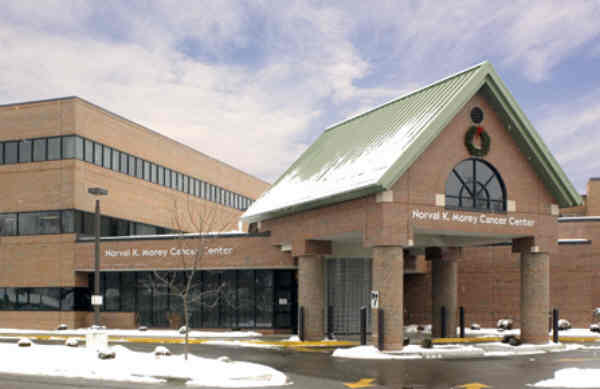 The Norval K. Morey Cancer Center is part of a recent expansion of Central Michigan Community Hospital, Mt. Pleasant.
---
McLaren Acquisition of Mt. Pleasant Hospital Creates Tie to Medical School
Nation's Top 25 Health Care Center Continues to Expand in Mid-Michigan
October 15, 2010 1 Comments
By: Dave Rogers
While Saginaw and Midland doctors and hospitals have fostered connections with the new Central Michigan University Medical School, Bay Regional Medical Center, through its owner McLaren Health Care of Flint, has forged a closer tie.
Central Michigan Community Hospital (CMCH) and McLaren Health Care recently announced a merger that joined the Isabella County hospital with McLaren, one of the top 25 health care systems in the United States.
That puts the Bay City hospital in a better position to benefit from the synergy to be created by the new medical school slated to open next year at Central Michigan University, according to observers of the health care scene in the area.
Saginaw hospitals and health care organizations have negotiated a partnership agreement with the new CMU hospital and have projected a $10 million riverfront building in Saginaw to house third and fourth year medical students and interns.
Midland's Mid-Michigan Medical Center was a rival bidder for the Mt. Pleasant hospital and officials have vowed to continue to compete for that market, noting that many Mid-Michigan employees live in Isabella County.
The CMU School of Medicine will be housed in a $24 million, 60,000 square foot addition to the health care professions building on the campus in Mt. Pleasant. It is slated to open in the fall of 2011 and to address a projected shortage of 6,000 doctors in the area by 2020.
"This is a tremendous day for our hospital and our community," CMCH President and CEO Bill Lawrence said. "In the midst of one of our strongest years ever, we are joining with McLaren Health Care, a nationally recognized leader.
Reports from Flint are that McLaren officials may consider an expansion of the Mt. Pleasant hospitel, perhaps even through a branch on the campus for more intense training by medical students.
"Importantly, McLaren keeps local hospitals local. It keeps local decision-making and local assets in place. At the same time, it supports its hospitals with nearly 10,000 associated physicians, state-of-the-art technology, advanced medical research, highly rated capital financing, and a deep commitment to strong quality outcomes for patients."
The 118-bed CMCH opened in 1943; its Heart and Vascular Center was initiated in July, and its Norval K. Morey Cancer Center recently celebrated its 5-year anniversary. Its obstetrics unit was renovated into a modern Family Birthing Center in 2008, the same year that CMCH was named a Thomson Reuters top-100 U.S. hospital.
A CMCH comparison between 2010 and 2009 shows the hospital admitted 200 plus more patients, handled 250 plus more births, and responded to about 5,000 more emergency room visits.
"Central Michigan Community Hospital is an extraordinary community resource," McLaren Health Care President and CEO Philip Incarnati said. "We are delighted to welcome CMCH to the team. We respect and value the work they are doing to deliver outstanding patient quality while adeptly managing costs. CMCH clearly stands out for its excellence and commitment to the communities it serves."
The McLaren system serves 29 Michigan counties with 2,052 licensed beds and eight regional hospitals in Flint, Lapeer, Lansing, Bay City, Mount Clemens, and Pontiac. Its home care and hospice services have won the Michigan Medicare Quality Program Improvement Award. The McLaren Health Plan is recognized by the Association of Health Plans as the most efficient health insurance provider in the state.
The complementary markets served by McLaren and Central Michigan helped cement the merger, said George Dunn, chair of the CMCH Board of Directors.
"There's no overlap between our communities and theirs," Dunn said. "That means our staff and services remain intact, plus our community stands to gain McLaren services that we don't currently offer. It's a win-win situation.
Flint-based McLaren has acquired two other hospitals in the past four years.
"The agreement with Central Michigan Community Hospital expands our health care footprint into a new region," said Philip A. Incarnati, president and CEO of McLaren Health Care, adding:
"Despite the difficult economic conditions in the state, we've been able to attain yet another piece in the pattern of our overall growth strategy and further our mission to be Michigan's best value in healthcare, as defined by quality outcomes and cost."
McLaren Health Care acquired Mount Clemens Regional Medical Center in 2006 and Pontiac Osteopathic Hospital in 2007. McLaren Health Care Village at Clarkston was also launched in 2007 with Phase I opening in 2009. Additionally, McLaren recently began construction of a $60 million proton beam therapy center in Flint.
With an A1 rating from Moody's Investor Services and AA from Fitch Ratings, McLaren Health Care has sustained a compounded annual revenue growth rate of 20 percent per year for 20 years.
"We are pleased to welcome the board, physicians, staff, and volunteers of CMCH to the McLaren team, and we look forward to the opportunity to support the already high level of quality care they provide to the community," added Mr. Incarnati.
CMCH is a 118-bed acute care hospital. It is a not-for-profit, locally governed community hospital, offering a full range of health and wellness services from the hospital campus and off-site locations. It is recognized as an accessible and dependable source of quality medical care for residents of Mount Pleasant, Isabella County and central Michigan. CMCH is licensed by the Michigan Department of Public Health and holds high marks of accreditation from the American Osteopathic Association.
CMCH has approximately 60 active staff physicians and is affiliated with more than 150 other top-notch health professionals. The hospital is one of the region?s largest employers, with more than 600 employees and another 200 volunteers. Visit cmch.org.
With headquarters in Flint, Mich., McLaren Health Care has been recognized as one of the top Integrated Health Networks in the nation. McLaren is one of the largest health care providers in the state with a system that reaches nearly 35 percent of Michigan residents through more than 150 locations, 15,000 employees and 10,000 network physicians. McLaren Health Care had revenues totaling more than $3.9 billion in 2009 and has experienced double-digit growth each year since 1989.
The nonprofit system includes eight regional hospitals: Bay Regional Medical Center and Bay Special Care Hospital in Bay City; Ingham Regional Medical Center and Ingham Regional Orthopedic Hospital in Lansing; Lapeer Regional Medical Center in Lapeer; McLaren Regional Medical Center in Flint; Mount Clemens Regional Medical Center in Mt. Clemens; POH Regional Medical Center in Pontiac; and partial ownership and overall management of a ninth hospital, Doctors' Hospital of Michigan in Pontiac.
McLaren also operates McLaren Medical Group, an employed physician network; McLaren Homecare Group, an award-winning home health, hospice and medical supplies provider; McLaren Health Plan, a licensed HMO offering benefit plans for commercial businesses and Medicaid recipients; and Great Lakes Cancer Institute, the largest cancer care network of its kind in the state. Visit mclaren.org. ###
---
Health/Fitness Article 5309
---

Dave Rogers




Dave Rogers is a former editorial writer for the Bay City Times and a widely read,
respected journalist/writer in and around Bay City.
(Contact Dave Via Email at carraroe@aol.com)

More from Dave Rogers
---
Send This Story to a Friend!
Letter to the editor
Link to this Story
Printer-Friendly Story View
---
--- Advertisments ---