Halloween -- Guess What I'm Thinking About Dressing Up As?
October 24, 2010 Leave A Comment
By: Julie McCallum,
Senior Staff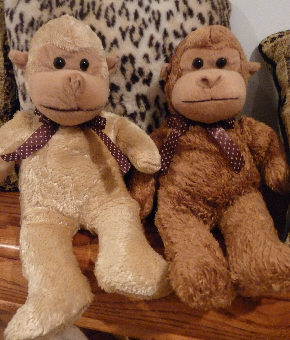 $20.00 Later . . . I Told You They Were Cute?
Normally, if I dress up for Halloween . . . it is usually as a scary or evil figure . . . But I'm thinking about switching it up this year. What do you think about a MONKEY?
I mean have you EVER seen someone dress up as a monkey for Halloween? Do you think Monkeys are Cute?? . . . I do! Could I pull it off and be that cute?
Needless to say my, nieces and nephew have so many stuffed monkeys ... I just can't pass this up. Somebody stop me!
Recently I was in
BARTS
gaming room with some friends and noticed two stuffed monkeys in the crane game, while I was waiting for my turn in shuffle board.
Well you can bet that I had every one switching gears in the middle of our shuffle board match . . . and had every guy in the place trying to get me the darn monkeys. And I could not leave until I had them in my hands. LOL
. . . But they were so CUTE !
One day, I mentioned to my boss, while getting a drink at the water cooler, "I had another dream about owning a monkey last night." I could see immediately that he began to worry about me... and before you know it, he was looking on the internet to see what it meant if a person dreams about monkeys.
He sent me the link and this is what it said:
The monkey is a symbol that needs to be understood by considering the various associations that we make when thinking about them. A monkey may represent positive attributes, such as agility, inspiration, a sense of freedom and a capacity to imitate.

In Japan, toys that look like monkeys are given to children because monkeys are supposed to be able to drive out evil spirits. In India, the monkey is a symbol of soul.

Thus, monkeys (as symbols) appear to have a double or twin meaning. Whether positive or negative, the monkey is revealing something to you about what is going on in your inner world. The dream with a monkey may be an encouragement from your unconscious to continue to develop your personality by staying close to your own nature.


It had more details that made me a little nervous . . . but I decided not to print it and since then have been to therapy. lol . . . Just Kidding!
Did I mention my Chinese Zodiac sign is a Monkey ?
See you out on Halloween . . .
---
Columns Article 5321
---
---
Send This Story to a Friend!
Letter to the editor
Link to this Story
Printer-Friendly Story View
---
--- Advertisments ---