Salt Wells in Midland Spouted Brine and Led to Dow Chemical's Billions
Larkin-Patrick Brine Well Dug 125 Years Ago Has Reaped Bonanza for Area
August 21, 2004 Leave a Comment
By: Dave Rogers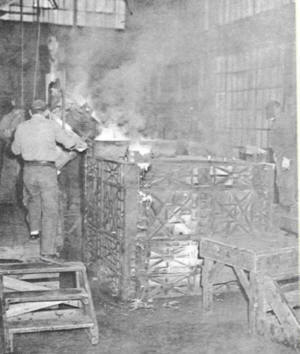 The Dowmetal magnesium foundry on Patterson Road in Bay City, originally the Union Truck factory, employed 3,300 during World War II and made aircraft and other military parts crucial to the war effort.
      The global chemical giant Dow Chemical Company is situated in Midland because of a natural phenomenon -- salt brine springs on the Tittabawassee and Salt Rivers.
      These salt springs were known by the native Americans and by early settlers. The act of Congress proposing admission of Michigan to the union in 1836 set aside 12 salt springs and six sections of adjoining land for state use.
      And the influence of the Birney family in Michigan's development was shown when State SenatorJames Birney, son of the famed abolitionist candidate for President James G. Birney, sponsored a bill in 1859 providing a state bounty of 10 cents on every barrel of salt produced. That bounty made Saginaw and Bay City lumbermen even richer.
      But it was a brine well dug 125 years ago by two gentlemen named William Patrick and John Larkin in Midland that probably did more for the local economy than any other single event. That well, bored 1,300 feet below the surface, began to spout a stream of rich brine in July, 1879.
      The 107 foot thick clear salt rock stratum proved far beyond the original statement of the Midland Independent newspaper "there's millions in it!." Billions, or trillions of dollars might have been justified given the fact that the products of the Midland salt wells led to the formation of The Dow Chemical Company.
      A decade after the Larkin-Patrick well began to spout brine, a young man who looked something like a youthful U.S. Grant, arrived here from Cleveland. His name was Herbert Henry Dow and he had an idea -- use electricity to convert the salt brine to bromine, used in many important chemicals.
      It was August, 1890 when the 24-year-old Herbert Dow trudged from the railroad station past 14 saloons down Main Street in Midland and checked into the Larkin Hotel. He had only $375 but, more importantly, serious and well researched plans to start a chemical company.
      The fact that the forests had nearly all been cut down didn't concern Dow. He looked not up but down. A tremendous ocean of salt brine underlays all of central Michigan, and it was his vision that it could be the generator of fortunes in chemicals.
      Harried by penny-pinching Cleveland investors in the initial Midland Chemical Company, Dow soon found a secret weapon: chlorine. Aha! There was more chlorine than bromine in Midland brine. Dow would extract it with a new process.
Unfortunately, disaster struck in early 1895. Dow had been demoted from his job as general manager. The chlorine process evidently released hydrogen, which ignited in a tremendous explosion and wrecked much of the wooden plant.
      Herbert Dow mysteriously disappeared for a couple of years after the explosion. His ties with the Cleveland investors were thin and he was ordered to sell the chlorine process. But if it couldn't be sold in a month he would retain all rights to the process by paying 10 percent of gross revenues from chlorine to the investors. That was the stroke of genius that led to the success of a new company.
      He got new partners in Cleveland, formed the Dow Process Company, and moved operations to Navarre, Ohio, rather than back to Midland. He lasted just six months there until townsfolk decided the danger of explosions were too great and asked him to leave town.
      Dow negotiated a deal to use waste brine for a small fee from the Cleveland-dominated Midland Chemical Co., in which he remained a stockholder. He only wanted the chlorine anyway. So he moved back to Midland and built a small plant, planning to make bleach that was in great demand in the paper industry.
      At a meeting of potential investors May 4, 1897 in Cleveland, the enthusiastic Dow convinced 50 of the money men that his process for producing bleach was "simple" and would take a $2 million market by storm. The new company was The Dow Chemical Company, capitalized at $200,000 with 20,000 shares of stock at $10 a share. One of the original investors was George Westinghouse of the Westinghouse Electric Company, with whom Dow had collaborated on power projects. The Dow Process Company was to be paid $250,000 for its assets, mainly Dow's patents on his chlorine process.
      Dow was now back in the saddle as general manager and incorporation articles were filed in Midland May 18, 1897. Dow was 31 years old and was allocated $83,000 to build a new plant in Midland.
      Don Whitehead, author of "The Dow Story," wrote in 1968: "If Dow had been a drinking man, the time would have called for a celebration with champagne flowing." But Dow was a teetotaler in the tradition of his Puritan ancestor, John Alden, the Massachusetts pioneer. Temperance may also have been a reflection of his early Methodist, later Presbyterian, indoctrinated morality.
      Dow's temperance attitude clashed with most of the still hard-drinking pioneers in the cut over lumbering area. In 1907 he and his comrades in the then 10-year-old Dow Chemical Company had engineered something else -- a referendum to make Midland "dry." It passed by 127 votes and the county remained dry for most of the rest of the century.
      The stories of Dow's early years in Midland are legendary. There are many Midland families still rich from the stock they got for rent, building supplies, legal services, groceries, even haircuts paid off in stock by young Dow.
      The fact that Dow died in 1930 of cirrhosis of the liver was attributed to his habit of sipping his chemical products for analysis, not to drinking alcohol. He was known to have had only one drink of liquor in his life.
      Bay City was the site of Dow facilities beginning in 1934 when a magnesium foundry was established for building Dowmetal car haulers. "It developed into the nation's largest center of research into the engineering, design and use of magnesium," wrote Whitehead. The product was about 20 percent lighter than aluminum and was critical to production of incendiaries and planes. Dow developed a process to extract magnesium from sea water and the government financed a huge plant in Freeport, Texas. In 1942, the critical year for production of magnesium for war use, Dow produced about 90 percent of all the magnesium in the country.
      The "rest of the story," as they say, is history. You can read it in Whitehead's book or in a meticulously documented book, "Growth Company: Dow Chemical's First Century," by E.N. "Ned" Brandt, longtime Dow public relations chief and company historian, published by Michigan State University Press in 1997.###       
---
---

Dave Rogers




Dave Rogers is a former editorial writer for the Bay City Times and a widely read,
respected journalist/writer in and around Bay City.
(Contact Dave Via Email at carraroe@aol.com)

More from Dave Rogers
---
Send This Story to a Friend!
Letter to the editor
Link to this Story
Printer-Friendly Story View
---
--- Advertisments ---