Dealing with Job Losses from Globalization Calls for Facing the Problem
Local General Motors Plant History Illustrates Impact
September 6, 2004 Leave a Comment
By: Dave Rogers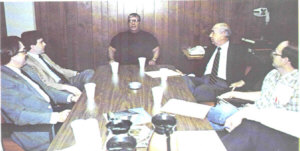 Discussions at Bay City's General Motors plant in the mid-1980s involved, from left, Ted Binnall, UAW International representative, State Rep. Tom Hickner, UAW President Ed Huizar, Dick Konicek of Forward Bay County, and Mike Rozek, UAW bargaining team.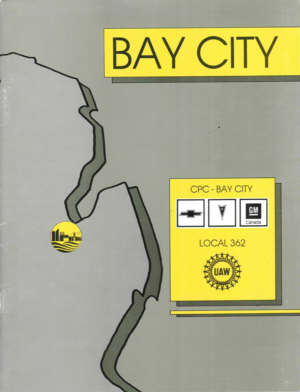 Publication of GM's C-P-C plant and the United Auto Workers Local 362 in 1985 was designed to inform the community about the Quality of Work Life program.
      Another Labor Day recalls the rollercoaster history of employment in Bay City.
      The confidence of local business leaders couldn't have been bolstered by the ominous Labor Day report in The Bay City Times. The nub of that report was that the tri-county area lost more jobs than any other region in the country last year.
      An American City Business Journals study states that the tri-counties lost 3.5 percent of its work force, a total of 6,100 jobs, last year. Since 2000, according to the magazine, this region has lost about 9,800 jobs, more than a quarter of which were related to manufacturing.
      The local economy has always had everything to do with heavy industry. But those days may be over here as elsewherein the United States and on the entire North American continent.
      The facts are that U.S. labor can't compete with $1.50 cents an hour labor in Mexico; and Mexico can't compete with 50 cents an hour labor in China. In the past two years Germany reportedly has lost 8,000 factories (that's factories, not just jobs) to the lower wage Balkan countries. So we're not alone among the industrialized countries to face an employment problem.
      The best way to approach a problem is first to admit you have the problem, then talk about it logically and finally seek serious solutions. As a Labor Day soul-searching exercise, that's what we'll try to do in this column today.
      The flagship of the Bay City fleet of heavy industries has always been the local General Motors plant. It was originally the National Cycle Company/Natco Motor Truck factory that merged with William Durant's infant Chevrolet Motor Company in 1916 as he pulled together the global industrial empire to be known as General Motors Corporation. Bicycle company president Henry B. Smith of Bay City stayed on with GM as president of the Chevrolet Motor Company of Bay City. In 1918 Chevrolet-Bay City became a division of General Motors Corporation.
      A Bay City Chamber of Commerce team of community boosters supposedly bicycled to New York, no doubt on the famed local product, the National Cycle, to celebrate the deal with Durant and the budding GM. As the story goes, the Smith family that owned thebicycle plant had to be persuaded by the Michigan Supreme Court to accept GM stock instead of cash they wanted for the purchase. Of course, the ruling in favor of GM made them much richer than the cash alone would have. That is another Bay City legend.
           "The GMPT Bay City plant employs approximately 1,200 people and manufactures engine and transmission components for nearly every vehicle in GM's fleet."
      That's a statement in 2003 from General Motors regarding the Powertrain plant here.
      Nearly 20 years ago, in 1985, the same plant, then called C-P-C, reported 2,400 hourly and salaried workers. Ten years before that the plant had over 4,000 employees and reportedly had 6,000 employees at its peak of operations.
      These job losses came in spite of the implementation of one of the most progressive labor-management relationships in American industry. The local GM plant was a national leader in the Quality of Work Life (QWL) program beginning in 1977.
      QWL is a joint effort between management and UAW Local 362 to involve employees in the decision-making process. Greater productivity and higher quality products are the goal.
      I feel a personal obligation to write about the future of this particular GM plant because in the mid-1980s I was volunteer editor of a GM-UAW publication explaining the QWL process to the community. Working with management and union leaders in the plant and GM Creative graphic artists in Detroitgave me a sense of ownership in the plant that has stayed with me all these years.
      The Bay Area Chamber of Commerce and an early economic development organization, Forward Bay County, were involved in the QWL process. Some credited this program with helping to preserve jobs here and perhaps even save the plant from closing.
      The success of the QWL process locally led local GM leaders to predict stable employment for the forseeable future. However, at that time the main competitor was presumed to be Japan. Few economists or business leaders foresaw China, India, Malayasia, Indonesia, etc., joining the list of industrialized countries. Mexico was still gearing up its assembly lines for the onslaught on U.S. jobs to come.
      Michigan, as well as Bay City, is scrambling to preserve our standard of living based in large part on manufacturing jobs.
      We need a dialogue between our industrial leaders and our economic developers to shape a cohesive strategy either to retain manufacturing jobs or create jobs in other high-paying fields to replace them. We can't stop the pace of globalization. That fact has to be faced first.###
---
---

Dave Rogers




Dave Rogers is a former editorial writer for the Bay City Times and a widely read,
respected journalist/writer in and around Bay City.
(Contact Dave Via Email at carraroe@aol.com)

More from Dave Rogers
---
Send This Story to a Friend!
Letter to the editor
Link to this Story
Printer-Friendly Story View
---
--- Advertisments ---