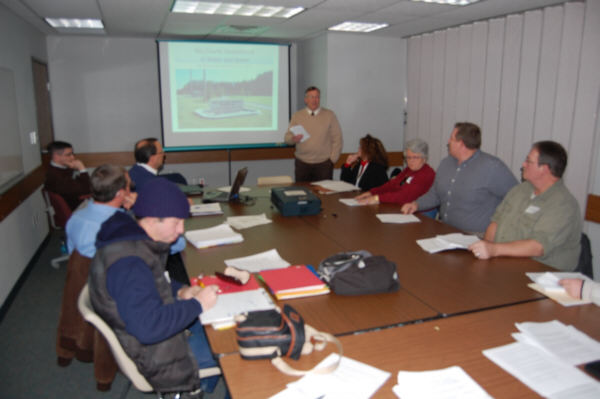 City Sewer Fund Advisory Committee meets with city officials and the county's Tom Paige (standing) last Friday in the temporary city hall at 700 Fourth Street.
---
ISSUE ALERT: Bay City Sewer/Water Crises Rising to Surface This Month
Executive Session of City Commission to Focus on Utilities
January 9, 2011 Leave a Comment
By: Dave Rogers
These seem to be the worst of times.
But they may be the best of times, to paraphrase Charles Dickens' Tale of Two Cities.
The Age of Wisdom and the Epoch of Belief, hopefully, are upon us, as Dickens wrote.
January 2011 is crucial to the process of seeking solutions to water and sewer problems of the City of Bay City.
Here are the problems, in a nutshell:
City water is drawn from an old intake in low water off Linwood in Saginaw Bay;
Heavy treatment with chlorine and disinfectants is necessary and taste and turbidity persist;
A disinfectant byproduct, TTHM, has been found to exceed drinking water standards, though not dangerous to health;
Bay City has 320 miles of sewers, up to 36 inches in diameter, half filled in some cases with solids containing PCBs from a long industrial past.
Cleaning is progressing at about 15 miles a year, and at that rate it will take about 20 years to complete the job.
Debt from a $45 million bond issue in 2003, ordered by federal court to address the PCB problems, is causing high sewer rates.
Falling usage caused by high rates and pullout of Hampton Township and Essexville, which joined the West Bay County Wastewater Plant last year, add pressure on the rate structure.
Here is the litany of actions toward solutions to these problems lined up by City Manager Robert V. Belleman and city officials:
City commissioners will hold a closed meeting with attorney Timothy Ferrand, of Cummings, McClorey, Davis and Acho, of Sterling Heights, probably on a Tuesday night, to explore legal avenues on sewer and water issues;
Reports from several consulting firms on possible collaboration with Bay County, Saginaw and Midland and potential rate structures are slated to be received by a 15-member Citizens Sewer Fund Advisory Group which has been meeting with city officials;
Tom Paige, director of the West Bay County Wastewater Plant, explained options for collaboration to the advisory group on Friday; the group will meet again on Jan. 14 and 21 to consider recommendations;
On Jan. 31 a Town Hall Meeting of city officials with residents will convene at 6:30 p.m. in the State Theatre when potential solutions to the problems may be revealed.
Mr. Belleman hopes to form a city-county water authority to seek partnership in the Saginaw-Midland Water System. This system draws water from about 55 feet depth in Lake Huron off Whitestone Point, AuGres, considered higher quality that the present city source.
He also is eying refinancing the sewer bond issue and/or seeking grants to finance capital improvement projects for the collections system and the 30-year-old retention treatment basins.
According to William Kaiser, city wastewater plant supervisor, the city intake is in 14-18 feet of water and treatment intensity often depends on which way the wind is blowing.
The city has been talking about joining S-M to obtain higher quality water for nearly half a century and now excess capacity on that system may be available.
Sewer rates are based on growth, which is not occurring, and according to Timothy Rex, city resident, who wrote that his rates have risen from $160 a month to $250, commenting: "customers are in severe distress due to the rate increases." He suggests the city join a system with a larger group of customers.
Mr. Belleman, noting the sewer debt will be paid in 13 years, urged the committee to "remain positive and focused; change opinions from gloom and despair to being positive, and give taxpayers the knowledge they need to stand behind the city."
Sewer Fund Advisory Committee members are Virginia Hutter, Charlotte Webster, Chris Girard, Dave Mrozinski, Jeff Warner, Jim Bourdon, Robert Schindehette, Steve Beson, Tom Heltzel, Janet Woronoff, Kirk Keithly, Jim Goka, Johanne Luth and Tom Kos.
###
---
---

Dave Rogers




Dave Rogers is a former editorial writer for the Bay City Times and a widely read,
respected journalist/writer in and around Bay City.
(Contact Dave Via Email at carraroe@aol.com)

More from Dave Rogers
---
Send This Story to a Friend!
Letter to the editor
Link to this Story
Printer-Friendly Story View
---
--- Advertisments ---