Chamber Business/Education Summit Slated Oct. 1 at DoubleTree
Proposal A, Workforce Training Issues Arising Statewide May Be Discussed
September 19, 2004 Leave a Comment
By: Dave Rogers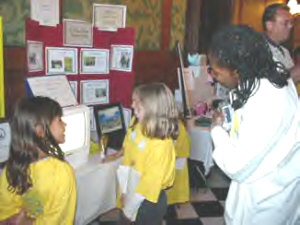 Students from Roosevelt Elementary in West Bloomfield talk about their project at the fall Student Technology Showcase held at the Capitol in Lansing.
      Do the inequities in school funding persisting despite Proposal A and rising family poverty affect student achievement?
            Those questions could be among issues addressed at a public forum on education slated Friday, Oct. 1 at theDoubleTree Hotel - Bay City Riverfront.
      The forum, entitled "Engaging the Community in Preparing Students for the Future," is a noon luncheon sponsored by the Bay Area Chamber of Commerce.
            The Chamber may considerthe main conclusions of a recent Michigan State University report on Proposal A and another report on the working poor by the Michigan League for Human Services (MLHS).
      The MSU report's main conclusion was: Communities where educational needs are greatest seem to be suffering most under Proposal A. The MSU report also said Proposal A has cut the rate of growth of revenue to schools nearly in half.
      The TV forum featured Tom Watkins, state superintendent of public education, and a panel of experts in education and economics from the University of Michigan, Wayne State University, Michigan State University and other agencies.
           The MLHS report, entitled "Working Hard But Still Poor," focused on Michigan's working poor and examined the achievement levels of children from families in poverty or with inadequate standards of living.
      As Michigan strives to raise educational levels to increase economic competitiveness, the "double whammy" seems to be delivered by Proposal A and economic factors related to employment.
      The MLHS report noted that nearly 6 percent of Michigan's working families live below the federal poverty level and another 24 percent have inadequate earnings.
      "More than 2.5 million working age adults in Michigan -- 44 percent of adults ages 18 to 64 -- lack the educational attainment levels that employers in high-wage businesses are seeking," the report states.
      Nearly one third of working age adults have only a high school diploma or GED and many have not completed high school or obtained a GED. Forty percent of adult workers in Michigan have no post secondary education, according to the report.
      Michigan's Work First program has seriously impeded access to education and training opportunities and should be replaced with a strategy for low income workers emphasizing skill development and wage growth, the MLHS report recommended.
      Recent statistics from the Michigan Kids Count databook show that about 5,200 children, or nearly 31 percent of the school age population in Bay County, are from families receiving free or reduced price school lunches based on low family incomes.
    Proposal A resulted in a dramatic reduction in property taxes averaging $2,000 per year and dropped Michigan's tax rate below the national average. It also provided increased equity across school districts, the report noted.
      Proposal A shifted the burden of financingschools from local property taxes to the state sales tax and other taxes. Tom Clay of the Citizens Research Council (CRC) reported that 4.4 cents of the 6 cents per dollar sales tax goes to school aid.
      While Proposal A in 10 years has narrowed the gap between high-spending and low-spending school districts, "it did not favor the lowest income districts nor those with the highest concentration of African-American students," the MSU report states.
      "Low income households will need extra resources so their children can achieve at levels we'd like," commented Dr. Watkins.
      Proposal A also did not address capital funding, a factor that puts poor school districts at a huge disadvantage, according to Dr. David Arsen, professor of educational administration at MSU.
      Jack McHugh, legislative analyst for the Mackinac Center, Midland, noted that consolidation of school elections with other governmental elections will likely raise considerably the present 5 percent voter turnout. School elections were termed "stealth elections" by one speaker.
      Mr. McHugh pushed for charter programs and entrepreneurship in education, commenting: "When competition is introduced into the system, everyone does better."
      Dr. Arsen said research has not shown that charters and choice in education have raised student achievement. He said class size reductions and high quality pre-school programs are effective in raising achievement.
       Dr.Watkins pointed to disparities in the cost of education in various regions of the state. "Can we afford 750 school districts and over 50 ISDs?" (intermediate school districts) asked Dr. Watkins. He also said it is the "state's obligation to address the shameful condition of some schools," terming the situation "savage inequality."###             
---
---

Dave Rogers




Dave Rogers is a former editorial writer for the Bay City Times and a widely read,
respected journalist/writer in and around Bay City.
(Contact Dave Via Email at carraroe@aol.com)

More from Dave Rogers
---
Send This Story to a Friend!
Letter to the editor
Link to this Story
Printer-Friendly Story View
---
--- Advertisments ---