14th Annual River of Time comes to Bay City
Riverfront invaded by hundreds of historical re-enactors
September 25, 2004 Leave a Comment
By: Stephen Kent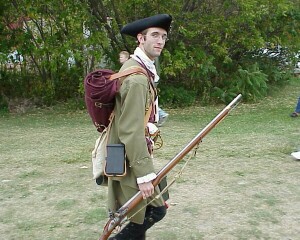 Sgt. Luke Fryer, Mohawk Valley Militia (and CMU history major) represents French and Indian war period
The Bay City Riverfront was the site of the 14th annual River of Time encampment this weekend. Hundreds of re-enactors from around the state and beyond gathered to represent various eras of American History from the French fur trappers and RevolutionaryWar on up through WW II.
The event also draws thousands of spectators who step back in time to see how things were done in the past. The event is free of charge and open to the public as an educational experience. Everyone is happy to explain the period they represent and the lives our forefathers lived.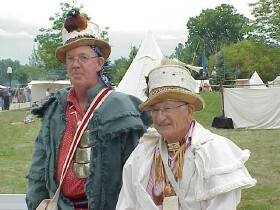 The encampment was full of interesting and colorful characters. Al Collins (left) of Richmond, MI showed off the birch bark top hats that he makes. He uses bark from downed trees. The bark is about 1/16 inch thick and stitched together to form the hat. Al's hat had a pheasant head on the top.
Al's friend Fred Strebendt of Chesterfield (right) grinned and said that they should start a "Birch Bark Hat" society. "We could be the men's version of the 'Red Hat Society'".
Arriving later in the afternoon, found many of the camps beginning to prepare supper. Karen Kenna-Smith and Ben Smith, cooks for the Sanford Brigade certainly had their work cut out, and a large crowd watching as they prepared supper for the entire brigade. Ben said "we'll feed maybe 200 people. They'll be lined up way down the path.". There was a huge skillet of chicken frying, a dozen dutch ovens with beans, kraut, vegetables and other goodies on the fires. It was enough to make one very hungry.
| | |
| --- | --- |
| | |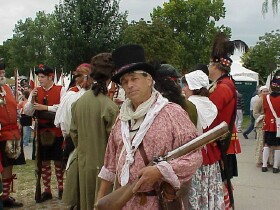 Paul Mitchell of Bay City can trace his family back to the 1680's when his ancestor served at Fort Williams. Mitchell, representing the French and Indian war period of the 1770's, explained his reproduction 1762 British "blunderbuss". He demonstrated how thegun could be loaded with a ball or shot. He showed how the flint doesn't cause a spark but rather scraps off tiny particles of metal which become red hot and ignite the power. "You could get off two shots pretty quickly, and that could take out a handful of oponents."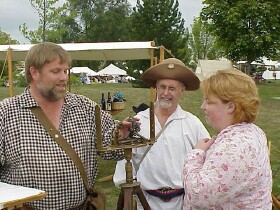 Craig Amey of Shelby Twp, and Jack Owens of Flushing represented the Museum of Surveying in Lansing, the only museum of it's kind in the country. At left they demonstrate a "Burt Solar Compass" invented by William Ansten Burt in 1835. Prior to this the magnetic compass was the primary instrument for plotting direction. "This worked fine until you came across a large deposit of iron", said Amey. "The iron made the compass swing, which was great for discovering the iron deposits in the UP, but not for surveying." The Burt compass only needed the sun to determine direction.
| | |
| --- | --- |
| Casey Devuyst of Vassar with his family's teepee. | Chenoa Baker helps Grandmother Kathy Baker with dishes |
| Dave Leonard of Shepherd shows inside of his vintage Hurdy-gurdy. | Lisa Gamero and Dennis Confer of the Sanford Brigade show various furs. |
| | |
| | |
MyBayCity.com has covered the River of Time since 2003.
Take any of these links for prior year coverage:

2018.a, 2018.b
2017.a, 2017.b, 2017.c,
2015, 2014, 2013,
2012, 2011, 2010, 2009,
2008, 2008, 2008, 2008,
2007, 2007,
2006, 2006,
2005, 2005, 2005,
2004, 2003,
---
---

Stephen Kent




Steve Kent and his family have lived in Bay City for 40 years. He is VP of Technical Services at MMCC which produces MyBayCity.Com. Kent is active in many Bay City civic organizations.

More from Stephen Kent
---
Send This Story to a Friend!
Letter to the editor
Link to this Story
Printer-Friendly Story View
---
--- Advertisments ---