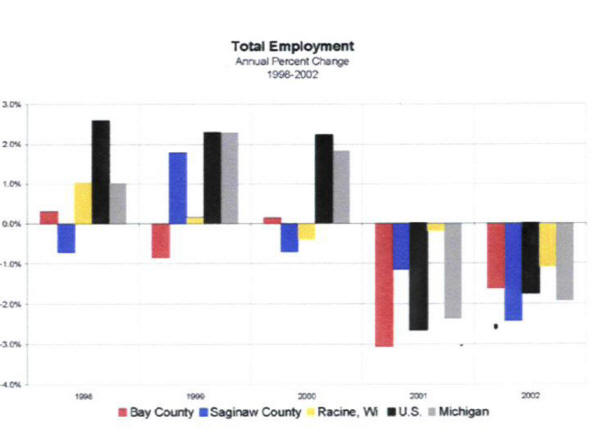 Job Comparison - Bay, Saginaw & Racine, Wisconsin
---
Bay Future, Inc., Lifts Off for Economic Development with 17-Member Board
New Job Attraction/Retention Initiative Merges Public-Private Entities
September 26, 2004 Leave a Comment
By: Dave Rogers
      Bay Future, Inc., a new economic development agency, is lifting off to make a better future for Bay County residents.
      Ignition comes more than two years after County Executive Thomas L. Hickner and Dominic Monastiere, Chemical Bank-Bay City president, began to fuse together disparate elements of the economic development community.
      The new Bay Future, Inc., is modeled after Saginaw Future, Inc., an agency with a similar goal working on behalf of growth in Saginaw County.
      With savvy fundraiser John Lore, former hospital chain executive and college president as interim president, BFInc., has lined up an impressive and diverse 17-member board and a budget of about $270,000 for the effort to rebuild the community's job base.
      Mr. Lore, a native of Bay City, and his wife, Judy, recently returned to the community. He is noted for directing the fundraising effort to establish a $20 million fund, including a $10 million state challenge grant, for the ConnectMichigan Alliance (CMA), a non-profit organization in Lansing. CMA aims to sustain and expand Michigan's volunteer infrastructure, building on former Gov. George Romney's vision that volunteers can change our world. The organization focuses on youth volunteerism, community volunteerism, higher education and training and technical assistance.
      It has been nearly 10 years since the unilateral initiative of private enterprises called the Bay Economic Development Corporation (BEDC) split off from the old Bay County Growth Alliance. That split not only left the representatives and funding of labor and government out, it created a philosophical divide that did not help foster job development.
      BEDC will transfer its assets and funding of approximately $137,000 from 125 private investors to BFInc. and will no longer exist, states a news release from the new agency. Seven-year BEDC executive Greg Stutelberg recently retired.
      Funding for BFInc. will be comprised of the $137,000 annually pledged by the private investors along with $50,000 each from Bay County and townships and small cities governments and $36,817 from Bay City, representing $1 for each resident.
      "This culminates over two and a half years of efforts by the public and private sectors of our community to establish and fund an economic development organization," states Mr. Monastiere, chairperson of BFInc.
      BFInc. is a not for profit, non-stock corporation organized on a directorship basis managed by a board of directors. Eight directors are specified in bylaws as representing certain organizations or sectors and nine directors initially selected by the incorporators are in the future to be elected by a majority vote of directors.
      Goal of the new organization is "to more effectively provide services for Bay County, its townships and cities, both small and large, in attracting new businesses and retaining existing businesses," said the chairperson.
      The agency will hire an economic development specialist and will establish a new office location, Mr. Lore reported. The agency will leave its temporary quarters in Commerce One, the Bay Area Chamber of Commerce headquarters at Saginaw Street and Fifth Avenue, as soon as the new office site is secured, Mr. Lore said.
      Officers, in addition to Mr. Monastiere, are senior vice chair Dale Majerczyk, the Essexville city manager; vice chair Brian Elder, attorney and county commissioner; vice chair Charles Brunner, teacher and city commissioner; vice chair Mike Seward, Chamber executive; Lore, interim president; and secretary-treasurer Abbe Mulders, Dow Corning Corp. executive.
      Private sector representatives include Tim Boutell,Boutell Enterprises; Fritz Horak, F.P. Horak Co.; Marc Labadie, Labadie Auto Co.; Joseph Liefbroer, S.C. Johnson & Son, Inc.; and Ann Lingle, National City Bank.
      Townships are represented by Tom Paige, Williams Township supervisor; education by Dr. Eric Gilbertson, president of Saginaw Valley State University; utilities by Cal Talley, general manager of the Karn-Weadock Complex of Consumers Energy Co.; the United Auto Workers by Don Petro, UAW Region 1-D representative; and the AFL-CIO by Thomas Ryder, business manager of Local 692, IBEW (International Brotherhood of Electrical Workers).
(EDITOR'S NOTE: Tony Dearing, editor of The Bay City Times, will be moderator of the 2004 Business & Education Summit presented by the Bay Area Chamber of Commerce will be held Friday, Oct. 1 at noon to 2 p.m. in the DoubleTree Hotel - Bay City Riverfront. The Summit will focus on the economic health of our community and the role that many sectors including parents, schools, businesses, community volunteers and others play in preparing our students for the workforce. Summit participants will hear about key issues such as attendance, work ethic, jobs available and the importance of critical thinking in any position. Participants will have an opportunity to exchange ideas and share their thoughts through table discussions.)
---
---

Dave Rogers




Dave Rogers is a former editorial writer for the Bay City Times and a widely read,
respected journalist/writer in and around Bay City.
(Contact Dave Via Email at carraroe@aol.com)

More from Dave Rogers
---
Send This Story to a Friend!
Letter to the editor
Link to this Story
Printer-Friendly Story View
---
--- Advertisments ---