Duck Season! Hurricane Season! Duck Season! Hurricane Season!
Oh myyyyyyyyyyyyyyyyyyyyyyyyy Goddddddddddddddddd!
September 26, 2004 Leave a Comment
By: O. J. Cunningham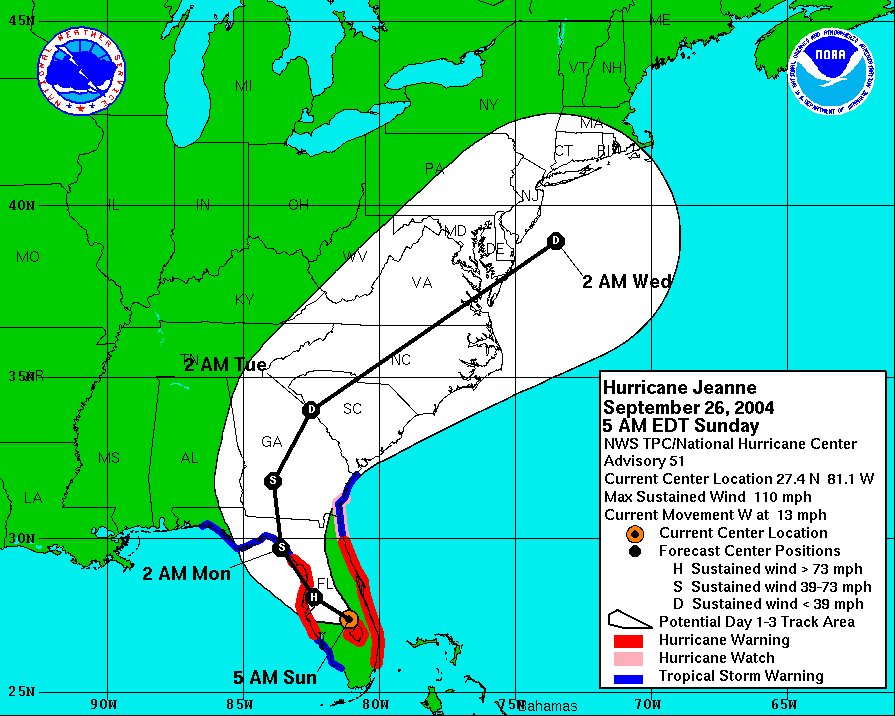 Hurricane Jeanne - Saving the worst for last.
I remember (just last year) when I thought hurricanes were just something that happened "out in the Atlantic Ocean" in the Fall.
I remember thinking that somehow hurricanes in Florida or the Bahamas were (in some way) justified since they were going to have all that 70 degree weather all winter (December and January) while we Michiganders (Michiganians, Wolverines, Snowbirds) were huddling inside, stoking the home fires, during the harshest of midwest winters.
After all, (I used to think) what's the big deal about a hurricane, anyway? In Michigan, we have tornadoes. Tornadoes are violent. And heck, those late-afternoon thunderstorms that spawn those 2-minute tornadoes last almost an hour (sometimes).
Now my soon-to-be- 18 year-old daughter (Jessica) is a freshman at the Florida Institute of Technology (FIT). Want to guess where FIT is located?
MELBOURNE, FLORIDA!!!
You are probably familiar with Melbourne from the Weather Channel. Melbourne is where On-Air Meteorologist, Stephanie Abrahms goes to report the worst possible hurricane conditions since the turn of the century.
Melbourne is where Jim Cantore leans into the 125+ mile-per-hour wind and screams: "The weather here is REALLY bad. Back to you in the studio, Heather."
In this first hurricane season for the Cuningham family, we've endured Charlie, Frances, Ivan and the now famous (I hate her) Jeanne.
You know Jeanne . . . she's the hurricane that tried to spell out her name in the Atlantic last week. First to the West . . . then to the North . . . then to the East . . . and OHHHHH CRAP!!! . . . back to the West. And Jeanne's cross hairs were locked in on, you guessed it, Melbourne, Florida.(Exactly as Frances had done two weeks earlier).
Is it me, or does each hurricanes seems to last something close to a month. First, there's the tropical depression phase when it's originally named while it's "coming off" Africa. This is followed by the tropical storm phase as it meanders in the Atlantic. Next comes the obligatory mashing of Haiti or Jamaica. That's when it seems to get serious in our household. 'Cuz that's when the start drawing the yellow cone of doom - you know -- the cone thatseems to center in on Melbourne, Florida.
Fortunately, we have cell phones. I've taken to calling Jessica's cell phone in the middle of the night and identifying myself as the Weather Channel's Jim Cantore and/or Dr. John Neese (Storm Expert), telling Jess that I'm outside her campus dorm and will she open the door because I need to get in out of the rain.
During Frances, Jessica fled to the Tampa area with friends. After the storm passed, she flew home since the campus was closed for a week of clean-up - kinda like a Michigan snow day - only you don't have to shovel or plow.
Before Jeanne came on-shore this weekend, I told my daughter to call me when it was the worst. We talked almost hourly as the hurricane moved closer and closer.
I watched the weather channel, marking the path of the eye. One after another, there were reports about storm surge, flooding, power outages. Steph (I feel I know her well) and Jim continued to fill the weather channel hourswith windblown reports.
And then at 2:00am Saturday night, my cell phone rang. "It's the worst," she said in a frazzled voice from amidst a huddled pile of kids on the first floor of their dorm. No power. No lights except for one emergency, battery powered hall light. "All we want to do is sleep, but every one's too nervous," she said. "I guess all we can do is ride it out. But we're safe dad."
I fell asleep and waited for her call Sunday morning announcing the "all clear." The call came at about 11:30am.
Now I've got only one problem. I'm scheduled to fly down to Melbourne Friday for Jessica's 18th birthday party. My hotel is on the beach at Melbourne - right where Hurricane Jeanne came ashore. I hope they've got dry pillows.
---
---

O. J. Cunningham




O. J. Cunningham is the Publisher of MyBayCity.com. Cunningham previously published Sports Page & Bay City Enterprise. He is the President/CEO of OJ Advertising, Inc.

More from O. J. Cunningham
---
Send This Story to a Friend!
Letter to the editor
Link to this Story
Printer-Friendly Story View
---
--- Advertisments ---