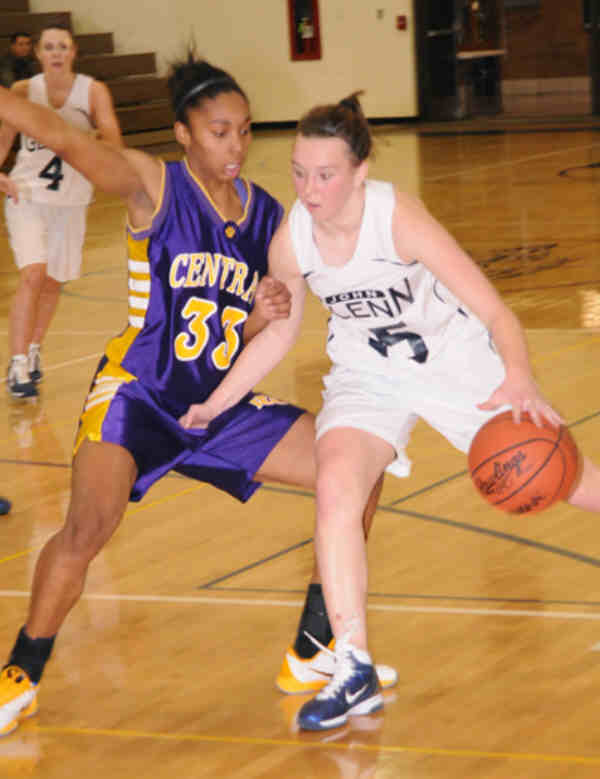 Kristen Moore drives hard as Whitney Henry defends. Central's Henry led all scorers with 17 points (MyBayCity Photo by John Keuvelaar)
---
Defense Rules As Central Girls Down John Glenn 36-30
January 30, 2011 Leave A Comment
By: John Keuvelaar
From the opening tip off, it was clear that this was going to be a great defensive game. Both teams showed great intensity all night as they battled for each possession throughout the game. It was a strong third quarter by Central that proved to be the distance as the Lady Wolves battled to a 36-30 win.
Each team's strategy was evident from the beginning. Central looked to get the ball inside to Whitney Henry while John Glenn got the ball into senior Brianna Sahr and let her attack from the perimeter. Central moved the ball quickly to open up passing lanes. Once an opening occurred, they passed inside giving them good looks at the basket but shots weren't dropping. Meanwhile Glenn worked from the perimeter getting the ball into Brianna Sahr's hands. From there, she would drive the basket which either produced a nice shot by her or she dished it back out to Erin Caspers who nailed two shots. The end result was Glenn building an 8-5 first quarter lead.
If the defensive effort by both teams wasn't enough in the first quarter, each team dialed up the pressure even more to begin the second quarter. Central used tight pressure on the ball as freshman point guard Leah Humes blanked point guard Kristen Tobin as she crossed center court keeping her from getting in deep enough for good look passes. The Lady Wolves also used a combination of players to deny Brianna Sahr from controlling the offensive attack forcing the ball into her teammate's hands for long shots or heavily contested inside drives.
The Lady Bobcats shut off inside play by using a 2-3 zone defense. Their quick response to rapid ball movement kept Central from setting up outside and denied passes inside. The lack of scoring for the period was due to both teams tough defensive pressure prohibiting either team to get good shots off. The half ended with Glenn holding a slim 13 to 12 lead.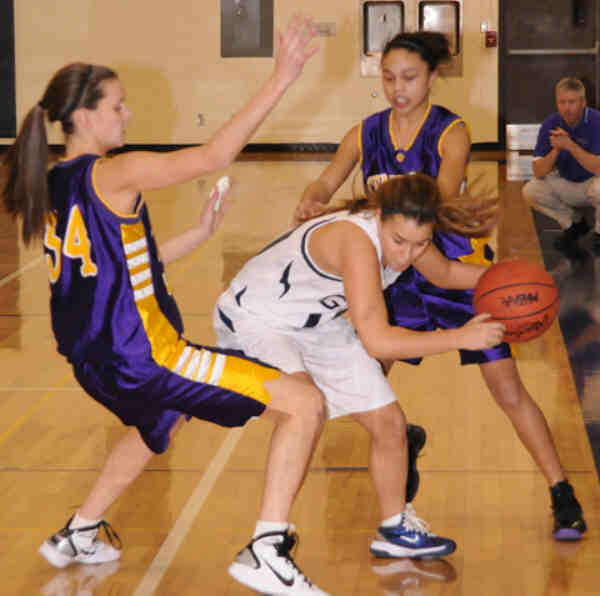 Central's Whitney Henry and Danielle Skrocki put the squeeze on John Glenn's Amber Kipfmiller.
(MyBayCity Photo by John Keuvelaar)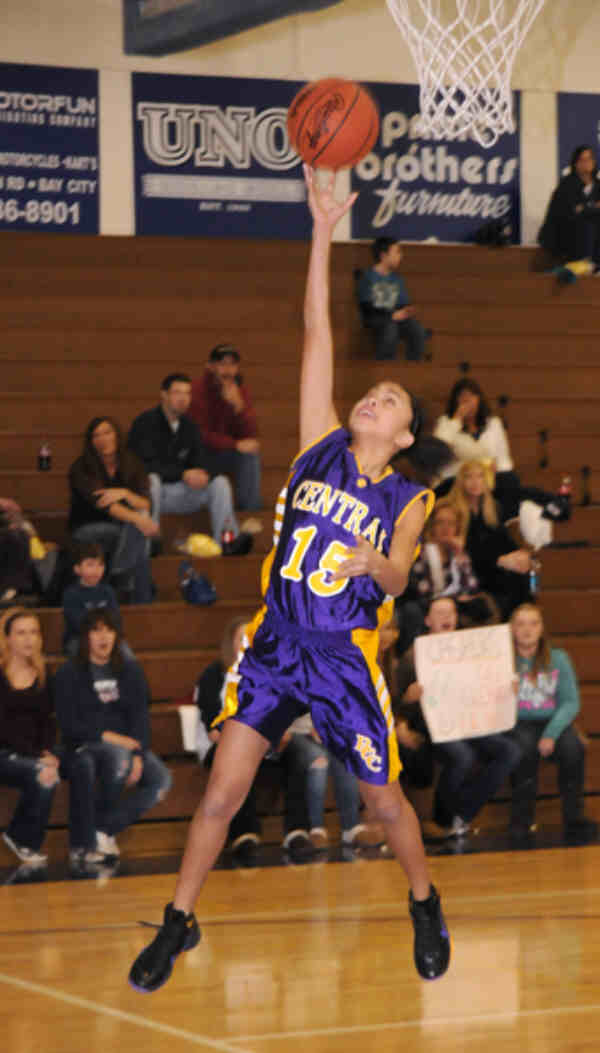 A nice layup for two by Leah Humes.
(MyBayCity Photo by John Keuvelaar)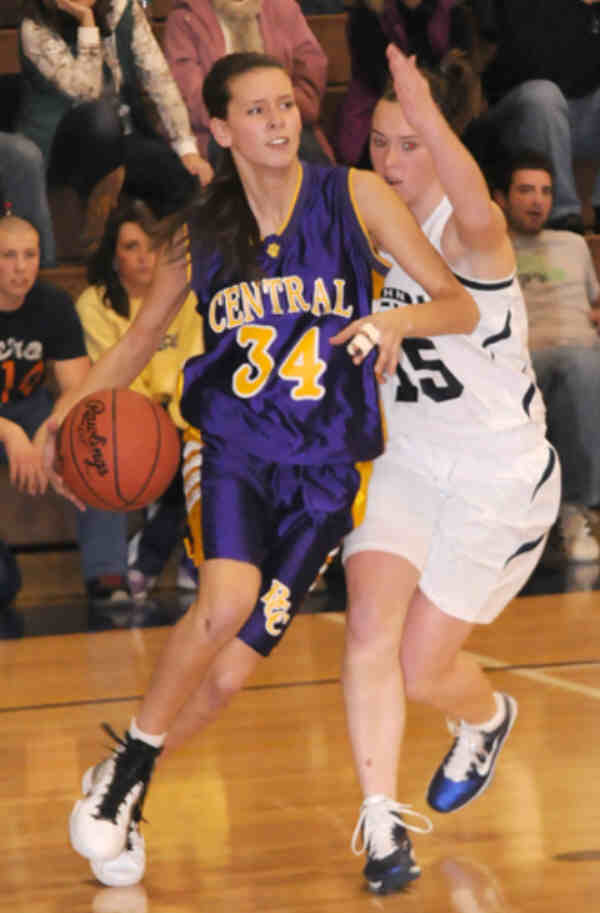 Danielle Skrock goes baseline on Glenn's Kristen Moore.
(MyBayCity Photo by John Keuvelaar)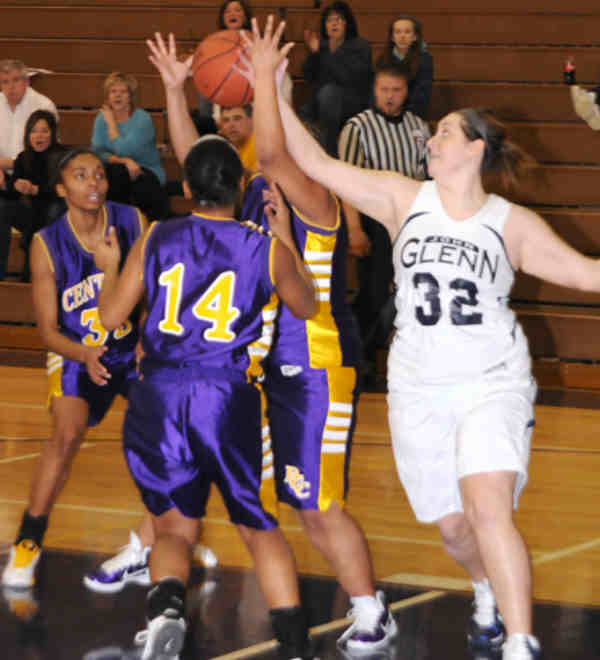 Rebounds were hard fought for all night.
(MyBayCity Photo by John Keuvelaar)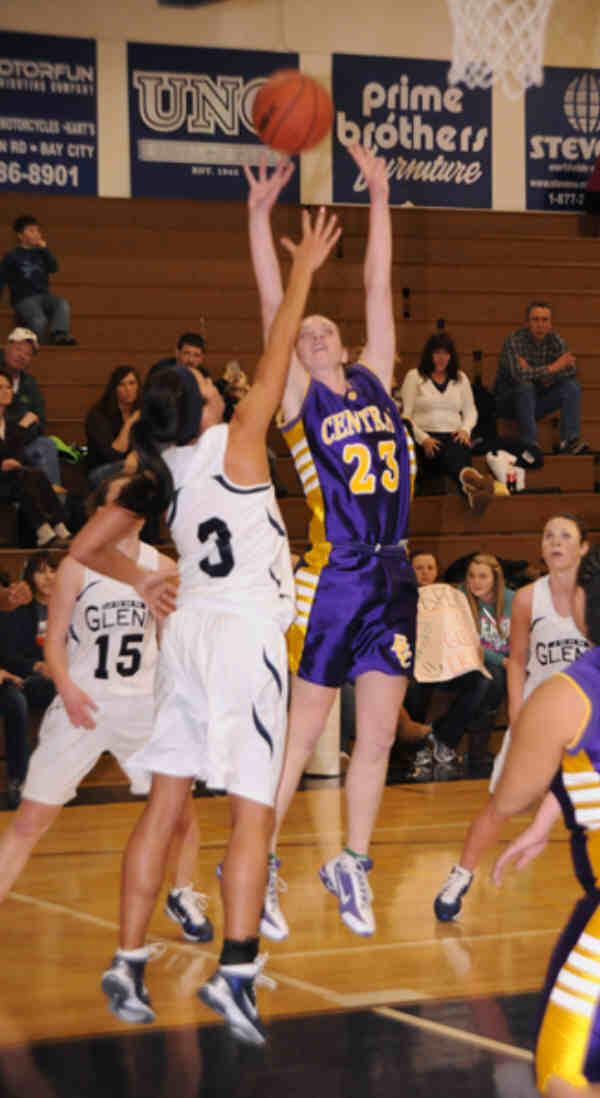 Emily Schell goes up for two.
(MyBayCity Photo by John Keuvelaar)
Central opened the third quarter with a stifling full court press. With Whitney Henry covering the inbounds pass and tight man to man coverage, several turnovers occurred including not being able to get the ball in. Even with the turnovers, the Glenn defense was able to keep the Lady Wolves from gaining too much of an advantage. The Lady Bobcats got Sahr back out on the perimeter putting the ball in her hands. This helped get her and the team's offense going after she was held to four first quarter points. But the early press defense led Central to a seven point third quarter advantage and a 25 to 19 lead heading into the fourth quarter.
Central started the fourth quarter by forcing three straight stops on the Glenn offense including two blocked shots as the Bobcats tried to drive inside. The Lady Bobcats countered with a full court press of their own with five minutes to play that made for a very exciting up and down game. Both teams made outstanding plays on both ends of the court keeping things very exciting. But just as Glenn appeared to be ready to tie the game, Central would pull back ahead. It was the Central third quarter that proved to be the difference as the Lady Wolves walk off the court with a 36 to 30 victory.
Central was led by Whitney Henry who scored 17 points with Emily Shell and Danielle Skrocki each adding 5 points to go along with superb defense.
Brianna Sahr led all scorers with 18 points for John Glenn with Kristen Tobin adding 6 points.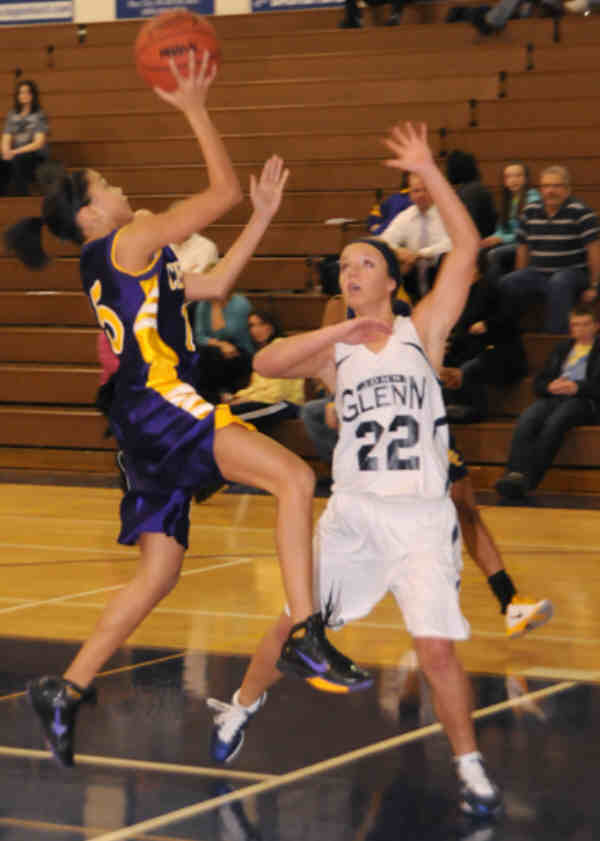 Leah Humes took the ball end to end finishing the effort with a hard lay up.
(MyBayCity Photo by John Keuvelaar)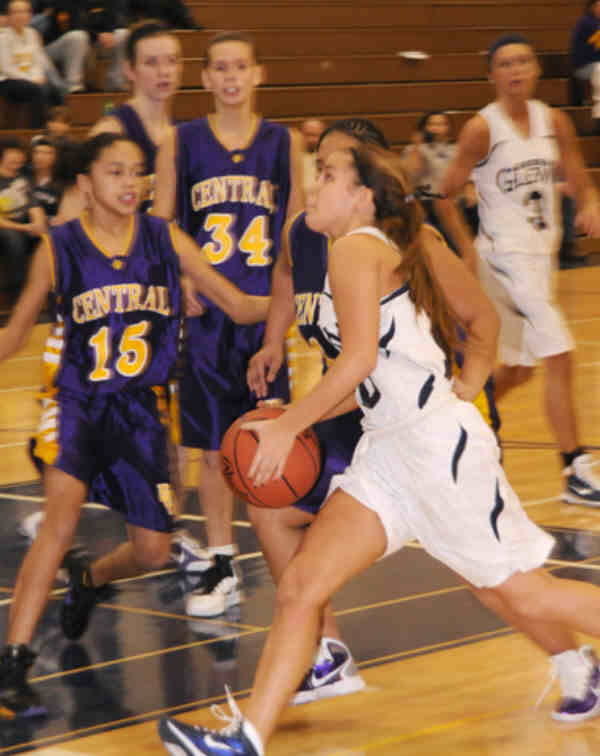 Amber Kipfmiller goes hard to the hoop.
(MyBayCity Photo by John Keuvelaar)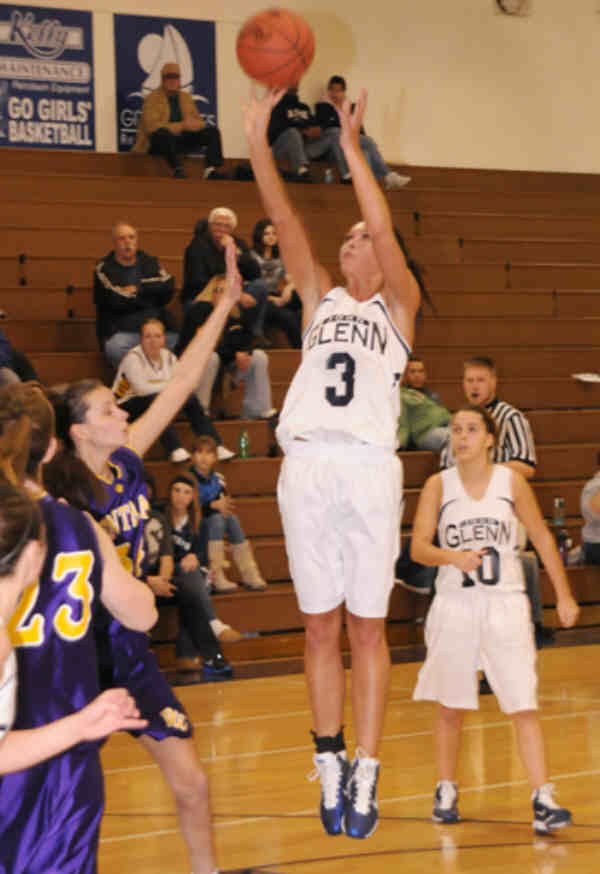 Brianna Sahr pops for two of her 18 points.
(MyBayCity Photo by John Keuvelaar)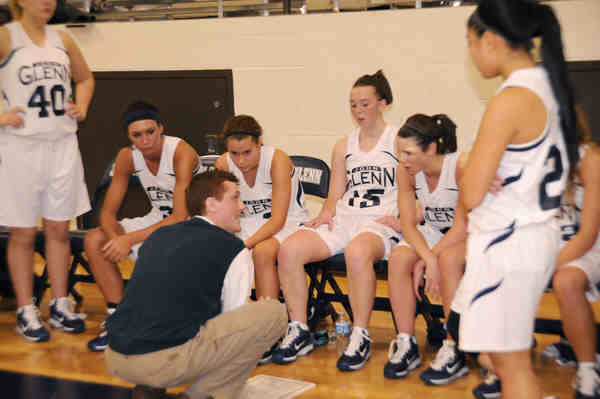 Laying out the strategy.
(MyBayCity Photo by John Keuvelaar)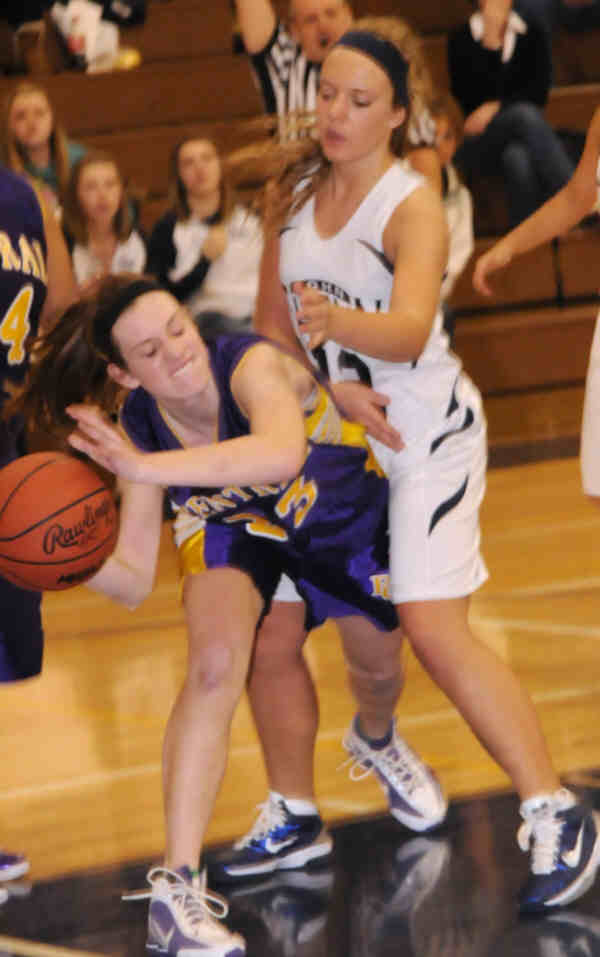 Emily Schell feels the Bobcat pressure.
(MyBayCity Photo by John Keuvelaar)
---
Sports Article 5624
---

John Keuvelaar




John Keuvelaar is a college student at Midwest Photography Workshops and Delta College.

More from John Keuvelaar
---
Send This Story to a Friend!
Letter to the editor
Link to this Story
Printer-Friendly Story View
---
--- Advertisments ---