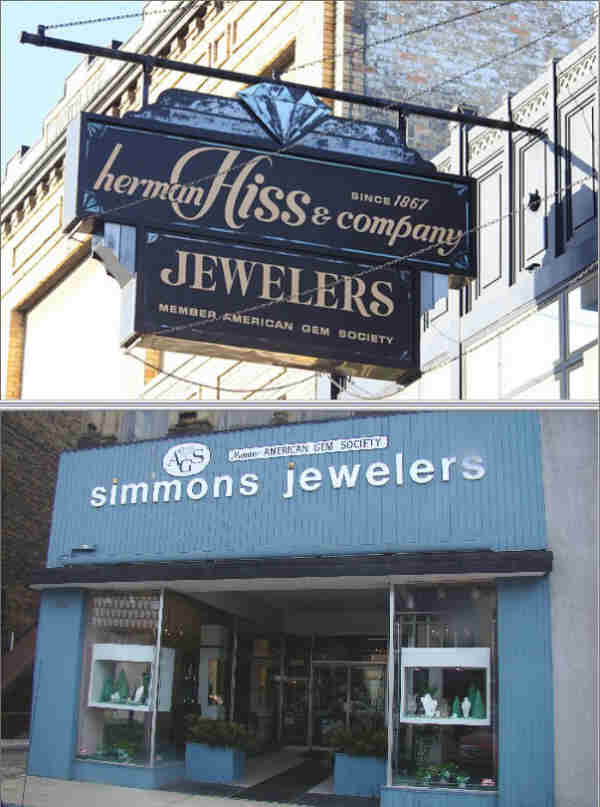 VALENTINE'S DAY 2011 -- Local jewelers are ready for the big day.
---
It May Be Super Bowl Sunday
But It's Only a Week To Valentine's Day
February 6, 2011 Leave A Comment
By: O. J. Cunningham
(Editor's Note: This article should not be read by any person of the female persuasion. This article is intended to be read only by Men. If you are a girl and are reading this . . . Go Away.)
It's Super Bowl Sunday.
That always means one thing.

A non-stop array of commercials for jewelry.

That's right. It's the 1st Sunday in February and Valentine's Day is usually less than one week away. And most of us (males) don't have a clue and haven't even thought about Valentine's Day yet.
According to a recent article posted in the Washington Post by Staff Writer Michelle Singletary (any relation to Mike?), only 17% of love-struck boys/men will be buying jewelry for their ladies this Valentine's Day.
That's about one out of every five.
But . . . according to Ms. Singletary . . . these buyers will be shelling out $3.5 billion, up from an estimated $3 billion last year, according to the retail federation.
Holy Crap!
Did somebody say "billion?"
No wonder I'm seeing so many "buy your lady a diamond" advertisements.
It's a classic example of diamond merchants fishing when the fish are feeding (buying).
Over the past 10 days, we (the men on the planet) have been bombarded by advertising from Zales (Charmed Memories), Kay Jewelers (Every Kiss Begins With Kay) and Jared -- The Galleria of Jewelry (Pandora). And yes . . . I've seen those Herman Hiss ads also -- Don't think I'm not watching.
But I'm not telling you boys anything you don't already know.
I'm sure it's happened to all of you. You're relaxing on the couch, watching some late-night TV, maybe even cuddling under a blanket with your "best girl" because of the cold winter nights . . . and you think you got it
all under control
.
And then . . . BAMMMMMMMMMMMMMM!!!!!!!! . . . right in the middle of "Two and a Half Men" or "The Closer" . . . right when you least expect it -- Valentine's Day advertising for diamonds.
Valentine's Day diamond ads in the middle of "Castle" are almost as unsettling (at my age) as Viagra/Cialis ads in the middle of "Big Bang Theory."
Remember the De Beere diamond ads . . .?
Ron White (Blue Collar Comedy Tour) put it this way in his stand-up routine - talking about the De Beere's Diamond ads and how they are finally getting close to Truth in Advertising.
White said, "And now the DeBeere slogan is
'Diamonds . . . Render her speechless.'
White goes on: "Next they are just going to say it outright . . .
'Diamonds . . . that'll shut her up.'
. . . "
One last thing . . . Ms. Singletary says the average price of a 2011 Valentine's Day piece of jewelry will be about $158. Any idea how many individual shoppers will buy jewelry this VD Day? Do the math.
22,000,000
No Pressure -- Twenty-two million other people are buying Valentine's Day jewelry for their lady.
I hope my wife doesn't know any of them.
---
Columns Article 5649
---

O. J. Cunningham




O. J. Cunningham is the Publisher of MyBayCity.com. Cunningham previously published Sports Page & Bay City Enterprise. He is the President/CEO of OJ Advertising, Inc.

More from O. J. Cunningham
---
Send This Story to a Friend!
Letter to the editor
Link to this Story
Printer-Friendly Story View
---
--- Advertisments ---