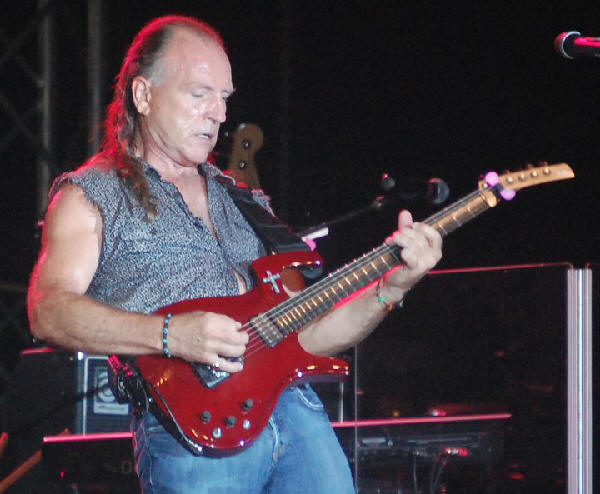 An Acoustic Evening with Mark Farner - formerly of Grand Funk Railroad
May 6, 2011 at The Bay City State Theater
March 20, 2011 1 Comments
By: Julie McCallum, Entertainment Editor
Karma Inc Apparel along with the Tri-City Wellness Foundation are proud to present the Legendary Mark Farner formally of Grand Funk Railroad at Bay City's State Theater on May 6, 2011 at 7:00pm.
This benefit show is for the University of Michigan Transplant Center-Camp for Transplant Kids.
This will be an Acoustic evening with Mark and opener Hunter Brucks. Tickets on sale at the State Theater box office, or
Buy Tickets On-Line
There will also be a Benefit Bowling Tournament at Washington Place on May 7, 2011 with door prizes, food and entertainment.
A silent auction will be held May 6, 2011 with Autographed merchandise from some special people. Concert after party at Old City Hall.
Sponsored by Hooters, Herman Hiss, Brooklyn Boys, Buffalo Wild Wings, Last Choice Country Radio, Mid-Michigan Music, MyBayCity.com
Mark Farner IS the engine that took the original Grand Funk Railroad, one of rock music's most successful groups, to the top of the charts. As their lead vocalist, lead guitarist and principle songwriter the group made a beeline to rock stardom following their show-stealing performance before 180,000 people at the Atlanta International Pop Festival in 1969.
Capitol Records was soon on board releasing the band's appropriately titled first album, On Time, which included such timeless Mark Farner compositions as Time Machine, High On A Horse, Heartbreaker, Into The Sun and Can't Be Too Long. Within weeks it was certified RIAA Gold.
These tracks to stardom began miles back in the blue collar, smokestack-filled skies of Flint, Michigan. Mark's environment contained all of the nutrients necessary to produce a kid desperate for the roar of the crowd.
Mark is in part the result of a father who was killed in an auto accident when he was just nine. Mark abandoned tuba playing in school to seek gridiron glory, wisely sensing that he would never reached the top of the charts playing a tuba! When his dreams of reaching the goal line were dashed by a knee injury, his mother, who loved to sing the gospel and blues songs of her native Arkansas, rented Mark a guitar and bought six lessons. Mark only had three lessons but it was enough. Friends say he inherited his mother's voice and took off on the guitar like a wildfire. He was in several rock bands before being 'laid off from high school,' as he puts it, for getting in a brawl with a teacher.
Mark's formal education ended just as his musical education began as a member of Terry Knight And The Pack, a highly successful regional band at the time. Shortly after Mark joined the group they had a regional hit in 1966 with (You're) A Better Man Than I - Mark's first appearance on a record. Mark joined The Bossmen, another popular Michigan band fronted by Dick Wagner, who would later find success as a songwriter and guitarist for Alice Cooper. Wagner encouraged Mark in writing songs. The Bossmen soon broke up, so Mark rejoined Terry Knight And The Pack (a.k.a. The Pack and The Fabulous Pack) and became the group's lead singer following Knight's departure. They had a few more regional hits including a cover of Jimi Hendrix - Fire on Capitol Records before packing it in, in early 1969.
Power trios were popular at the time, so Mark and Don went looking for a third wheel in bassist Mel Schacher from the Michigan band Question Mark and The Mysterians who had the number one hit 96 Tears in 1966. Mel's booming bass, Don's driving drums and Mark's powerful vocals and guitar playing were high octane for their formidable locomotive. All they needed was a conductor. Though the band had always looked upon Terry Knight with great suspicion, they knew of no one more qualified or connected in the music business. With Knight as manager and producer the band was soon steaming across America and up the album charts by the fall of 1969.
Grand Funk's self-titled second album released at the end of 1969 just missed the Top 10 and contained such Funk classic composed by Mark as Mr. Limousine Driver and Paranoid. That album's follow up, Closer To Home, was one of the group's most successful and included the classic Farner anthem I'm Your Captain (a.k.a. Closer To Home) as well as Aimless Lady, Mean Mistreater and Sin's A Good Man's Brother all written by Mark. Due in no small part to Mark's strong and steady vocals, mastery of guitar and stage charisma, Grand Funk was one of those very few bands who really was better live than in the studio, so it was no surprise when their Grand Funk Live Album reached the Top Five.
However, all of this paled in comparison to the group's sold out performance at New York's 55,000-seat Shea Stadium in 1971. Not since The Beatles had any group sold out Shea and GFR still holds the record. Their Top Five album E Pluribus Funk a few months later contained such classic Farner compositions as Footstompin' Music, Upsetter and Loneliness. They were arguably America's most successful railroad but given the speed at which things were moving a derailment was inevitable.
Suspicions regarding the trustworthiness of Knight were confirmed and the preverbal train wreck in slow motion nearly brought the group to a grinding halt. They rose from the ashes in 1972 with the album Phoenix, which yielded the Top 30 hit Rock & Roll Soul. Its follow up, the number two album We're An American Band and title of the group's first number one single marked a major musical turning point. With the exception of Mark's song Creepin' the group's garage, grunge R&B-infused, industrial Rock 'n' Roll had been replaced by the slick production of pop tunesmith Todd Rundgren. While the album, which also contained the Top 20 Walk Like A Man, was the commercial high watermark for the band, the group had inadvertently traded in their old audience for a new one by going the dreaded 'commercial.'
These changes, including the addition of a fourth member, eroded the group's power trio chemistry. Their Shinin' On album in 1974 also reached the Top Five and included the number one The Loco-Motion, and the hit Shinin' On. The group's other 1974 album All The Girls In The World Beware was a Top 10 and included the Top Five songs Some Kind Of Wonderful and Bad Time. Their 1976 album Born To Die, with a cover photo of the group's members in caskets, was more than prophetic, though they did manage to squeeze out the appropriately titled Good Singin' Good Playin, produced by admirer Frank Zappa, before calling it quits that year.
In 1977 Mark released his self-titled first of two solo albums for Atlantic Records. It, and its follow up No Frills in 1978 were filled with soulful ballads and catchy, hook-filled pop tunes with stinging social commentary reflecting Mark's consciousness about politics, the environment and spirituality. Both albums received positive reviews but musical tastes had changed; and as Mark remarked at the time, 'I don't do disco!'
Mark was on board for Grand Funk Railroad's reunion of its original three members in 1981, but just as the train was pulling out of the station, Mel waved them farewell from the platform. His replacement did an admirable job but the undeniable chemistry of the original three members was missing. They pulled into the station and ceased service in 1983 after releasing the albums Grand Funk Lives and What's Funk? for Warner Bros.
Mark's 1988 album Just Another Injustice reflected a transformation and included Isn't It Amazing, which reached number two on Billboard's Inspirational Chart and received a Dove Award nomination. It was followed by the albums Wake Up in 1989, Some Kind Of Wonderful in 1991 and the 'best of' Closer To Home in 1992. Mark's message had changed but not his powerful voice, guitar playing and memorable melodies. While none of these albums for Frontline Records raced up the Pop charts they represent some of the most passionate and underrated songwriting of Mark's career.
In 1995, Mark accepted an invitation to join Ringo Starr's All-Starr Band where his show-stealing, footstompin' performances made it clear that audiences were still hungry for Mark and Grand Funk's music. The following year Mark, Don and Mel once again fired up the Grand Funk engine and shined up the tracks for a whistle stop tour that lasted two years and produced the live album Bosnia for Capitol Records. They were one of Pollstar's Top 100 tours of 1998, and the subject of VH1's Behind The Music special in 1999, but tensions within the band still existed. Mark opted out of future Grand Funk dates but he continues to tour. Seeing Mark's Nr'G band give the same powerful, professional performances that he always gave with Grand Funk will leave you thirsting for another round, but without the hangover.
Even after 40 years on the road, some sort of magical transformation takes place when Mark Farner steps on stage. Out of a chrysalis emerges this charismatic alter-ego sprinkled with stardust. When Mark's on stage he's the consummate, professional rocker who's lost none of his chops. His voice is still clear, strong and on key, his guitar playing slick and lightening quick and his trademark prancing still that of a spring chicken. I defy anyone (other than Mark) to tell you he has ever given a bad show.
Offstage Mark puts his pants on one leg at a time and is as ordinary as dirt. He was never destined for Flint's auto factories but he was never destined for the 'Hollyweird' Hills either. Mark's heart and home lay north of Michigan's rustbelt where he can do the things he loves most -- compose, record, farm, fish, hunt and race around like a nut job on anything with a motor. What I find most refreshing and inspiring about Mark is his openness and candor. He has a willingness to bravely confess his mistakes as honestly as anyone I know.
---
"The BUZZ" - Read Feedback From Readers!
rhf323 Says: On March 28, 2011 at 09:13 AM

Julie,

Great article! Wow, It's just like I remember. I remember Terry Knight and the Pack playing at the old State Park Roller Rink, on Tuesday's Battle of the bands. A lot of great talent played out there. I was involved in a concert that the Bossmen had in Essexville back in 1966. Mark was a member at that time, and we had a nice visit. I remember him sitting at the piano and asking Dick Wagner, if he could record a song with him on the piano. Mark was a real energetic person. That was some 40 years ago, but who's counting???? Thanks for the trip down memory lane.
---
---
Send This Story to a Friend!
Letter to the editor
Link to this Story
Printer-Friendly Story View
---
--- Advertisments ---