Kiss Me -- I'm Irish
St. Pat's in Bay City -- It's a Tradition to be Treasured
March 20, 2011 Leave A Comment
By: O. J. Cunningham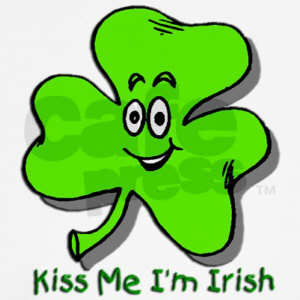 Kiss Me -- I'm Irish
I Love Bay City
St. PATRICK'S DAY -- 2011
It's the first day of Spring, 2011.
Not the best day for a St. Patrick's Day Parade -- cloudy, mid 30s for temperature, chance of rain, wind a little too brisk. There was even some chatter on the radio about wind-chill.
But the parade happened. It always does. Somehow, that's the beauty of tradition.
I've been attending these Bay City St. Patrick's Day Parades since Day #1.
According to
www.stpatparadebaycity.org/
--
Bay City's parade began in 1955 and has grown to an event that has become a celebration for the Irish and Irish at heart.

The first St. Patrick's Day Parade was on March 17, 1955 at 5:30 p.m. The parade started at Center Avenue and Monroe Street and disbanded at City Hall on Washington Avenue.

Jim Noonan was the Parade Marshal and 10,000 people attended the parade. Sheila Tennant was the St. Patrick's Day Queen riding the St. Patrick's Day float that featured a "harp" theme.

Parade participants included the Central high school band, local Boy Scout troops, the Auburn Accordion marching band, Knights of Columbus Fourth Degree drill team, AAA Furniture, Michigan Bell Telephone, Gillman Plumbing, Sabourin Drugs, and the Munger Civil Defense unit.
I'm sure I was there. I was twelve years old. My dad and mom were long-time members at St. James (Irish, Shamrocks) Church. I attended St. James grade school and high school.
And the entire Cunningham Clan loved anything GREEN or IRISH.
In the 1970s, I covered the St. Pat's races every year for Bay County Sports Page. And of course, as long as we were out on the street with cameras, we took pics of the parade floats too.
This year, I decided not to write anything "new" and just take a look back at my personal columns about St. Pats weekend since MyBayCity began publishing back in the early 2000s.
You gotta just love TRADITION.
FLASHBACK St. PATRICK'S DAY -- 2003
2003
-- Like lemmings, they poured out of their homes, apartments and caves . . . spilling into the streets and sidewalks of Bay City . . . drawn by some unknown, undeniable siren's call . . . It was 60+ degrees . . . YESSSSSSSSS!! . . . It was St. Patrick's Day and it was time for the parade.
I tried to do a little math based on the massive accumulation of humanity at the parade start location - Center @ Park. The local daily estimated that approximately 80,000 turned out to see the parade.
That might be a bit low based on what I saw massed at Center & Park. If the parade route is 2 miles long . . . that's 10,560 feet. But there's 2 sides of the street . . . that makes 21,120 feet of "viewing feet." (Try to stay with me)
At Center and Park, people were sometimes 25 people deep, craning necks to get a view of the start. 25 people per foot (that's not even counting held babies) over 21,120 feet of street viewing adds up to 528,000 parade watchers.
Not likely that high . . . but I'm sure the count should have been estimated higher than 80,000.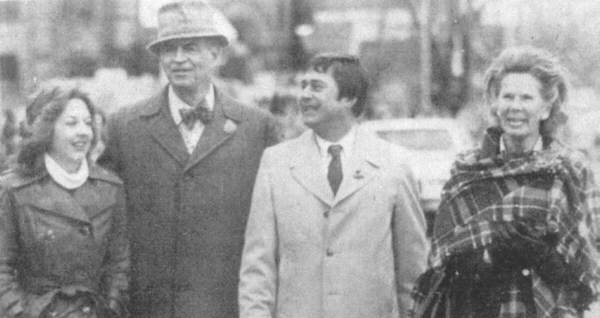 20 Years Ago - Michigan Governor, James Blanchard (second from right) and former Michigan Governor G. Mennen Williams led the 1983 St. Patrick's Day Parade down the streets of Bay City. The 1983 parade was called one of the best ever by parade officials. Only the cold weather (about 33 degrees) put a slight damper on the festivities. -- Photo courtesy of Bay City Enterprise archives.
FLASHBACK St. PATRICK'S DAY -- 2004
2004
-- Once upon a time, back around 1949, there was a little guy whose parents sent him off at 6 years old to Saint James Grade School in Bay City, Michigan.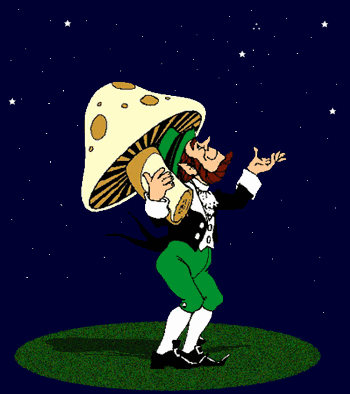 Irish Luck . . . Or Irish Tradition
Saint James had Sisters of Charity like Sister DePaycze, Father Wynne and was known for sports teams of every make and model. St. James was the home of the football "Irish," as well as the basketball "Shamrocks."
Every St. Patrick's Day as far back as that little guy can remember there were parades and parties to welcome the oncoming Spring.
St.Patrick's Day was always a day more significant than most others.
That little guy was a student at Saint James when the Notre Dame Marching Band came to town to play and march in the parade. The Notre Dame band ate at the Saint James cafeteria (in full band uniform) after the parade.
Not a Saint Patrick's Day goes by without that little guy's mom reminding him how the Notre Dame band got sick from the food at the Saint James' cafeteria that day. And she'll tell you that they were sick all the way home on the bus - back to South Bend, Indiana. And of course, the Notre Dame Marching Band - The Band of the Fighting Irish - never returned to Bay City again - because of the Saint James "Cafeteria Incident."
FLASHBACK St. PATRICK'S DAY -- 2006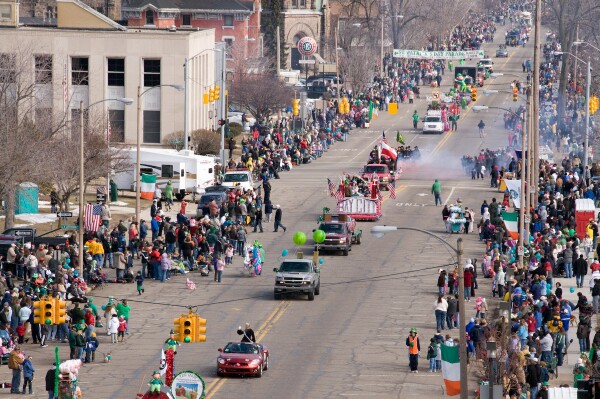 Center Avenue -- Bay City, Michigan
2006
-- It's St. Patrick's Day Weekend 2006, the day of the 52nd Annual St. Patrick's Day Parade in Bay City.
No one is e-mailing me. No one is calling me. No text messages. I'm not sure, but Spam may have actually dropped off. I'm a recovering pneumonia patient, cut off for the past three weeks from the rest of the social and emotional Internet continuum. I am a rock. I am an island.
Imagine that! People I know must actually have lives outside of business and the Internet. I know one thing sure - everybody I know is doing something that doesn't involve me.
Not Me! I have pneumonia! Or at least I've had it for the past 500 hours - that's 21 days time 24 hours = 500 hours.
Those of you who know me well, know I never get sick. I never miss work. But this Winter, I went down for the count.
It happened like this.
For the first time in the almost thirty years, I took an extended January-February Winter vacation to the Florida Keys.
You might remember
YOUR
January 2006 in Michigan. It was the warmest January in the History of weather forecasting for our Wolverine State. While you were basking in 40 degree weather, I was basking in 70 degree weather.
Too much nice weather. After returning to Michigan, I got sick . . . and for the past few weeks . . . I have been confined to my house (Doctor's Orders) with a full-blown case of viral pneumonia.
And as St. Pat's weekend began to unfold, most everyone in my inner circle agreed that I am "needing" to get back to work and back on the street. In a phrase, I've become bored out of my gourd.
"Crabby" is my middle name.
And I honestly think my co-workers wish I was
in
the office rather than e-mailing and chatting and e-mailing and phoning and chatting . . . and e-mailing and phoning . . . well, I think you get the idea.
But there is an up-side. I've learned a great many significant pieces of information during the past string of sick days. For example: I found out today that the temperature in my fridge this morning was the same temperature as it is outside on the patio. Thirty-four (34) degrees . . .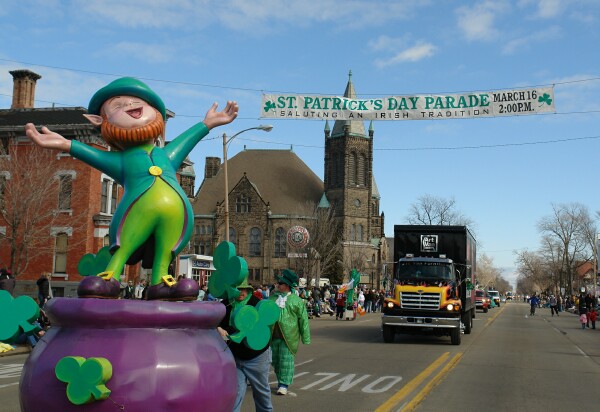 Great Day For A Parade -- Bay City, Michigan -- 2008
FLASHBACK St. PATRICK'S DAY -- 2007
2007
-- Two weeks ago, when I first heard that the American Legion was going to have a Beer Tent on Center Avenue during the St. Pat's Parade, my knee-jerk reaction was one of negativity. I was concerned for downtown business. Stein Haus, Old City Hall, Gatzby's, Mulligan's & Kingfish-Tiki are all East-side businesses that rely on special events, like St. Pat's weekend, to pack the booths, ring the cash registers and help to pay the bills.
I'm still not sure whether the Beer Tent was a good plan. But, I spoke with Rick Revette late on Sunday after the parade crowd had cleared and most Irish revelers had headed home to prepare for the new work week. Revette owns both Gatzby's and Mulligan's.
"I don't know if we were really effected all that much," Revette said about the weekend's business activity. Revette said he would know more after comparing actual sales figures for this year and last year.
"We were steady (business) all day Saturday and Sunday," Revette said. "It was a good weekend."
The bottom line is simple. (1) Not all people who drink beer are bad people. (2) The St. Pat's weekend went off as planned - just like it always does - with or without a Beer Tent next to the Wirt Library. (3) The St. Pat's Beer Tent did not immediately change the course of Irish traditions in downtown Bay City.
Personally, I thought it was a great weekend. The weather was cooperative. Crowds were well-behaved. And you can see by the smiling faces in Steve Kent's & Andy Rogers parade photo-spread, that a good time was had by all.
Spring arrives officially in just 3 days.
ST. PATRICK'S DAY -- PRESENT
Man . . . I love Bay City.
---
Columns Article 5781
---

O. J. Cunningham




O. J. Cunningham is the Publisher of MyBayCity.com. Cunningham previously published Sports Page & Bay City Enterprise. He is the President/CEO of OJ Advertising, Inc.

More from O. J. Cunningham
---
Send This Story to a Friend!
Letter to the editor
Link to this Story
Printer-Friendly Story View
---
--- Advertisments ---