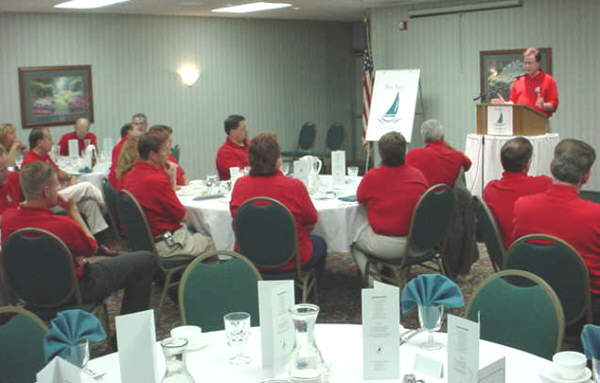 County Executive Tom Hickner addresses the Chamber Business-Government Summit with attendees uniformed in team-building red shirts donated by Joe Liefbroer of S.C. Johnson Co.
---
Education is the Key to Economic Develpment, Chamber Summit Agrees
Red Shirt Brigade Lays Foundation for Community Growth Consensus
October 17, 2004 Leave a Comment
By: Dave Rogers
      Education is the key to economic development.
      That was the consensus reached at a recent Bay Area Chamber of Commerce Business-Government Summit.
      Now the question is: what do we do about improving it?
      Leaders are planning to review a list of 145 topics raised at the summit and decide on one initiative for collaboration. About half the issues mentioned dealt with education or job training.
      "We need to decide on one thing to do collectively," said Chamber President Michael Seward. "It needs to be realistic, timely and fit within the resources we have. One success will lead us into doing other collaborative projects in the future."
      Dominic Monastiere, president of Chemical Bank-Bay City, chairperson of the summit, honed in on the underlying theme of many recent Chamber initiatives: collaboration between business and the public sector.
About 100 representatives of local governments and businesses attended the recent summit in the Holiday Inn. Most were wearing red golf shirts provided by Joe Liefbroer of S.C. Johnson & Son, Inc., a Bay City manufacturing firm. The shirts are a team-building device, Chamber officials said.
      The first project selected may be as basic as identifying what skill sets students need to learn to qualify for employment.
      Or it may be as complex as a start on consolidation of school districts through joint purchasing or administration of certain functions.
      Another related theme often repeated in table discussions was the need to educate the public in the value of investing in local schools, perhaps through an emphasis on community education.
      Time and time again speakers emphasized: Economic growth is tied to the quality of education in the community.
      "Our students need to be prepared for the challenge of any economy," said Tom Paige, Williams Township supervisor and former Bay City schoolboard trustee, who added: "K-12 education is alive and well despite many obstacles."
      Mr. Paige noted "the stark realities of Proposal A." He pointed out that school revenues are basically flat with Pinconning, Bay City and Bangor districtsall receiving $6,700 per student this year, $6,616 last year and $6,621 the year before.
      "Some other districts receive more with Midland at $8,120, Buena Vista at $7,700 and Frankenmuth at $7,382," he noted.
      Proposal A helped level funding to some degree but did not provide for capital needs. Most bond issues have failed. "School districts and communities need to have a serious dialogue," said Paige. "We owe it to ourselves and our kids to find a common ground."
      There were some comments about needed improvements in education, such as:
"Schools are not delivering the skills we need."
"We need to find ways to instill a work ethic in our youth.""Young people need to know thatattendance is important."
"We should not have to say the obvious, such as dress appropriately."
      A common theme was understanding, a meshing of goals of education and business.
      For instance, one speaker said teachers and counselors need to understand what the private sector needs.
      Investments in education are clearly tied to attracting businesses to the local area, said another.
      Bay City Mayor Robert Katt urged participants in the summit to "look at consolidated services and shared costs," noting the rising costs of health care and police and fire protection. "We need to explore ways to merge services and cut costs," he said.
      Mr. Katt said he will suggest to the city commission that a "blue ribbon panel" be appointed to look at potential mergers and savings in police and fire protection operations.
      "I'm willing to work together to recognize problems and work to fix them," he concluded, noting that the current state financial crisis will peak in municipalities in 2007, when "quick fixes" by the state will run out.
      County Executive Thomas L. Hickner said county government was forced to cut $1 million from the budget this year and will have to reduce another $1.7 million over the next five years. He suggested looking at consolidation of information technology as one area where savings might be found.
      "The No. 1 issue is good jobs," said Mr. Hickner. "We all need to support education because that's how we will grow."###
---
---

Dave Rogers




Dave Rogers is a former editorial writer for the Bay City Times and a widely read,
respected journalist/writer in and around Bay City.
(Contact Dave Via Email at carraroe@aol.com)

More from Dave Rogers
---
Send This Story to a Friend!
Letter to the editor
Link to this Story
Printer-Friendly Story View
---
--- Advertisments ---