Proposed Local Government Changes by Gov. Snyder Have Been Needed for Years
Money-Saving Consolidations Required of Local Units by January 2012
March 26, 2011 Leave A Comment
By: Dave Rogers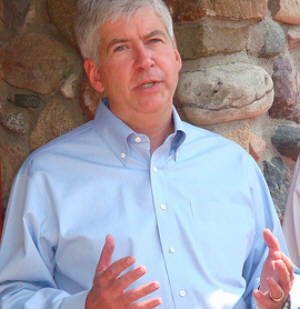 Michigan's new governor (Rick Snyder) has bitten the bullet and fearlessly thrown the needed changes on the table.
It's spring, 2011, and there's a whole new ballgame in Michigan.
Observers of local government have for years known that changes were necessary to protect the financial integrity of those units.
Now, a new governor has bitten the bullet and fearlessly thrown the needed changes on the table.
These moves apparently are the "fundamental restructuring" Michigan must have to compete and thrive in the 21st century.
No doubt there will be some caterwauling, as with the taxing of senior pensions, but hardly anyone can complain they are unnecessary.
A vital move is that by January 1, 2012, local governments must develop plans to consolidate services that will save money.
Many local units have talked about consolidation for years but now that will be mandatory.
Gov. Rick Snyder proposes that for local units to get statutory revenue sharing, a retirement benefit for new hires must be other than a defined benefit. Also, new hires will have to pay 20 percent of their health insurance, while local units must develop plans to consolidate services and make their data more transparent.
Also, local units would be required to publish a citizens' guide to their finances as Mr. Snyder did for the state
One of the most important changes eyed by the governor is to make a local government's ability to pay a factor in decisions by arbitrators in cases between local units and public safety employees. Up to now, ability to pay has not been considered, leading to devastating consequences for cash-strapped locals.
The process also would have to be finalized in 90 days.
The Public Employment Relations Act would be amended so that proposing an intergovernmental cooperation agreement by local governments is not considered an unfair labor practice.
The Headlee Amendment to the Constitution would be changed by the governor to eliminate roadblocks. The act now requires that if the state enacts legislation imposing costs on local governments without complying with a prescribed process, the legislation has no force or effect. It is not clear if the changes would have to be submitted to voters.
Additionally, any new city, village or county charters would be prohibited from containing minimum staffing requirements as is the present case.
Local governments pension procedures would require a defined contribution or hybrid retirement plan that caps annual employer contributions at 10 percent of base salary. A 1.5 percent multiplier will be used for employees while 2 percent would deploy for employees not eligible for Social Security. A 20 percent employee contribution would apply on health care while paid leave time and overtime would be limited in determining benefits.
Of course there will be objections to these plans, but it appears the governor has critically analyzed defects in local government operations and proposed changes that will benefit all.###
---
Columns Article 5792
---

Dave Rogers




Dave Rogers is a former editorial writer for the Bay City Times and a widely read,
respected journalist/writer in and around Bay City.
(Contact Dave Via Email at carraroe@aol.com)

More from Dave Rogers
---
Send This Story to a Friend!
Letter to the editor
Link to this Story
Printer-Friendly Story View
---
--- Advertisments ---