Congressman Kildee Suggests Joint Port Authority to Increase Water Freight
Bipartisan Group of 208 Working for Bipartisan Solution on Trade, Deficit
October 24, 2004 Leave a Comment
By: Dave Rogers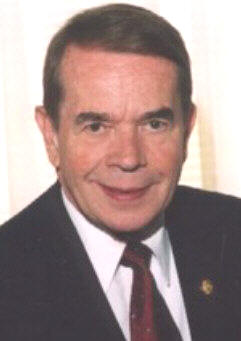 U.S. Rep. Dale Kildee, R-Flint, who represents Bay City, speaks to the Bay Area Chamber of Commerce recently.
      U.S. Rep. Dale Kildee, D-Flint, suggested to the Bay Area Chamber of Commerce recently that Bay County consider a joint port authority to expand waterborne freight shipments from the Saginaw Valley.
      Dredging the river to increase depth for shipping and new facilities for international trade "can attract business," said the Congressman.
      Rep. Kildee said he was able to get an appropriation of $2.5 million for dredging the Saginaw River last year and will get $3 million this year. "This dredging must be done regularly because now with the lower water levels barges coming in here must lighten their loads," the Congressman said.
      The new federal highway bill also includes $2.25 million for Bay County, including $1.6 million for reconstruction of Henry Street from Vermont to Wilder and $900,000 for reconstruction of Woodside and Borton. Another $1.3 million will come in for three new medium size buses for the Bay Metro Transit Authority.
      He said he is working to "encourage cooperation, collaboration and governmental action," adding: "We must compete in the global economy nationally and locally."
      Kildee also said he is working for a bipartisan solution to trade imbalance and budget deficits that threaten to ruin the U.S. economy.
      Rep. Kildee told the Bay Area Chamber of Commerce recently that there is a bipartisan coalition of 208 members of Congress working together to make sure that whoever is President helps to safeguard American jobs.
      "I am working with local leaders to maintain and improve the economy in Bay County and the area," said Rep. Kildee, speaking before about 100 Chamber members at the Holiday Inn at a Legislative Luncheon.
      In Washington, Kildee said, the bipartisan coalition is struggling to find a way to address the $5.2 trillion deficit; that's an almost incomprehensible TRILLION, he stresses.
      The current administration inherited a $5.6 trillion surplus and because of the 9-11 crisis and the Iraq war, compounded by unwise tax cuts and unparalleled spending, has turned the situation around to a negative balance in just three years, according to Rep. Kildee.
      Because of interest payments totaling an estimated $3.4 trillion alone, the debt is projected to reach $9.7 trillion in 2014, or 54 percent of Gross Domestic Product.
      The deficits, if allowed to continue, will reduce national savings and private investment and slow economic growth, endanger the retirement security of baby boomers and threaten to disrupt the global economy.
      "The question is: after the election, what can we do to make the county, state and nation better?" asked Rep. Kildee?
      He urged chamber members to "get involved in what happens in Lansing and Washington," noting further: "What you do locally will have a profound effect on the future. Let's work together; we have a lot of partners and that is the greatness of our country."###
---
---

Dave Rogers




Dave Rogers is a former editorial writer for the Bay City Times and a widely read,
respected journalist/writer in and around Bay City.
(Contact Dave Via Email at carraroe@aol.com)

More from Dave Rogers
---
Send This Story to a Friend!
Letter to the editor
Link to this Story
Printer-Friendly Story View
---
--- Advertisments ---