Circuit Judge Joseph K. Sheeran's Opinion in Stun Gun Case
April 30, 2011 Leave a Comment
By: MyBayCity Staff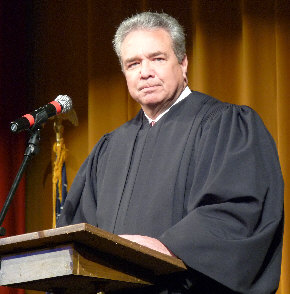 Hon. Joseph K. Sheeran
Hon. Joseph K. Sheeran's opinion in the case of the People of the State of Michigan vs. Dean Scott Yanna may be found at the following link:
Gr_Mot_Dismiss_JKS_[p_v_Yanna]_4-21-11.pdf
A summary of the key aspects of the decision follows:
"The Second Amendment to the United States Constitution provides: A well regulated Militia, being necessary to the security of a free State, the right of the people to keep and bear Arms, shall not be infringed.
"Settling a matter of long-standing public and legal debate, the United States Supreme Court decided in District of Columbia v Heller (2008) that the Second Amendment conferred an individual right to keep and bear arms, rather than a right conferred for the benefit of the states. The Court, in Heller found that a total ban on handguns, including possession of a handgun in the home, was unconstitutional.
"In McDonald v City of Chicago, Illinois, (2010) the U.S. Supreme Court held that the Second Amendment right to keep and bear arms is fully applicable to the states by virtue of the due process clause of the Fourteenth Amendment."
"Because the Court finds that a stun gun is an arm under the Second Amendment, it likewise follows that states may regulate the ownership and possession in the same manner as any other arm. Thus, prohibitions on the possession of stun guns by felons and the mentally ill and in sensitive places such as schools and government buildings, as well as conditions and qualifications on the commercial sale of stun guns would be constitutional.
"This Court finds that a stun gun is an 'arm' for purposes of the Second Amendment. Stun guns are nonlethal instruments of defense and, as such, cannot be totally banned without violating the Second Amendment. (Therefore), this Court holds that a total ban of stun guns, such as that effectuated by the Michigan statute under which Defendant is charged, is unconstitutional."
###
---
---
---
Send This Story to a Friend!
Letter to the editor
Link to this Story
Printer-Friendly Story View
---
--- Advertisments ---