End-Of-World 'Rapture' Is A No-Show
I'm Glad I Didn't Eat The Big Buford
May 22, 2011 3 Comments
By: O. J. Cunningham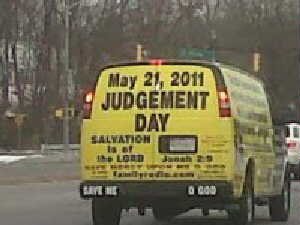 Rapture is a No-Show
No end of the world today -- Maybe in October
On Saturday, at noon, I had a piece of cold pizza (brought into the house by my mate -- the petite female of the species) that was "going to mold" in the fridge.
Harold Camping, some 89-year-old Californian preacher has prophesied that the Rapture would begin at 6:00 pm today in each of the world's time zones, with those "saved" by Jesus ascending to heaven and the non-believers being wiped out by an earthquake rolling from city to city across the planet.
I figured . . . What the hell . . . How could one near-rotting piece of pizza make a difference when Rapture was on the immediate horizon?
It was noon. Rapture was only 6 hours away.
You see . . . it's like this . . . I've been on NUTRISYSTEM since February 19. That's 13 weeks so you don't have to do the math. 13 weeks yesterday -- not that anyone's counting.
That piece of pizza is the 1st thing into my mouth since February 19 that hasn't been approved by the NUTRISYSTEM Program. But it's not what you think. It's not that simple -- not totally black and white.
I mean . . . uhhhh . . . errrr . . .
SERIOUSLY -- The damn pizza has been in the fridge for over three days -- TAUNTING ME -- I know for a fact that "she" will never eat frickin' 3-day-old pizza. And then there's all this talk about the Rapture. And I'm out of yogurt . . . And . . . not an orange or a piece of fruit anywhere in the house.
The more I think about it, I'm pretty sure I've got an eating disorder.
And yet, I'm having success on NUTRISYSTEM . . .
But . . . I truly believe there's
no way
I'm keeping the weight off once I cut the cord from NUTRISYSTEM in another three months or so.
Here's the reason I feel that way . . .
I feel a gravitational pull when I drive past a fast-food restaurant.
I love Turtle Pecan Cluster DQ Blizzards.
I have been addicted to chocolate chip ice cream.
I think French Fries are a food group.
I think about grilling meat every day during the summer.


I eat peanut butter out of the jar.
I buy the "biggest" M&M Peanuts bag when I buy candy.
I never ate 1/2 cup of anything before NUTRISYSTEM

I think you get the idea . . .

But then, it's hardly my fault. After all, I come from the generation of "clean that plate or you're not going out to play" . . . or . . . "There are kids starving in Ethiopia that would give anything just to HAVE a piece of liver."

I remember sitting at the Cunningham supper table during the 1950s, on many a night, while Mom & Dad went on with their evening activities because I refused to eat certain vegetables or some mysterious, gravy-covered meat item.

Now it's 2011 . . . I'm too old for paddleball, don't have the patience for golf and consider cross-training for a marathon to be just a bit out of reach.

I guess I'll just have to sit here until 6:00pm and wait to get Raptured.

It's 2:30pm -- Rapture is only 3 1/2 hours away. I might be guilty of rationalization but I'm thinkin' 'bout heading over to Rally's for a pair of Big Bufords and some curly fries.

It's 4:00pm -- I fought off the Rally's trip by drinking some iced tea and eating a limp celery stalk. But what the heck . . . if the world's gonna end at 6:00pm, what's it gonna matter if I have a soft-serve cone or a chocolate shake from Mickey D's?

If Rapture doesn't actually happen today, I'll watch the Preakness and then go to Meijer's, restock the fridge with veggies and yogurt -- and resume NUTRISYSTEM in the morning.

It's 5:00pm -- I've convinced myself that God has no interest in my NUTRISYSTEM program -- I'm thinkin' Taco Bell or Los Quattro Amigos -- I'm pretty sure that God will Rapture the obese as well as the lightweights -- irrespective of their Body Mass Index (BMI). Does anyone think that percent body fat will have anything to do with gaining entry through the Pearly Gates?

I just ate the last low-fat string cheese in the house and drank eight ounces of ice-water as the 6:00 pm Rapture deadline came and went.

No end of the world today.

Kinda glad now that I only ate the moldy pizza and not the big Bufords, curly fries, ice cream or Mexican food. Next scheduled end-of-world catastrophic event -- October 21, 2011. And then, late next year, there's the Mayan Calendar prediction of December 21, 2012.

Hey . . . I might be under 200 pounds by October.



---
Columns Article 5931
"The BUZZ" - Read Feedback From Readers!
McCool Says: On May 23, 2011 at 11:41 AM

Great Column !! Hilarious !! ;)



. . . Add 1 serving of Shakeology to your daily meal plan . . . and you can eat what you want in sensible portions. :)

I believe the word you were looking for ... about the Body Mass Index (BMI) and the pearly gates was 'Gluttony'
carynnaka Says: On May 24, 2011 at 10:20 AM

Ha ha ha I thought something along those same lines on Saturday which makes it even funnier. Good stuff, Maynard!
psbartz Says: On June 05, 2011 at 06:43 PM

Hey I just read this article, funny as it is, it is in the genes, and I am not talking Levi's. Keep up the good fight, now I am off to watch the Food Network.
---

O. J. Cunningham




O. J. Cunningham is the Publisher of MyBayCity.com. Cunningham previously published Sports Page & Bay City Enterprise. He is the President/CEO of OJ Advertising, Inc.

More from O. J. Cunningham
---
Send This Story to a Friend!
Letter to the editor
Link to this Story
Printer-Friendly Story View
---
--- Advertisments ---