Auto, Bipartisan Focus Seen at Detroit Regional Chamber Event on Mackinac
Gov. Snyder Asks: Can Michigan Work Together to Revitalize Cities?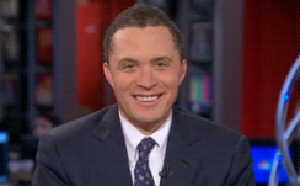 Harold Ford Jr NBC News Analyst will keynote the Detroit Regional Chamber's annual Conference beginning Wednesday at the Grand Hotel, Mackinac Island.
Harold Ford Jr., NBC news analyst, will keynote the Detroit Regional Chamber's annual Conference beginning Wednesday at the Grand Hotel, Mackinac Island.
The conference is expected to draw more than 1,500 leaders from the state and elsewhere to the island. The future of Michigan and especially the auto industry will be a focal point.
Among conferees will be Gov. Rick Snyder, the presidents of General Motors, Ford Motor Co., and the United Auto Workers.
Although the Great Lakes Bay metropolitan area is far away from the Detroit business-governmental orbit, activities at the Mackinac conference will doubtless affect this area, observers theorize.
Local politicoes and Great Lakes Bay Region business leaders will be on hand to mingle with the always influential crowd on the island for the conference which runs through Friday.
Mackinac Policy Conference programming will address how to create an environment that makes Michigan globally competitive, touching on the prominent role of advanced manufacturing in Michigan's economic renaissance.
William C. Ford, Jr., executive chairman of the board, Ford Motor Company, on Friday will anchor a panel jointly hosted by the Detroit Regional Chamber and the Detroit Economic Club (DEC) focused on the important role of manufacturing to Michigan and America's economic prosperity and leadership.
This panel, building on the dialog that began at the National Summit, convened by the DEC in 2009, will also feature the Honorable Deborah Wince-Smith, president and CEO, U.S. Council on Competitiveness and Beth Chappell, president and CEO of the Detroit Economic Club.
The partnership between the Detroit Regional Chamber and the Detroit Economic Club marks a new spirit of collaboration at the Mackinac Policy Conference -- and highlights the Conference's strong focus on "one Michigan."
Mark L. Reuss, president, North America for General Motors Corporation will serve as the evening keynote speaker on Thursday, June 2. Reuss has deep Michigan roots and has been a central figure in GM's celebrated turnaround. His address will remind Conference attendees about the vital role the auto industry will continue to play in both Michigan's and America's economic prosperity.
"This year's Conference is an ideal venue to celebrate General Motors resurgence, its leadership in technology and success in the global marketplace," said ArvinMeritor Chairman, CEO and President Chip McClure, who serves as chairman of the 2011 Mackinac Policy Conference.
"We are framing this year's Conference discussions to serve as a microcosm of how business and government can successfully partner to create a globally competitive and financially attractive environment to increase economic development in our state which can be applied to the national stage."
"With leading roles for Bill Ford, Mark Reuss, Bob King and Conference Chair Chip McClure, the Mackinac Policy Conference is declaring strongly that advanced manufacturing -- and the auto industry in particular -- is a critical component not just of the Conference agenda, but our economic future," stated Sandy K. Baruah, president and CEO of the Detroit Regional Chamber.
"While diversification of our economic base is critical to our future, ensuring that we nurture a robust auto industry is equally important," Baruah continued.
Harold Ford, Jr., former United States Representative, (D-TN) and NBC news analyst will serve as the Conference opening keynote speaker on Wednesday.
Ford served Congress for 10 years and is described as the walking embodiment of where America ought to be headed in the 21st century. Ford will discuss the challenges and opportunities to grow America's economy.
Ford is a regular guest on MSNBC's "Morning Joe," co-hosted by former Republican Member of Congress Joe Scarborough and popular broadcaster Mika Brzezinski.
The opening session will address how government is most effective when it's working for the betterment of everyone, and the importance of bipartisanship to address the critical challenges facing America.
Governor Rick Snyder, (R-MI) will have multiple roles at the Conference. In addition to his keynote address on Friday, June 3, the Governor will also participate in a plenary session with City of Detroit Mayor Dave Bing and City of Grand Rapids Mayor George Heartwell on the important role urban centers will play in re-energizing Michigan.
The regional roundtable previously know as the "Big Four" will now be the "Fab Five" for 2011, now including Washtenaw County. The "Fab Five" will focus on how our regional leaders can and must work together for the benefit of all of Southeast Michigan. The "Fab Five" will include:
Dave Bing, mayor of the City of Detroit
Robert Ficano, executive of Wayne County Mark Hackel, executive of Macomb County L. Brooks Patterson, executive of Oakland County Conan Smith, chairman of the Washtenaw Board of Commissioners
"Business and government must work together to re-energize Michigan," said, Sandy K. Baruah, president and chief executive officer of the Detroit Regional Chamber. "Our region, in order to thrive in the worldwide marketplace, must become more than the sum of our parts. While we have amazing 'parts', we need to knit ourselves together better. This year's Mackinac Policy Conference will focus on this important goal for Southeast Michigan and for our state."
Detroit Regional Chamber 2011 Mackinac Policy Conference The Mackinac Policy Conference -- the Detroit Regional Chamber's annual event -- brings together business and government to re-energize Michigan. Since 1981, the Conference has provided access to Michigan's top business professionals, legislative leaders, corporate CEOs, entrepreneurs and veteran regional champions. Over 1,500 attendees will gather for the 2011 Conference, held June 1-3 at the historic Grand Hotel on Mackinac Island. For more information please visit, mpc.detroitchamber.com.
###
---
---

Dave Rogers




Dave Rogers is a former editorial writer for the Bay City Times and a widely read,
respected journalist/writer in and around Bay City.
(Contact Dave Via Email at carraroe@aol.com)

More from Dave Rogers
---
Send This Story to a Friend!
Letter to the editor
Link to this Story
Printer-Friendly Story View
---
--- Advertisments ---